All outfits featured are items I already own. I do not believe in buying clothes simply to be in trend when trends die fast, sometimes in a matter of weeks. While I love fashion, I hate waste, and the fashion industry generates 10% of human-made carbon emissions and billions of garments and material are thrown away each and every year.
I want to demonstrate how fashions come back around and how your "outdated" items can still be styled to look current.
If you wish to see further examples, please see my Instagram @_tornaydo_.
Outfit 1.
Pink.
Girly vibes and flattering fits.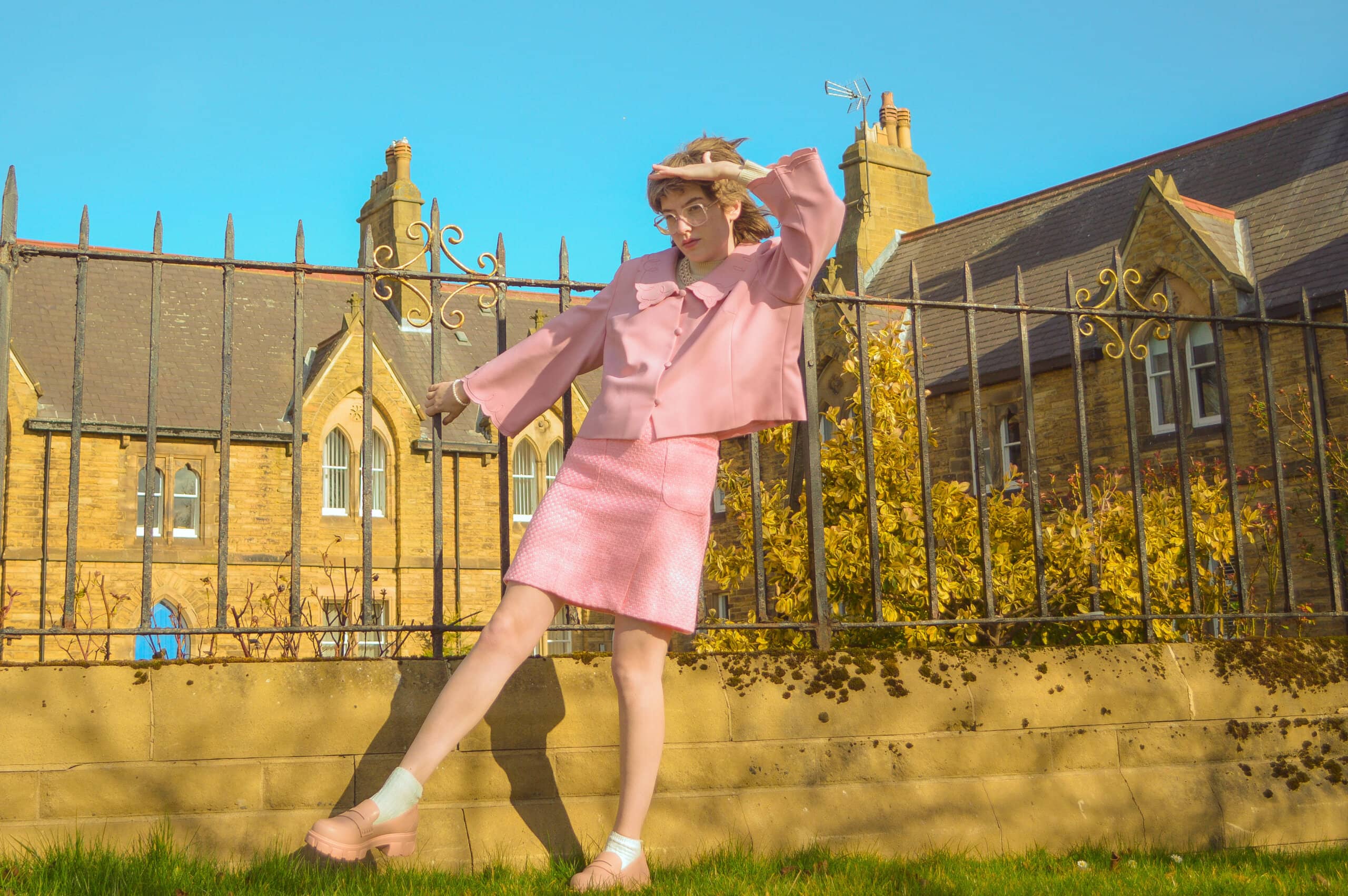 Pink is in and I couldn't be happier about it. I finally get to look like a fashion icon in some of my most favourite pieces.
Most items featured in the photos are second hand thrifted pieces from charity shops, I estimate this whole outfit cost less than £30 (bar the glasses, they cost a bomb!).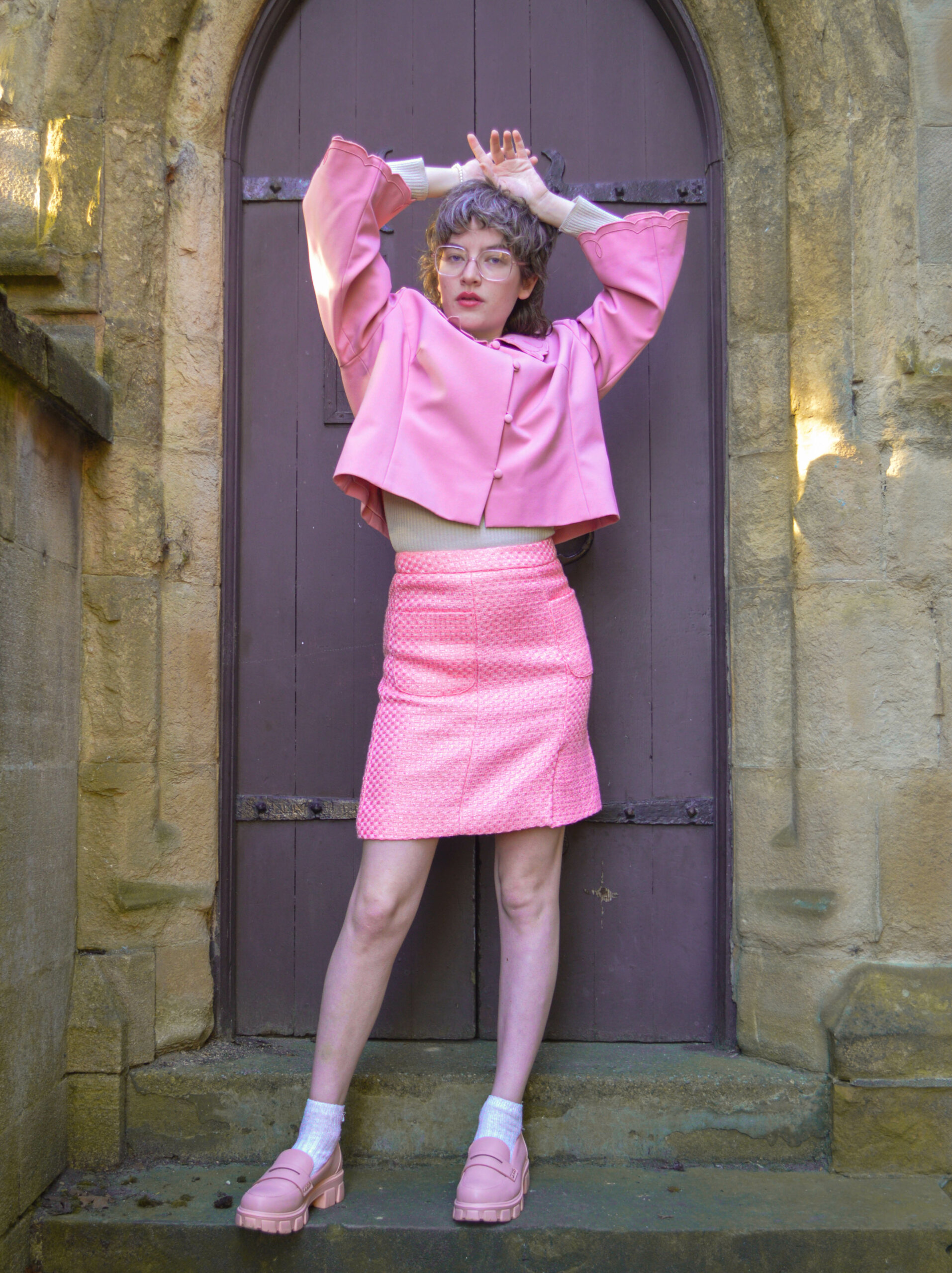 I pieced this outfit together starting with the jacket and the skirt. Knee length split skirts are in, and although its not a go-to choice of mine, this skirt I adore. It's modern vintage touch really compliments my vintage jacket and the colours work well and contrast nicely at the same time. Paired together with the light pink shoes, I feel this outfit is a real winner when it comes to meeting 2023's fashion requirements.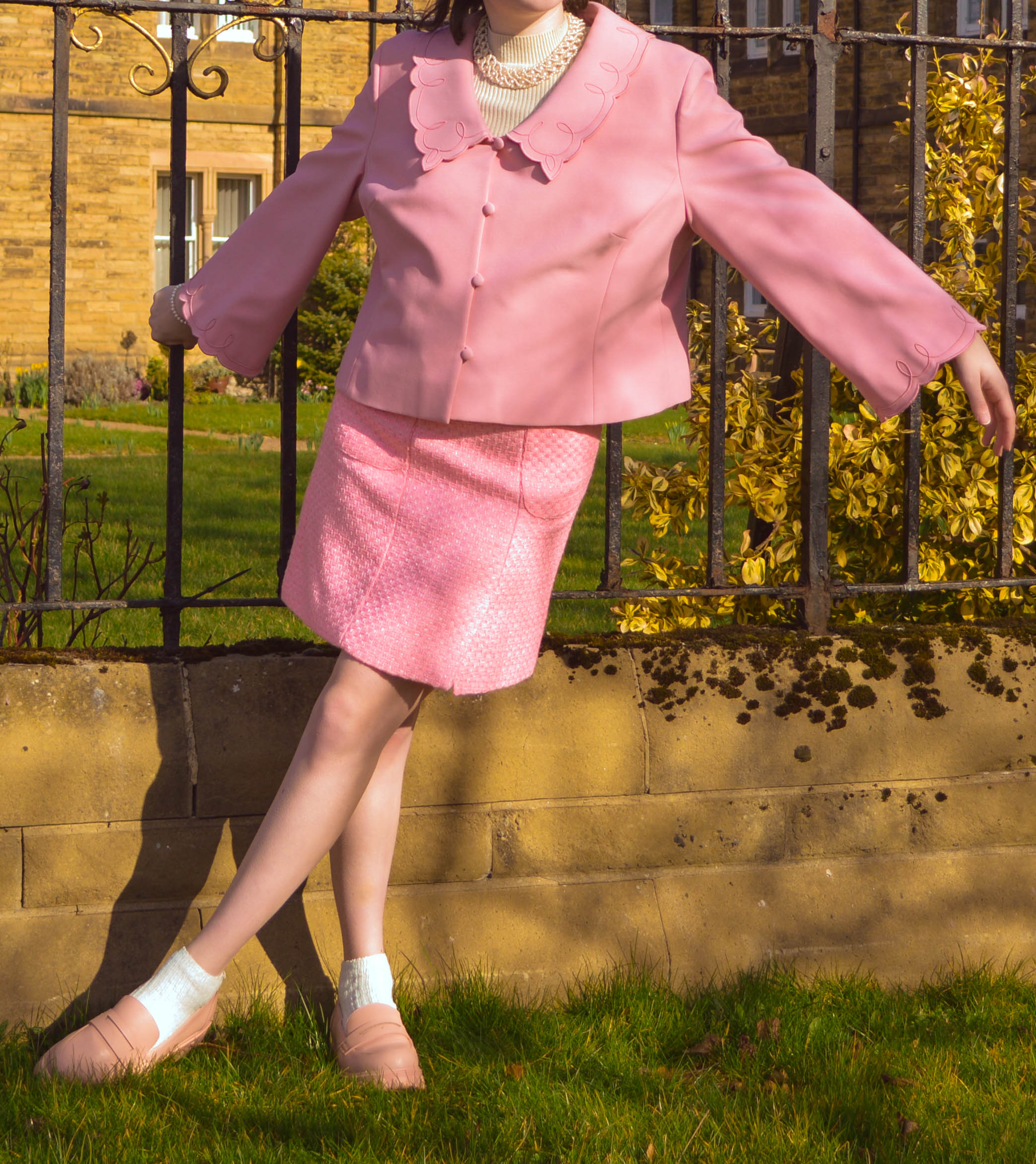 To accessorise this look, I picked my light pink Liberty London glasses so I could see what I was doing whilst also keeping to the pink theme. I didn't want to go overboard with the pink, so I added my off-white faux pearl choker and bracelet to tone down the outfit. I also added white socks to give a cutesy feel and for added comfort.
Outfit 2.
Blue.
Denim maxi skirt and nude bodice.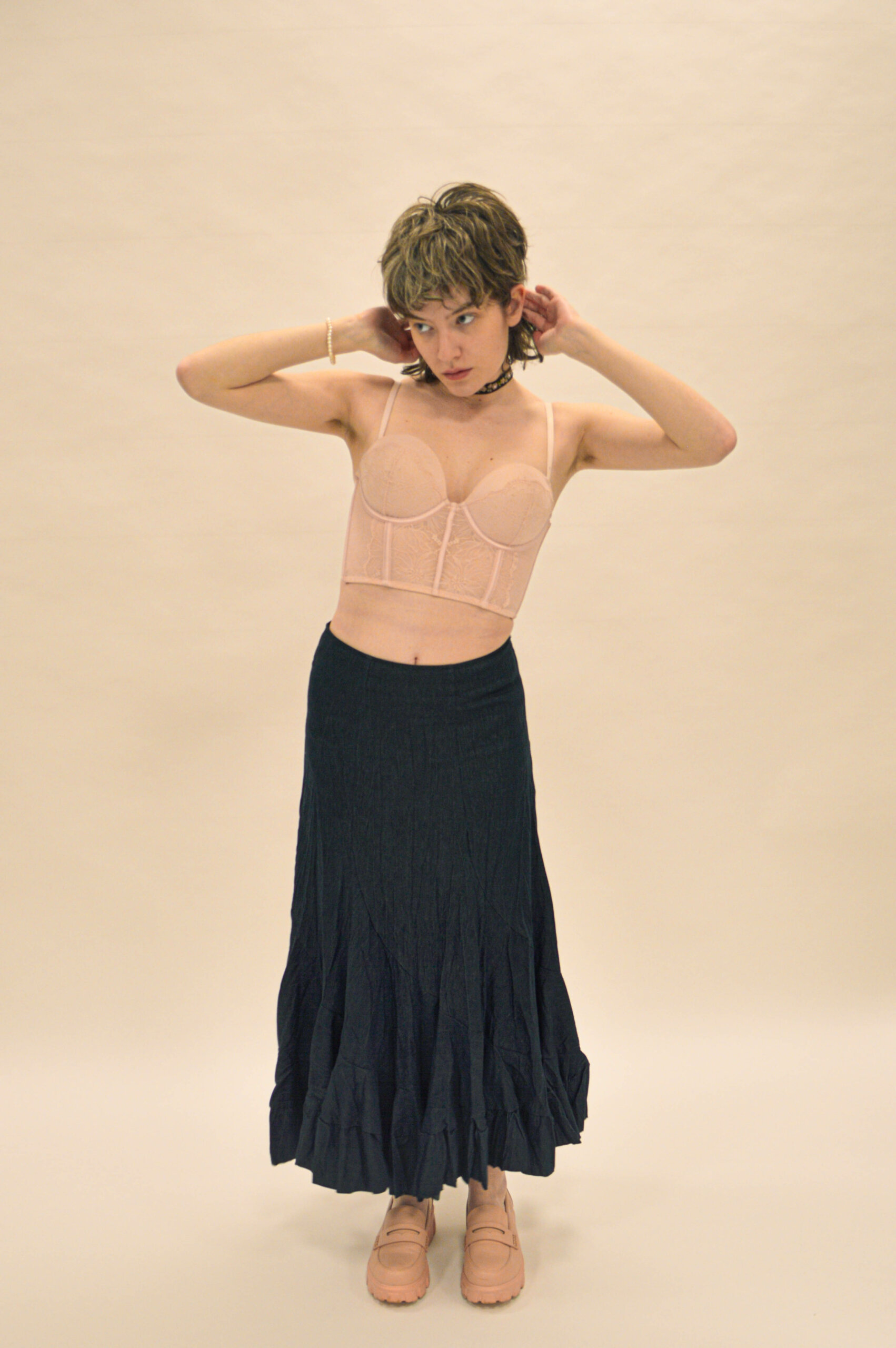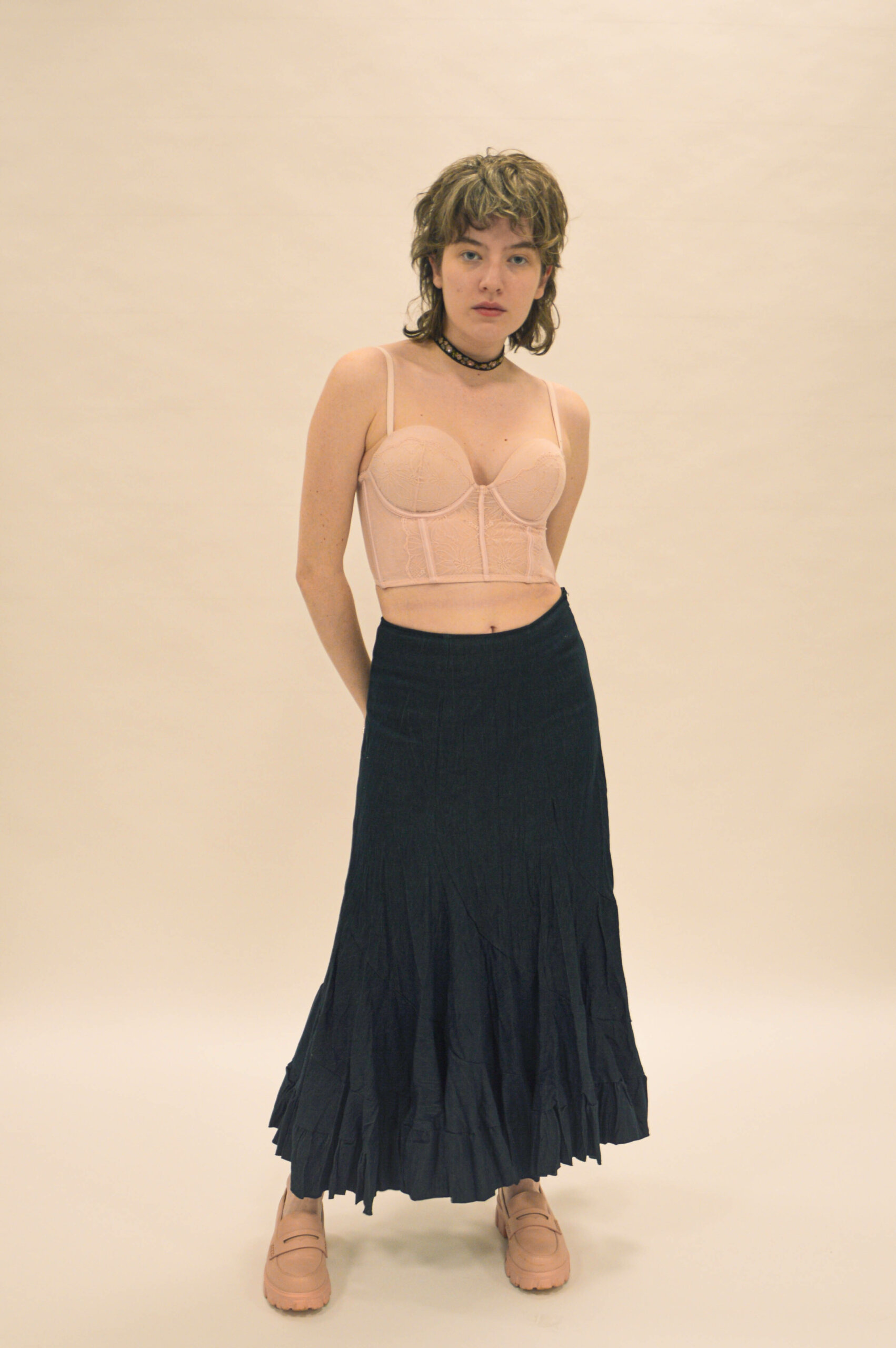 Personally, I'm not a huge denim fan. I find the material uncomfortable and if you're a girly with herpes (such as myself) the last thing you want is discomfort between your legs. However, this vintage Simon Jeffery skirt hits the spot! It's comfortable and I've never found a maxi skirt that fits me so comfortably while complimenting my figure so well. It was music to my ears finding out maxi skirts were back in because the North East winds really know how to bite at the knees.
Underwear being used as outerwear also trending made me very happy, especially as once upon a time if a woman even bared her shoulders, society would deem her improper and of low value. I'm glad I can wear small cute clothes and express myself with less judgement than once before as I'm dressing for me, not for the male gaze or any other boring trivial malarkey.
I chose the shoes as they almost match the shade of the top, tying in the outfit together and satisfying myself thoroughly.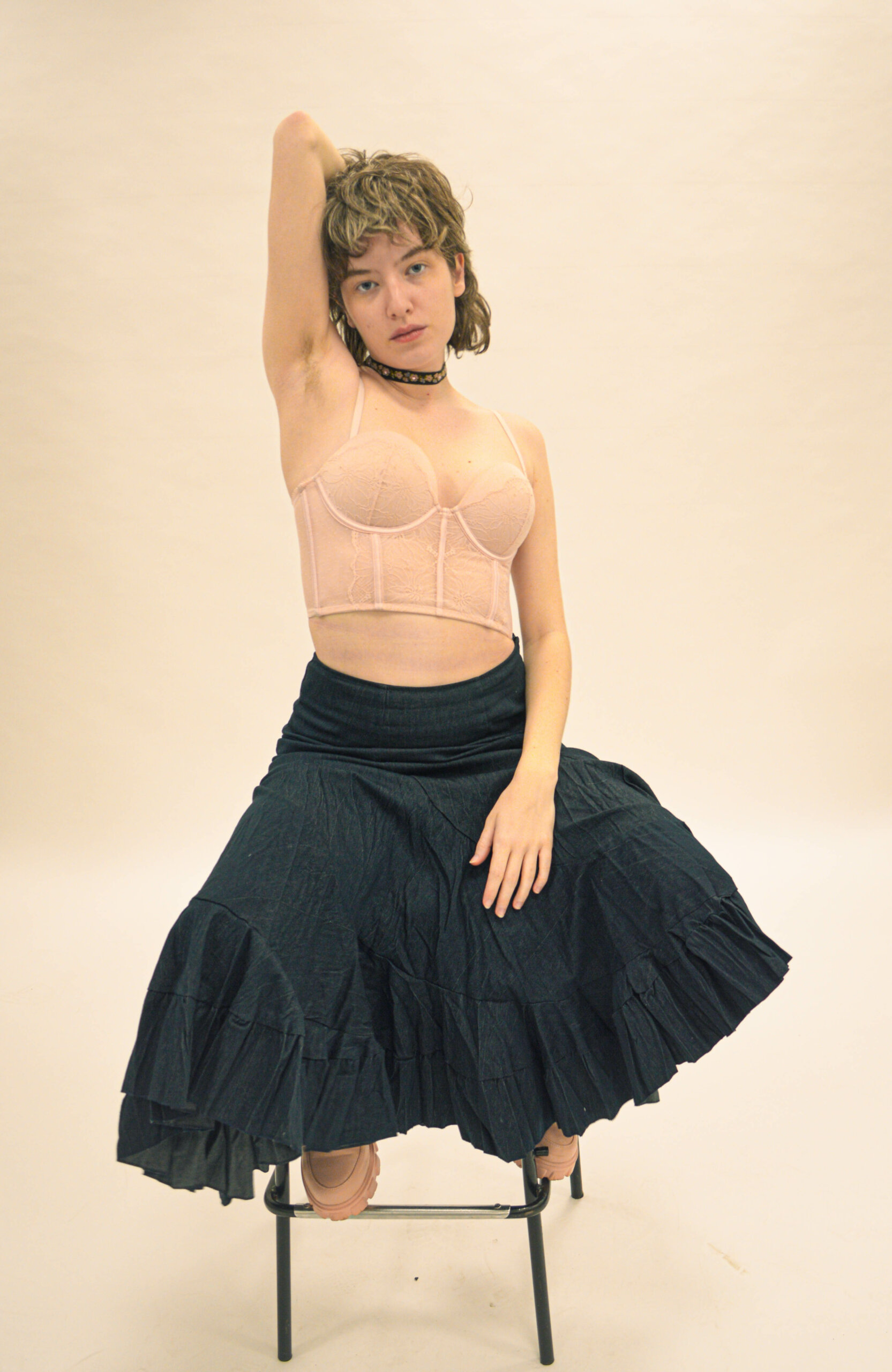 Other Trends.
2023 is looking like another great year for fashion, sadly I don't have a wardrobe full enough to cover all the current fashion trends I love, so I'll just mention the other styles and pieces I am happy to see being introduced or making a return.
Cargo Pockets.

I'm ecstatic to announce large cargo pockets are in, as nothing is more comfortable and practical than cargo pants. WOMEN'S CLOTHES NEED POCKETS and it seems the fashion industry is finally listening and taking a slight move towards practicality. I hope this style stays in fashion for a very long time! It's offering Billie Eilish level cool which we all need in our lives.
Sheer Clothing.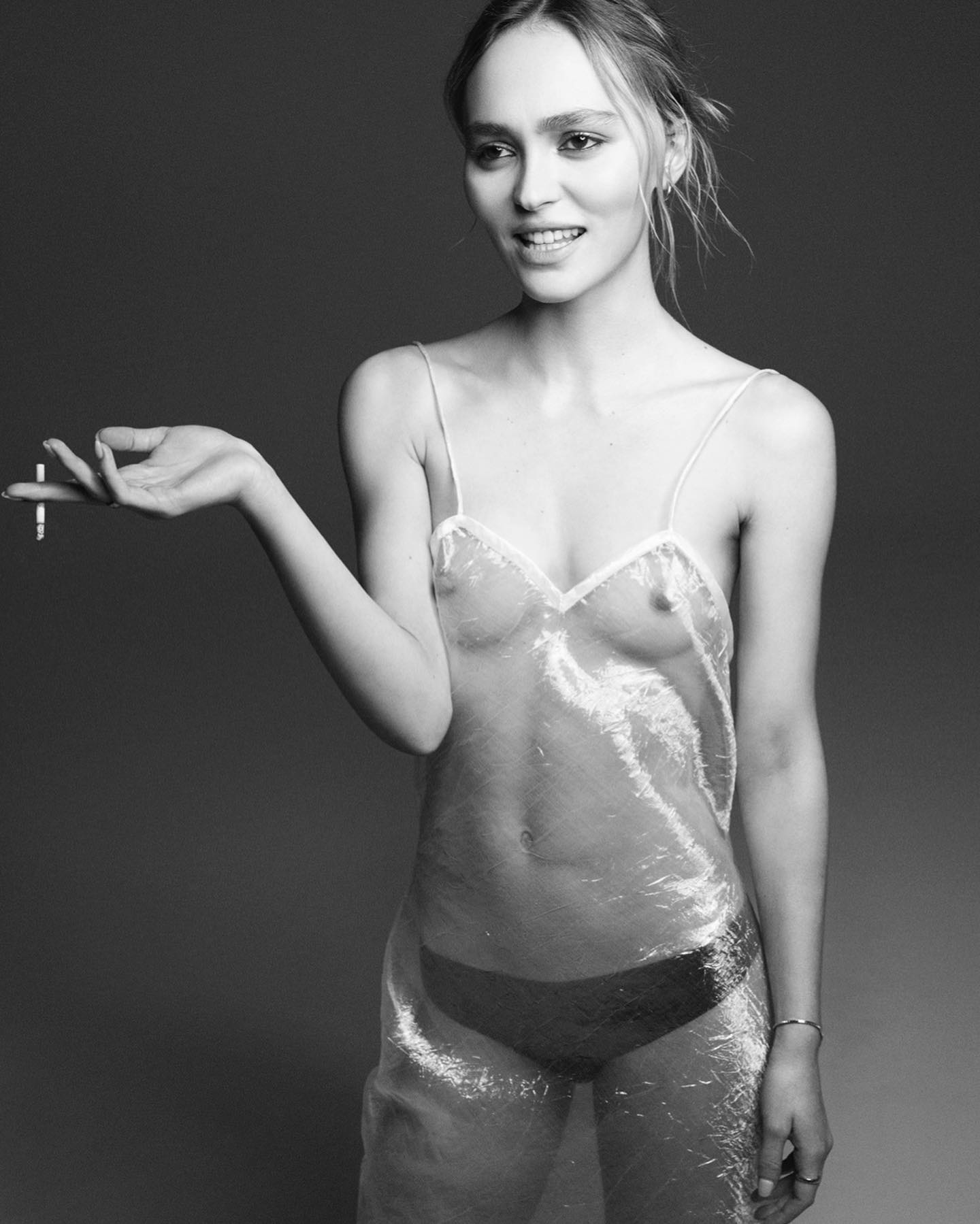 Sheer clothing too has made a huge come back, with many sheer pieces being feature in Vogue and Cosmopolitan as of recent. Again, I am a girly who enjoys having freedom with my clothes, and nothing makes me feel stronger than having my nipples poking through a shirt and disturbing some snowflake-boomer with my confidence, alike to how Lily-Rose Depp holds herself in the above image with confidence and class, with a nature about her that screams "I don't give a f*ck".
Image taken by Karim Sadli for i-D.
Hooded Dresses.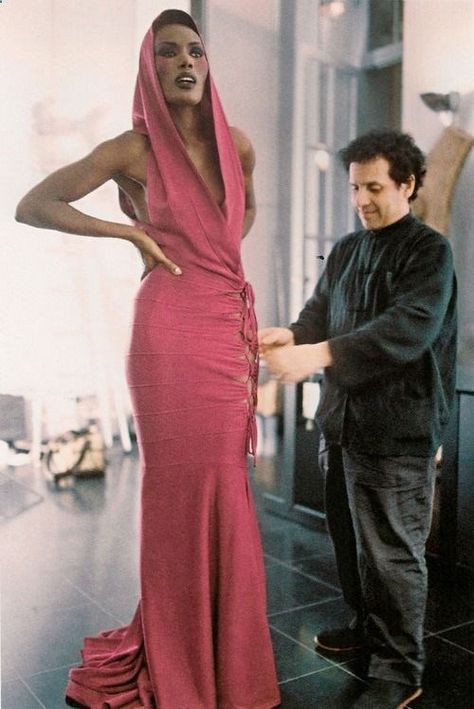 I am thrilled so many styles have come back around, but my favourite has to be hooded dresses. I think they're a stunning way to give off a mysterious vibe whilst also looking ever so elegant. It giving 1980's vibes and reminds me of the iconic moment Grace Jones wore this dress designed by Alaia for Vogue Arabia.