In 2015, I was the victim of a violent attack by a stranger, which left me a shadow of my former self.  But, as we headed into 2016, the year of me turning 21, I wanted to get back to who I was before I suffered this trauma. I wanted to gain my confidence back quickly and in any way that I could.
So, I applied for a beauty pageant.
I have always been interested in beauty pageants, not the competing side as such, but I was very intrigued by what went on behind the scenes. I have also had a few friends compete in pageants and have seen first-hand how competing have helped them overcome struggles and grow confidence. So, when I saw that there was a new beauty pageant on the lookout for girls to compete in the North East, I had to apply!
I never in my wildest dreams thought I'd even be considered, and so, I was shocked but excited too, when I received the email to say I had been selected as a finalist for Top Model of Sunderland 2016.
In the run up to the final, we took part in photo shoots and charity work because the main aim is to fundraise for the Foundation of Light, all of which I found incredibly fun rewarding. However, the thought of the final approaching was daunting for me, as I began to come to the realisation that this was very real and that I'd have to strut down a catwalk, and as someone who can't actually walk too well in heels, I was terrified! But most importantly, I had to start thinking about the biggest moment of the final. The big reveal at the end of the show. The pageant dress.
I was worried for a number of reasons. First of all, I didn't know if I had the looks or the body to pull off such a lavish gown, but secondly because I couldn't afford one. Gowns that are worn for pageants don't come cheap, or so I thought.  I tried to think of ways that I could still look glamorous and elegant on a low budget, even considering borrowing an old prom dress from a friend, but I really wanted the dress to be new and all mine to keep. I went to my favourite fast fashion brand Boohoo to see if I had any chance of finding something suitable on the cheap. Turns out I was in luck, as I found a hot-pink chiffon strapless maxi dress with an embellished sweetheart neckline bodice for £30.
Even though this dress's purpose was probably for a summer event or maybe even for a wedding guest at a push, I thought that I could turn it into a pageant dress with some slight re-working and some accessorising.
My great-auntie Pat is very skilled in dress making, so I originally went to her to ask her to alter the length as at 4 ft 11, most maxi dresses don't fit me. Once that was done, we were left with a lot of extra material, which is when inspiration struck. We would add straps! Not only would that be more comfortable for me, but it also pulled the whole look together more fluidly and gave it more formality. With the addition of a gorgeous pair of Jimmy Choo heels borrowed from my sister, and some exquisite earrings (the only thing I shelled out for), my pageant look was complete, and I felt beautiful.

When it came to the final, I didn't even place in the top five but that didn't matter.  The experience was amazing, and down to my dress I felt confident again, which was only the goal I wanted to achieve.
Having the opportunity to get dressed up this way was actually important to me for another reason too. I chose not to attend my school prom, due to having a boyfriend and friends from a different school, therefore not really having anyone to enjoy it with. It's something I have always regretted, that I never got that chance to get fully dressed up all fancy, but this pageant gave me the chance to do that. My boyfriend was there supporting me from the audience in a smart suit, so posing together after the show in our outfits, gave me that 'prom' magical moment with the love of my life.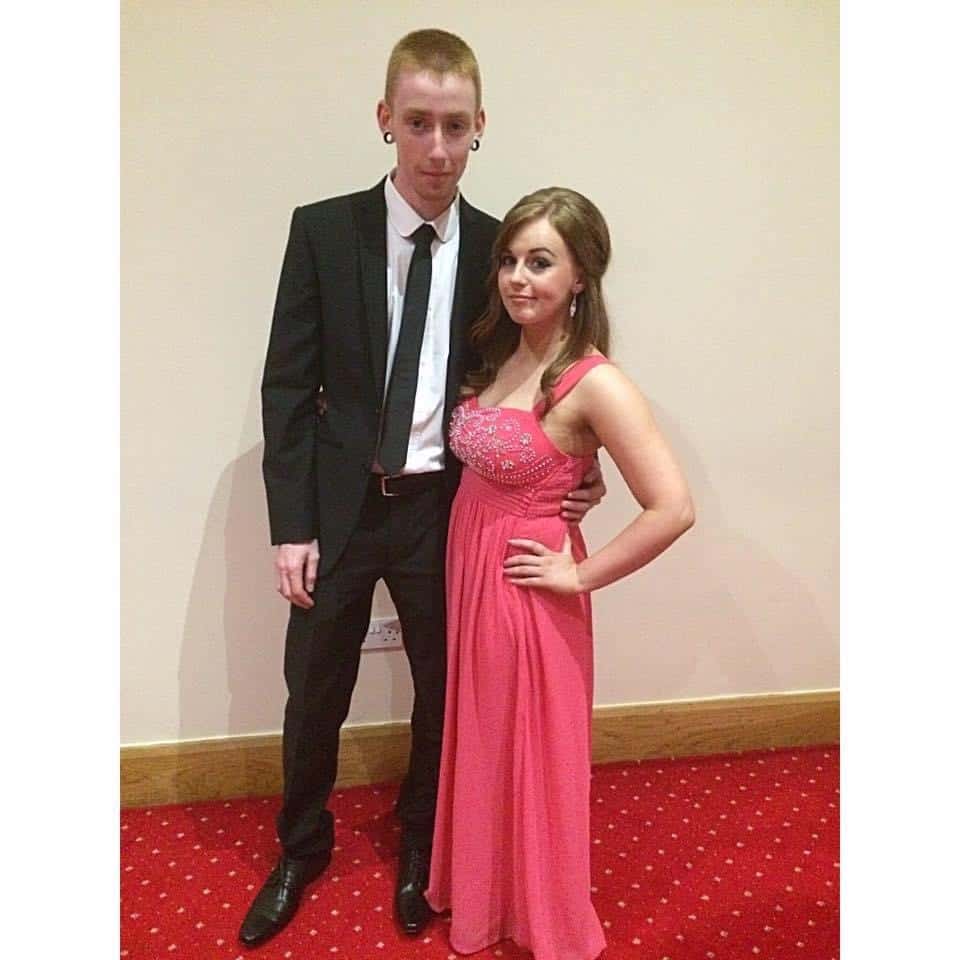 I still own this dress, and I will definitely be keeping it forever, just for the sentimentality and meaning it holds. It helped me to become me again after an awful time, and all it took was courage and the small sum of £30.