FN has assembled the perfect playlist to make you feel like the queen you are while you glam up for a night on the town.  
It's time to reclaim term 'out out' for ourselves ladies! For a scary few months there, it seemed as though we had lost the phrase to the dark side of lockdown for forever. Thinking back to the time that 'out out' simply meant to pop the bins out invokes dreary flashbacks to stockpiled toilet roll and the constant aroma of banana bread.
But with life starting to return to normal, it's time for us to once again venture out of our houses and paint the town red (if people even still say that- it's been a while)
However, if you are anything like the Fashion North team, then the real event of the night isn't actually going out and participating in a cocktail or two – but  the 'pre out out.' getting ready will all your friends over a glass of fizz.
So Fashion North has collated its  'Ultimate get ready playlist' and can be found on Fashion North's Spotify account.
With songs ranging from Lizzo's Good as Hell to Lou Bega's Mambo No. 5, It has everything you need to strut yourself out of the door and into a great night.
We've done it so you don't have to.
Everyone at Fashion North, as well as our amazing readers on Instagram, gave us their favourite feelgood songs, meaning the playlist is  a hefty four hours long. Plenty of time to shimmer those cheek bones and fleek those eyebrows to perfection.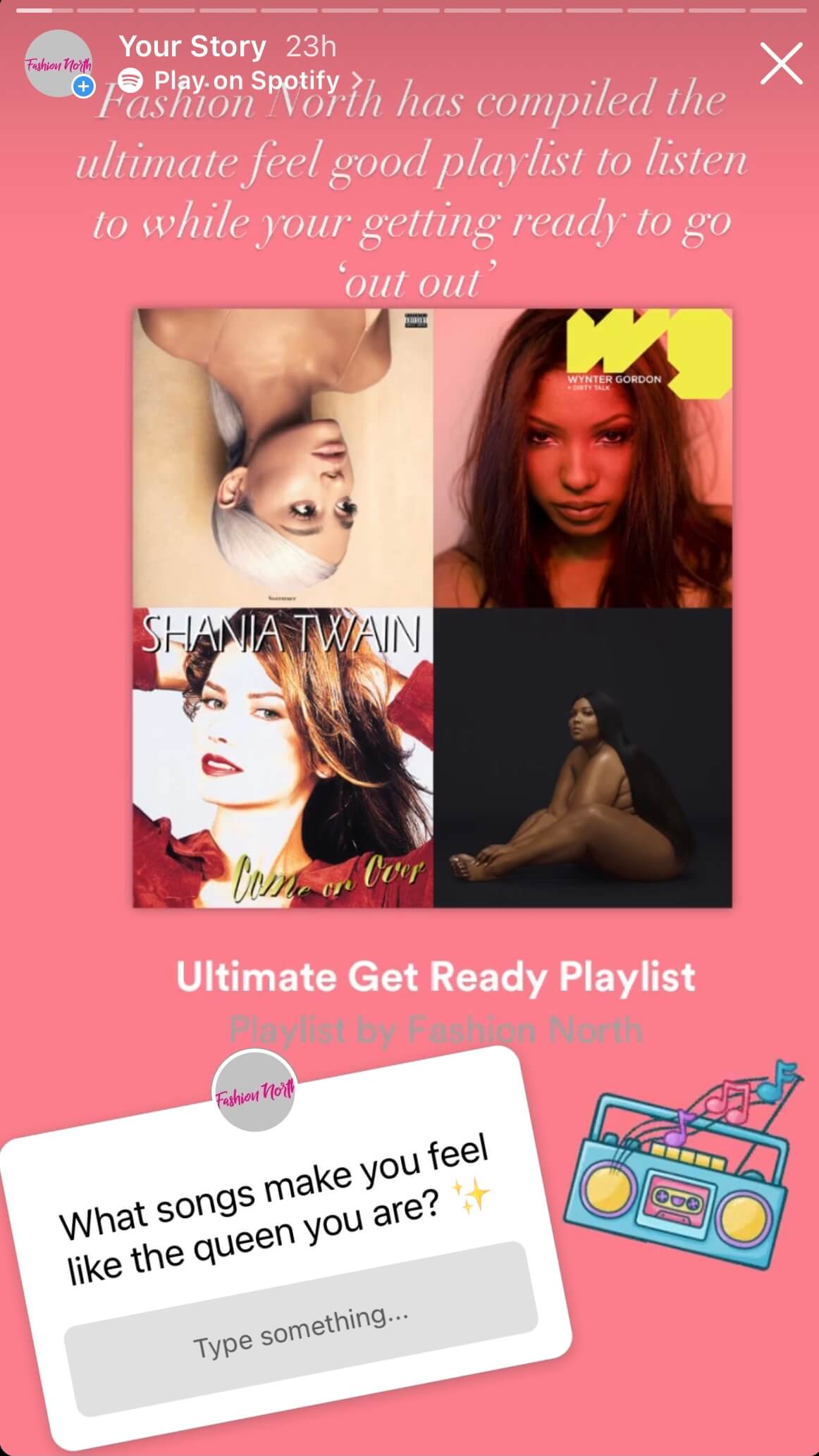 While some of the team voted to include some classic girl power tunes, with Holly and intern Caitlyn electing Confetti by Little Mix and Ariana Grande's Dangerous Women as their go to confidence boosters, others went down the less traditional route.
Harry set the tone by adding Pi'erre Bourne's Drunk and Nasty and Outkast's So Fresh, So Clean followed up by intern Ewan's choice of Pulp's Disco 2000. To which myself challenged with Sean Kingston's Beautiful Girls and the essential to any good playlist worthy of the name, Cyndi Lauper's Girls Just Want To Have Fun. I also may have snuck some One Direction in there for good measure…
Faraday went down a similar route to myself by adding the classic by Shania Twain Man! I feel like a Women! Proceeded by Fake ID by Riton.
Fashion Journalism programme leader Carole came in strong with Katrina & The Waves Walking on Sunshine, which Sorina followed up by Dirty Talk by Wynter Gordon and The Weeknd and Daft Punk's Star Boy.
Abigail contributed party must-have No Scrubs by TLC and Charmaine adding Lorde's Homemade Dynamite.
Meanwhile Lucy wrapped the whole playlist up with a Beyonce-sized bow with Partition and Upgrade You.
Have you had a chance to try out our new playlist for yourself? Which was your favourite song? Or was there a song that didn't make the cut that you think definitely needs to be added? Let us know on Instagram @Fashion_North or tweet us @Fashion_North