Fashion North reporter Maia Olusanya delves into the debate surrounding the Victoria's Secret documentary and declares the lingerie giant's rebrand 'unsuccessful.'
For decades, Victoria's Secret has taken the world by storm with endless glitz and glamour. They defined the beauty standards of the early 2000s and were notorious for their big-budget showy runways. The brand's iconic image featured bronzed and glistening bombshells, bedazzled bras, and an aura of exclusivity that made it a household name. However, as societal attitudes shifted towards inclusivity and body positivity, Victoria's Secret found itself completely out of touch with the times. In an attempt to pull themselves back after their fall from grace, they embarked on a highly-publicised rebranding journey, all starting with their documentary The Tour'23. Despite all the bold promises and grand gestures, the transformation turned out to be far from successful.  
View this post on Instagram
The Victoria's Secret depicted in the documentary appears vastly different from the beloved brand we've long recognized. The question currently circulating across the internet is whether this transformation is a positive one. Over the years, the brand has faced criticism, particularly from younger generations, for perpetuating unrealistic body ideals and overly sexualizing young women and girls. However, in the wake of this new documentary, the internet's sentiment seems to have shifted, calling for a return to the iconic "old angels."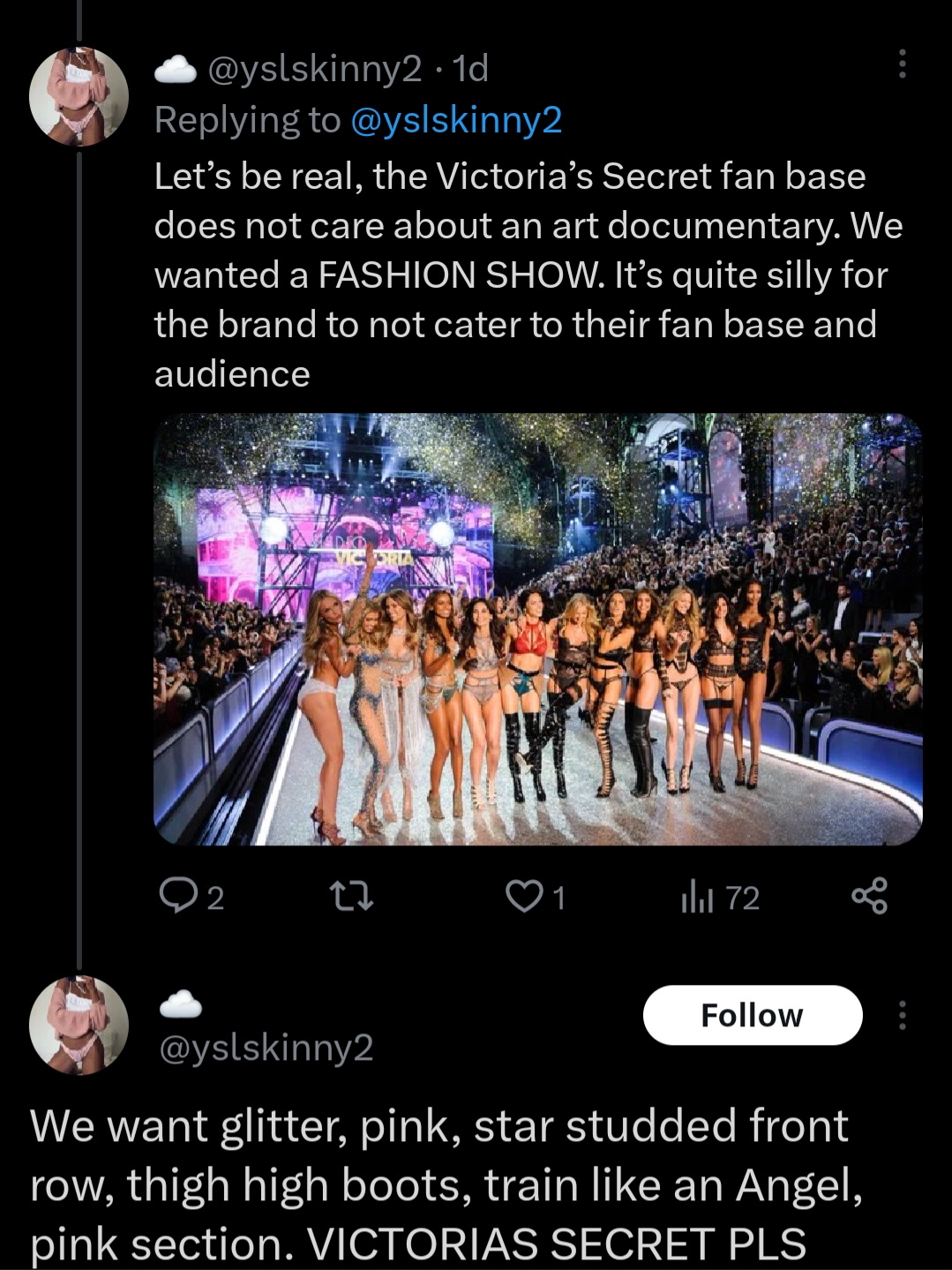 Despite some of the biggest VS models showing face at this week's Prime Video premiere for 'The Tour' giving some hope it soon became clear that this documentary was more of a showcase for creatives and artists than a glamorous lingerie show. The opening statement read: "In 2021, Victoria's Secret began a journey. The goal was to give a new generation of creatives from around the world the opportunity to tell their stories and see their creations brought to life on the world stage. The platform? The VS show. This film is theirs."
Many fans believed that the overall message conveyed throughout the show appeared muddled, leaving many frustrated by the misleading marketing that presented it as a fashion spectacle when it was, in fact, something entirely different. While the brand's commitment to inclusivity represents a significant stride, featuring a diverse array of artists and individuals of various shapes, colors, and sizes, the execution felt somewhat disjointed and out of touch. In their earnest pursuit of appeasing a broader audience through progressiveness, it seemed as though the brand had lost sight of its core identity. What they failed to recognise was that they could have retained their glamorous and feminine allure while simultaneously embracing inclusivity.
View this post on Instagram
Nevertheless, it seems that no matter what Victoria's Secret decided to unveil, they were in a situation where they couldn't emerge without criticism. Even if they had presented the anticipated jaw-dropping, glittering runway show, they would likely have faced hate for failing to learn from their past mistakes and perpetuating damaging body ideals. It's a stark reminder that pleasing everyone in the times of the internet is a near-impossible feat. It's commendable that major brands are putting in effort to make improvements. However, they might find greater success by maintaining a clear and consistent brand image, rather than attempting to tackle everything all at once which as VS have shown leaves fans confused and dissatisfied.