Nail art is one of the most expressive, experimental, and exciting facets of the beauty world. The latest beauty trend we love at Fashion North is 'barely there' nails. This includes delicate brushstrokes that could easily be mistaken as a trick of the light and involves all your perfect nude and peachy shades you have in your collection. 
As we are now into the second lockdown, we have become our own nail technician at home. Not only does doing our nails make us feel pampered but, it showcases healthy, clean, and cared for nails.
We created our very own barely-there nails with a step-by-step tutorial to show you how to get the prettiest nails in your household. 
Here at Fashion North, we spoke to local nail technician Ellie Henderson, whose job has been impacted by the Coronavirus Pandemic. She shares her top five tips on how to get perfectly manicured nails at home.
Ellie Henderson, 18, from Sunderland, worked as a mobile nail technician before losing her full-time job due to the Covid-19 pandemic but now works full-time in Robyn Anderson Makeup Studio based in Sunderland as a nail technician where she rents a chair in the salon.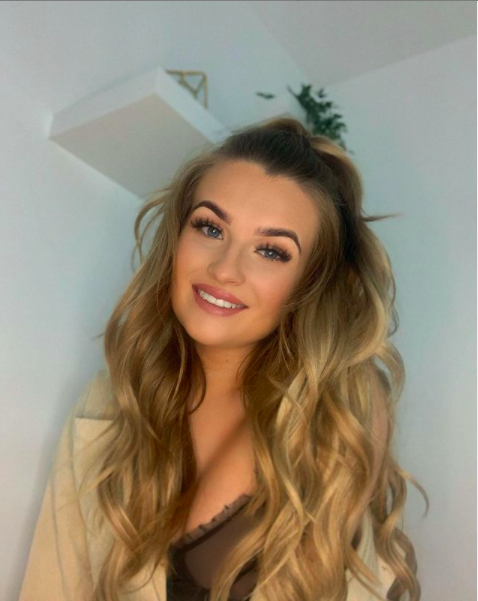 Photo credit: Ellie Henderson
"Being self-employed during the pandemic has been stressful," said Ellie. "Not knowing when I could go back to work. No income, I wasn't even able to get the self-employment grant as I had not been working self-employed for more than what was required. I had bills to pay, people have families to care for. If I did not have such a supportive family, I don't know what I would have done."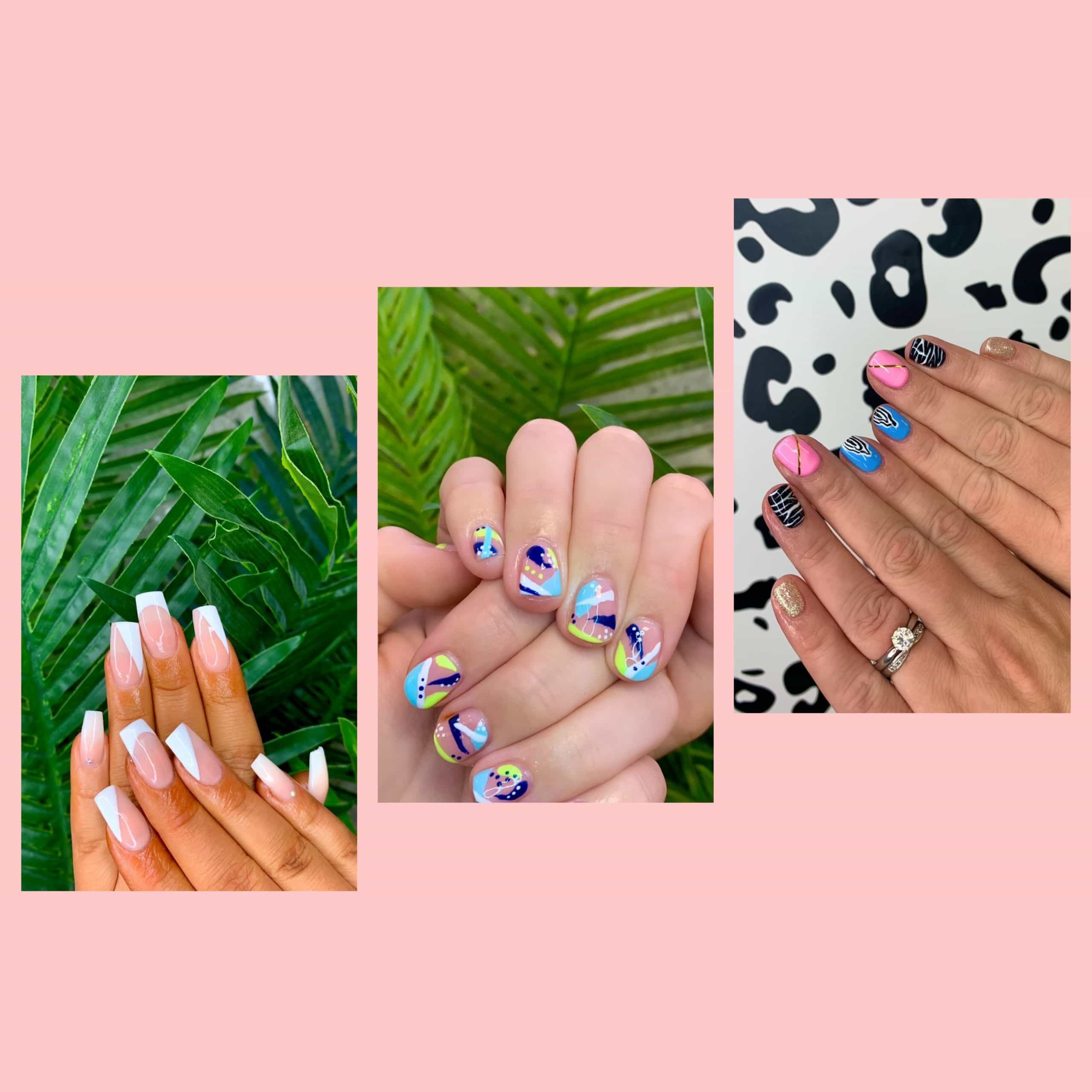 Photo credit: Ellie Henderson
This is some of the nail art designs Ellie has done on her clients
Ellie said: "Clients come to receive treatments, but they are not just treatments. It's a chance to relax, a time where you can go and talk to someone, even if it is just a small conversation. Some clients love to tell you everything; you are like a therapist! Having your nails, lashes and hair done makes you feel so much better about yourself. It gives people confidence." 
"This second lockdown is worrying for the industry because we know what happened last time. We were the last to open up. Will it be the same this time?"
As a result of the pandemic, the beauty industry was hit hard with having to close all of its doors to the public due to government guidelines. However, Coronavirus has changed the way we receive our treatments now. 
"Working through a global pandemic is not what I expected to be doing at all, " Ellie added. "Sometimes, I feel like I am about to go into surgery with my mask, visor, and gloves. I also have a screen in place to protect me and; my client. Normally a nail technician would only wear a mask and or gloves. So, PPE costs have had an impact on us."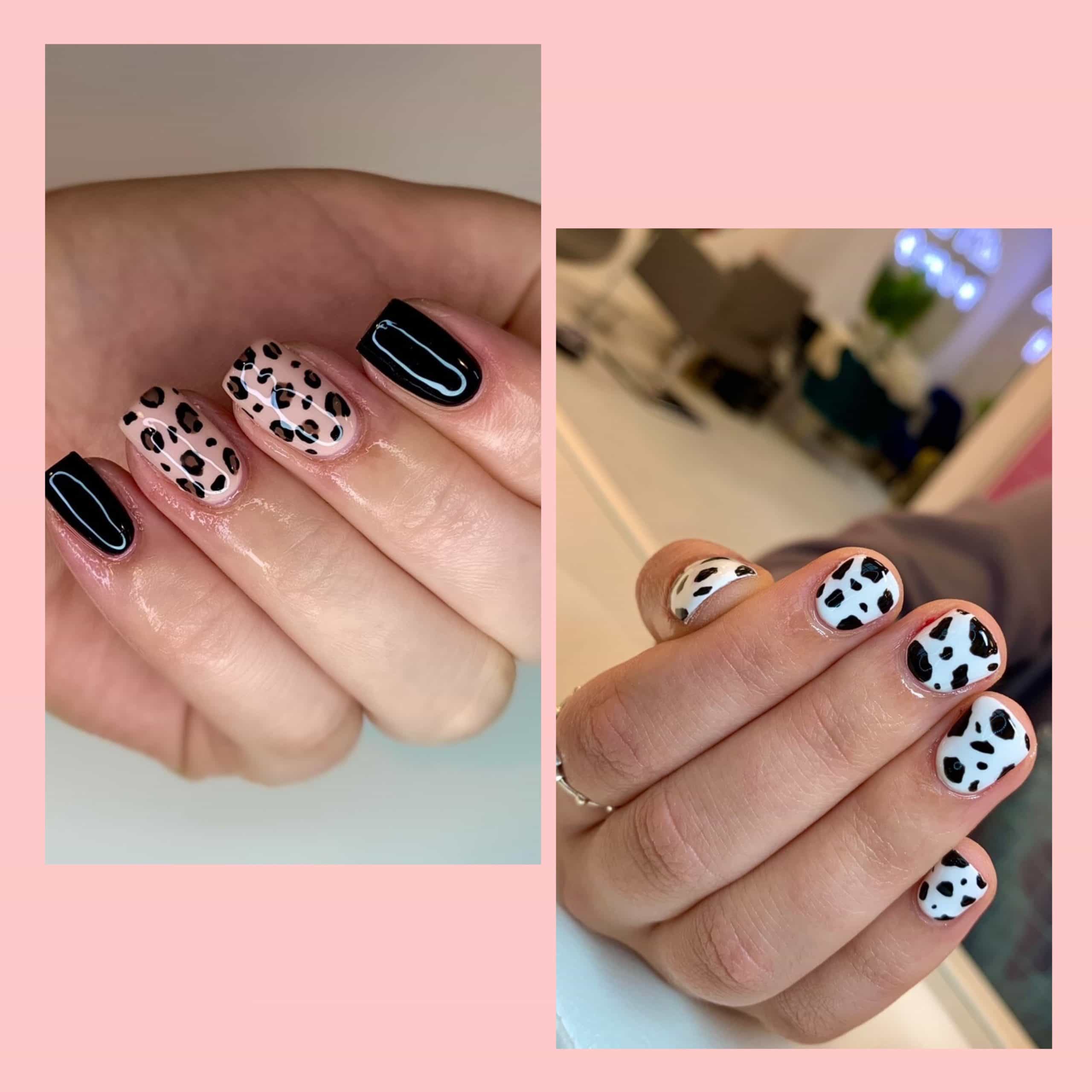 Photo credit: Ellie Henderson 
A cow and leopard print nail design Ellie has done on her clients 
The Covid-19 outbreak will drive a significant loss in value for the beauty market in 2020 as the lockdown period has not only limited sales but has also affected usage habits such as hair and nail appointments. Many salons are to increase the amount of health and safety measures they have put in place for their clients to ensure they are safe.
"Cleaning products are my new best friend. I wipe down everything after each client with disinfectant and use barbicide for my tools. This also means having longer appointment slots to make sure I have time to clean everything, meaning I have to work longer hours. In the salon, we take a client's temperature upon entering and, we ask them to sanitise their hands."
"In my opinion, I feel it is safer with all the equipment and, I will be keeping most of these measures after this anyway. Clients feel safe coming somewhere clean, especially in these times. All of this shows that we are capable of protecting our clients."
Check out Ellie's five tips to try nail art home below.

 Photo credit: Fashion North
Why not become your own nail technician until the salons open again?
Check out Ellie Henderson on Instagram here
Tweet us your favourite nails you have had done before @Fashion_North!