Following the obsession with food on social media, Fashion North looks into whether people are trying to make a fashion statement with their food.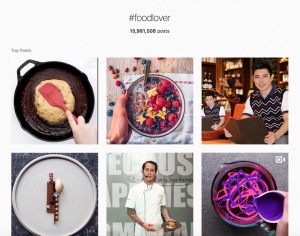 We all know the score when you are going out for a nice meal. You spend hours getting ready and then hours finding the perfect lighting for that Instagram selfie and then waiting until 'prime time' to get the most likes on Instagram. But, for some people that perfect selfie isn't the most important upload of the evening but in fact the picture of their evening meal.
Sunderland based Chef, Chris Oldd, said: "It's a great boost for me when I see a dish I have made make it to Instagram".
Instagram is one of the most successful app in the world, with over 500 million active monthly users with an average of 95 million photos and videos per day, with these numbers it is no surprise that Instagram is so popular in this trend.
Statistics from Hootsuite.com
With various hashtags such as #foodie, #foodlover and #foodgram returning 142,022,801 posts there is no denying that this is a massive deal and a large part of Instagram in itself. But, what if people are sharing these images not only to let friends know they had a nice meal but as a fashion statement?
Senior Trend Strategist at Trend Bible, Naomi Shedden, thinks it is possible that people are trying to make a fashion statement of social class and that shows off how wealthy they are.
She said: "We have been exploring the "insta-foodie" trend for a while and it has morphed from very healthy foods to very unhealthy ones. Now it's very polarised. In my opinion the driver for this is experience as a form of status… "look how rich my life is and full of experiences" – the biggest impact this has on fashion is to compete for expenditure!"
To explore more of the relation between fashion and food we spoke to Stuart Foster who writes Go-Eat-Do, an award winning food and travel blog based in Sunderland.
Mr Foster said: "Food does play a role in defining groups. Just look at the proliferation of avocado-based dishes, sourdough and pulled pork that we now see on menus in the wake of the popularisation of hipster fashion. Foods do come and go from fashion. The prawn cocktail, so popular in the 1970s, seems to be making something of a comeback.
Personally I believe that the visual appeal of food plays an important role in defining how we regard it, and strive to take food photographs of high quality."
Chris Oldd, Chef at Gatsby's Sunderland, agrees that this trend follows the popularisation of hipster fashion: "I would definitely consider food a fashion statement in high class restaurants/hipster places. It is pretty important that a dish looks great and makes a statement but for me it is all about the taste."
We spoke to Jeff Lyall, writer of Newcastle based blog, Newcastle Eats to discover if this focus on making a fashion statement with your food and the way it looks on a plate is taking over so much that it is then becoming the most important element of a meal over the taste of the food itself.
Newcastle Eats blogger, Jeff Lyall, said: "I think customers are increasingly looking at the ambience, décor, plating and presentation of a restaurant and its food when deducing on a place to eat. While there's probably a correlation between the advent of smartphone and great phone cameras and dishes being increasingly made to look better than they possibly taste. It is probably social media which has brought on this trend. Businesses have become savvy to the fact that customers sharing (good) photos of their food on social media is great free marketing. I do believe that a growing number of restaurants are designing dishes for how good they look on social media, at the expense of how good they taste."
Another fashion statement on how Instagram users could be trying to show off their food snaps is that they are trendy and they know the latest and newest places in the area to eat in as Jeff Lyall explains:
"When a new restaurant opens, especially if it's quite trendy or super-modern, it can be desirable to check in at the latest 'place to be seen'. So, to that extent, customers want to be among the first to check in at a new venue. Similarly, if a customer shares a photo from a high end/Michelin starred place, it can say to their network 'look where I am'".
There are several new restaurants opening in Sunderland recently so why not get yourselves down to them and show your Instagram feed that you are trendy enough to know the latest places.
The Fire Station is a new bar and bistro in the place of the Old Fire Station off High Street West, Sunderland and after being derelict for 22 years it had its official opening this week.
New Mexican restaurant called El Nido is opening its doors on Tuesday night in Frederick Street boasting a large variety of Mexican street food and a wide selection on tequila and tequila based cocktails.
Even when people are not sharing images of their food on social media it is having a large influence on their wardrobe by being physically on their clothes.
Check out this article on Fashion North
Wear your favourite food (and we don't just mean a spillage)