British high streets aren't what they once were so if you walk down your local high street you will see countless empty shops – is this all down to the boom of e-commerce? Fashion North investigates.
Every year it seems there's more bad news for our high streets with numerous big branded shops either closing multiple stores or going into liquidation. It's a sorry state of affairs for our current high street. Not only are we losing shops from our high street but hundreds of staff members are also being made redundant. So, the thought prevails is e-commerce taking over our high street and where will our British high street be in 5 years time?
Debenhams has announced they will be closing 50 stores out of their 165 within the next five years putting 4,000 jobs at risk. New Look has announced 85 store closures with 100 at risk due to a drop in sales as a result and 980 staff member will be made redundant. Marks & Spencer is to get rid of 100 branches by 2022 with the risk of 600 staff members being made redundant. Homebase is set to close 42 stores across the UK and Ireland which will leave 1,500 people redundant, while Italian food restaurant Prezzo closed 94 branches in April and May. It seems that the high street
is becoming more of a failing street.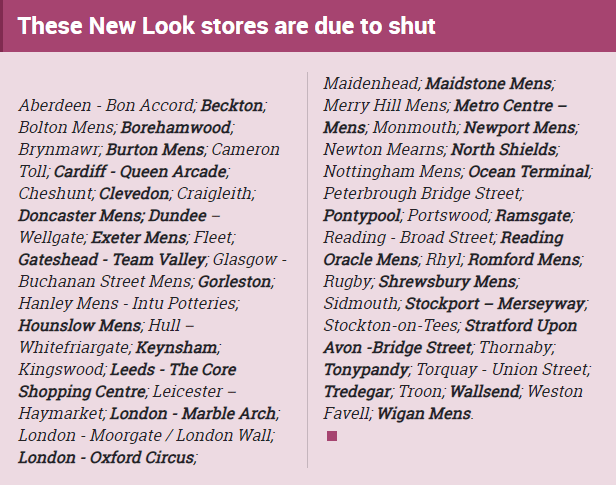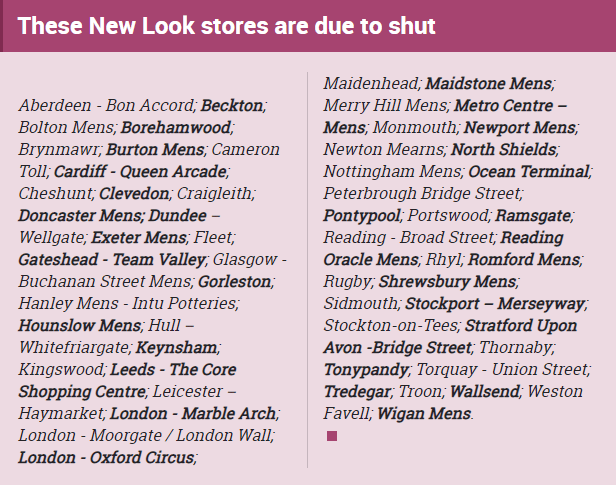 Credit: The Sun
Meanwhile, e-commerce is booming, there are multiple online fashion retailers such as Pretty Little Thing, Boohoo, Nasty Gal and Missguided just to name a few. Missguided release up to 1,000 new items on their site every week, something that the likes of high street retailers Primark just simply can't keep up with. On Wednesday November 7 The Sun on Snapchat reported that Primark sales have fallen by 2.1 per cent this year alone. Primark would benefit massively if they had an online shop where the customer could purchase items, however, it doesn't look likely anytime soon due to the low price points of their clothes.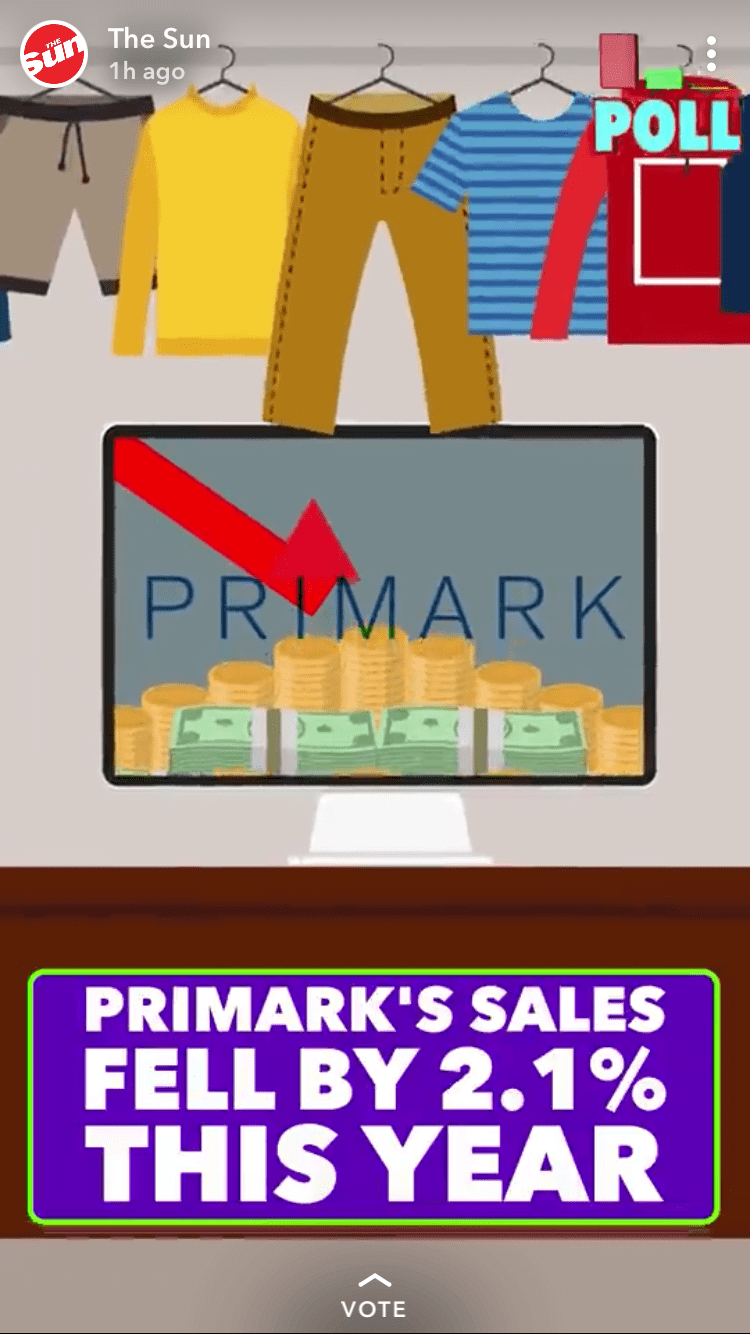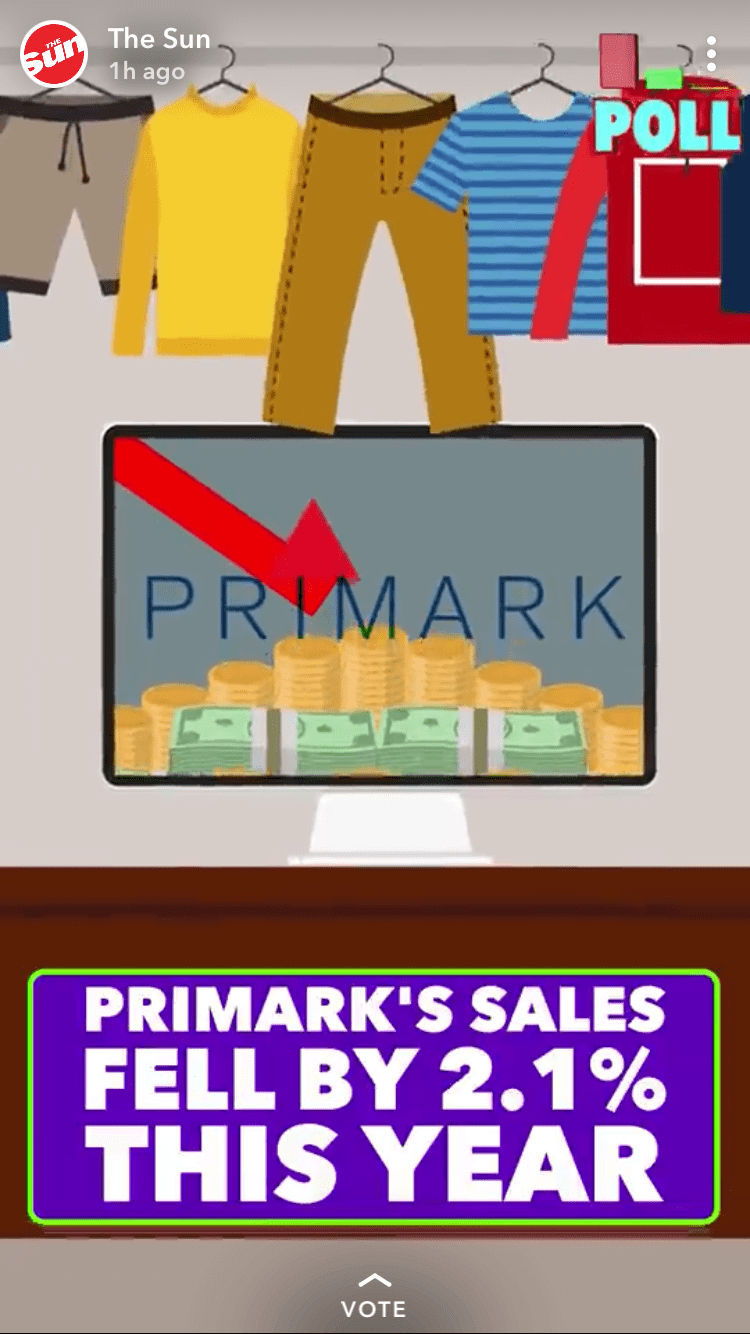 Credit: The Sun Snapchat
In 2016 online retailer Missguided opened their first physical store. They have now opened shops in Westfield London and Bluewater, Kent as well as two concessions both in Selfridges in Manchester and Birmingham. So, on one hand, we have online retailer giants opening shops and concessions on the high street while our staple high street brands such as New Look and M&S are struggling to keep on trading.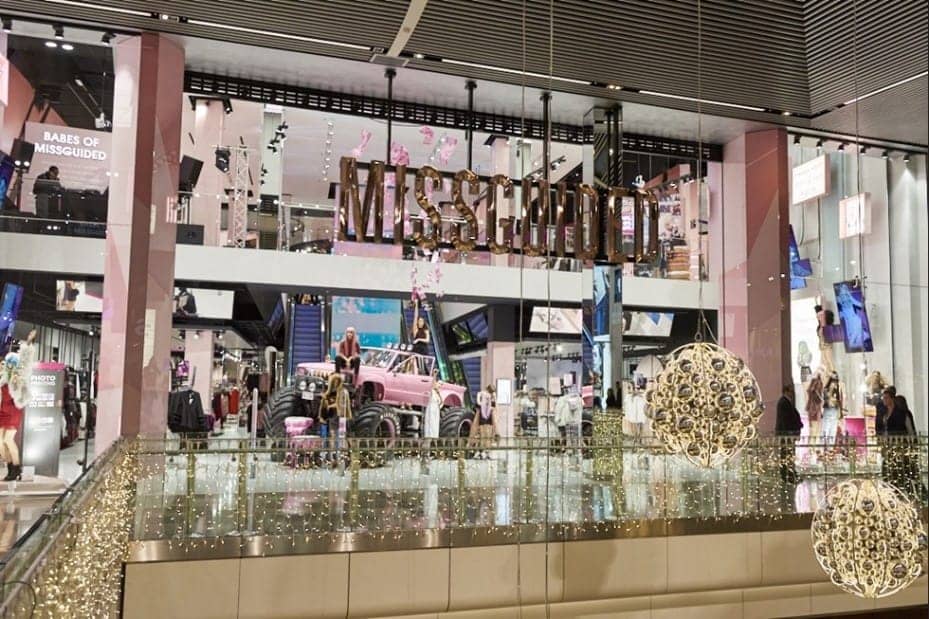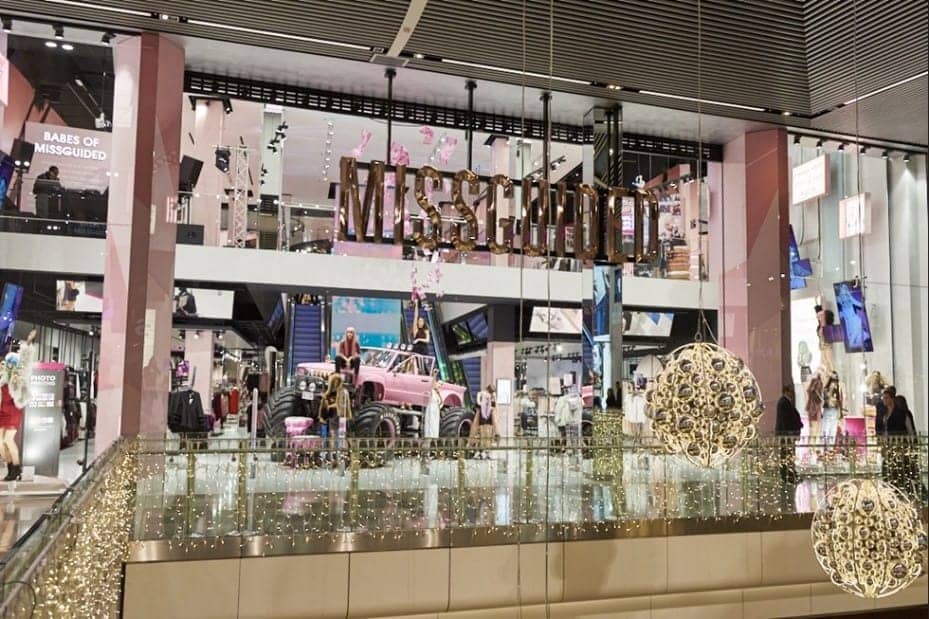 Credit: Drapers
The e-commerce versus high street battle is well and truly on. High street retailers that have been doing well and haven't faced any store closures have a really good online sales turn over for example on October 25, ITV News at Ten reported that:
Next's online sales contribute to 45 per cent to their overall sales figure.
John Lewis' online sales figure contributes to 39 per cent of their overall sales figure.
Debenhams's online sales only contribute 20 per cent of their overall sales figure.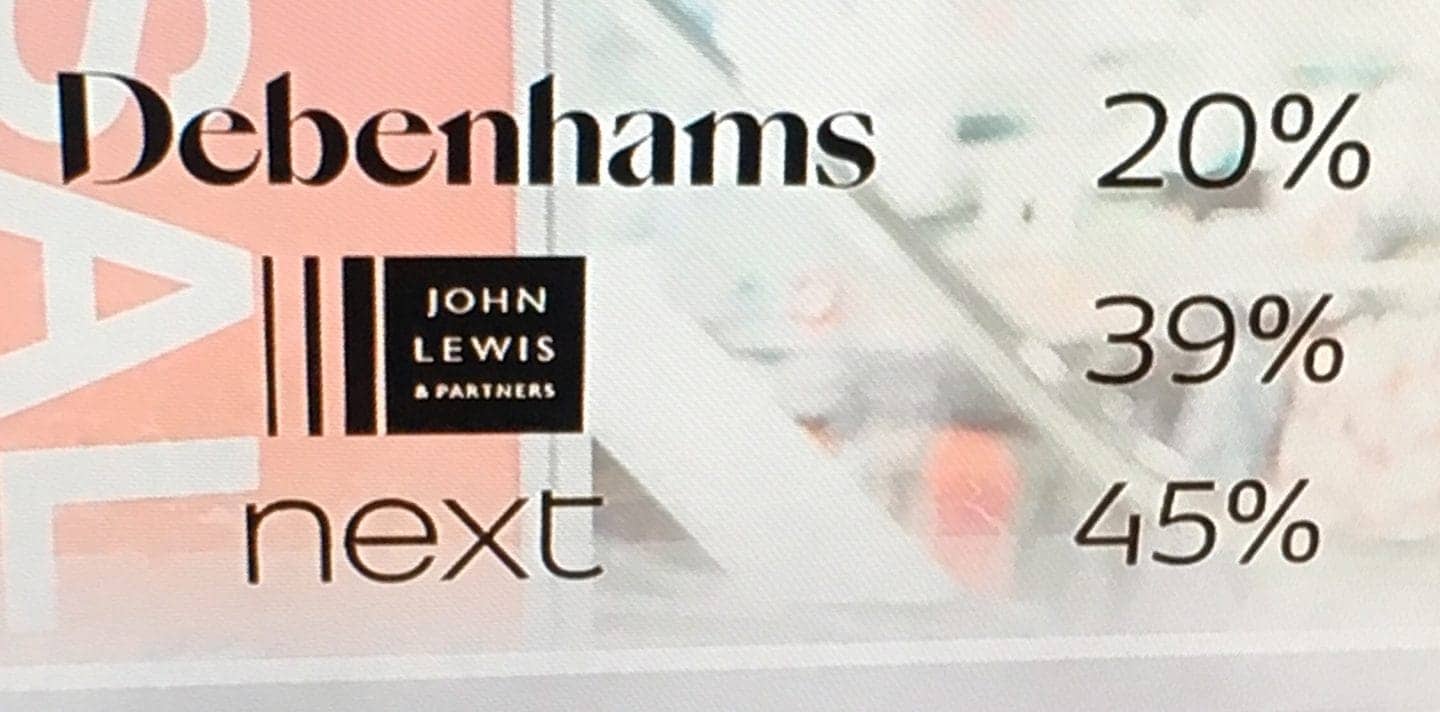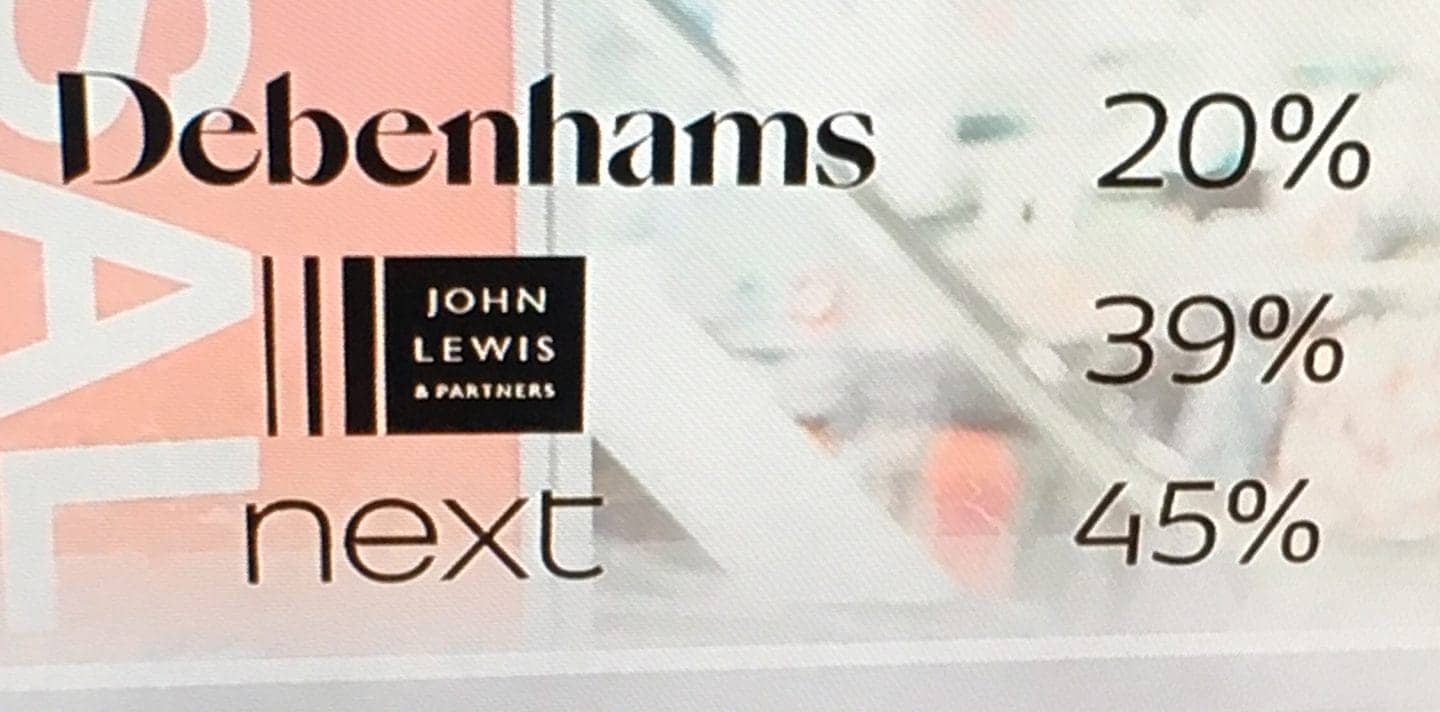 Credit: ITV News at Ten
Just in those three sales figures alone, it shows that a brand's online sales figure contributes massively to how well they do overall and therefore how they manage to keep their shops on the high street. More and more shoppers are turning to e-commerce rather than going into their local town or city to shop as it is easier to shop in the comfort of their own home.
With it being reported that M&S food sales were down 2.9 per cent, clothing and homeware revenue fell 1.1 per cent and Debenhams closing 50 stores, their online sales at a mere 20 per cent which is considerably weak and finally the cost of operating stores increasing it's clear that the pressure is growing year on year for big brand retailers. For example, British Home Stores a huge British staple brand that had been on the high street since 1928, is no longer in trading and closed their last store in 2016 and went into liquidation at the end of 2016. Even Toys 'R' Us the once toy giant of the high street have closed all their UK branches.
Richard Hyman, RAH Advisory LTD, Retail Analyst, said: "The weaker retailers are being hit the hardest, especially those with weak brands, and loads of debt – Debenhams is an excellent example. House of Fraser was another before Mike Ashley bought it. We'll have to see how much of a rescue Ashley's acquiring of HoF really is, but I'm not holding my breath."
In recent news, Mike Ashley has threatened to close all of the 15 stores he currently owns across Intu shopping centres which includes the likes of House of Fraser, Flannels, USC and Evans Cycles due to to a dispute with landlord Intu Properties. According to reports, the dispute is down to the cost of rent Intu are wanting to charge. House of Fraser in the Metrocentre is set to close in the new year.
High-end brands such as Mulberry have taken a hit due to the collapse of House of Fraser, they took a £2.1 million hit from debt and assets written off when the department store went into administration. Due to the massive hit Mulberry have taken it has led to an 11 per cent drop in its UK retail sales in the last six months.
Although this is perhaps bad for your local town's high street on the flip side it could be an amazing opportunity for smaller independent brands. Why? Well, they can be exposed to a far greater audience with e-commerce. Rather than just trading in a small shop in a small town they're able to reach out to customers all over the UK as well as overseas, which they wouldn't be able to achieve without e-commerce. However, of course, e-commerce can completely take over a smaller brand and leave them with little to no customers unless they have loyal, regulars that keep coming back to shop.
Joanna Smith, 22, who works at Transform Your Images in the Metrocentre commented: "Over the last few years e-commerce has taken a toll on smaller businesses within the Metrocentre, it's caused many shops to close down, become pop-up shops or downgrade in size. The online market for clothing, film merchandise and bespoke gifts has really taken over, and our shop is another that has been hit by the evolution of e-commerce. We sell bespoke wall art at a mid-range price point but takes a fraction of the time to produce so customers can easily go shopping while they wait. However, many people are now opting for the cheaper versions online that can be delivered at a time suitable to them and this is starting to have a negative effect on the store as less new customers are coming in. Regular and past customers of ours are still more trusting of our store than online."
So, where will our high street be in five years time? Will the growth of e-commerce fully take over our high street in towns and cities or will we all be doing our shopping digitally? The key to the survival of our well-beloved high street shops is ultimately to have a great e-commerce presence. Tweet us your thoughts at @Fashion_North