The new Joker movie has been released just this month and fans are already swarming all over the internet with recreations of the look just in time for Halloween.
It is the latest movie in the DC cinematic universe, and now the 6th on-screen rendition of the Joker character. Instagram and YouTube feeds are filled with this new character recreating, not only the makeup look, but also his outfit too.
The movie has been a huge hit, getting 9/10 on IMDb and 68% on rotten tomatoes. People on twitter had a lot to say. Joesph Poelstra said on Twitter:
"My wife and I saw Joker last night…Wow, just amazing. The portrayal of the mental illness and everything else that led to him becoming the Clown Prince was absolutely stellar! It makes you think differently and how to empathize with people that are "different"".
There was also some strong opinions being said. Kerrigan Herret said:
"You know what? I'm just gonna go ahead and say it. Joaquin Phoenix did as good if not a better job than Heath Ledger."
But the movie didn't go down well everyone…  The Guardian called it "the most disappointing film of the year" and went on to talk about how it was too serious.
Despite the criticism, Joker is going to be a a key style for Halloween this year, with hundreds of people already getting down with the look.
The makeup that Joker uses contains very bold and bright colours, from the blue around the eyes to the big bright red lips. To achieve this look you'd need to start with white face paint for the base, but don't blend it right into the hairline so you can achieve more of a mask look.
After the white base, you'd need to paint blue triangles on the eyebrows and then upside down triangles under the eyes. To give your look the clown feel, draw a big red smile to the centre of the cheeks and colour in the end of your nose with a red circle. To finish the Joker look draw small red eyebrows  just above the blue triangles on your forehead. However, if you're wanting a more glam Joker look here is a mood-board on what products to use.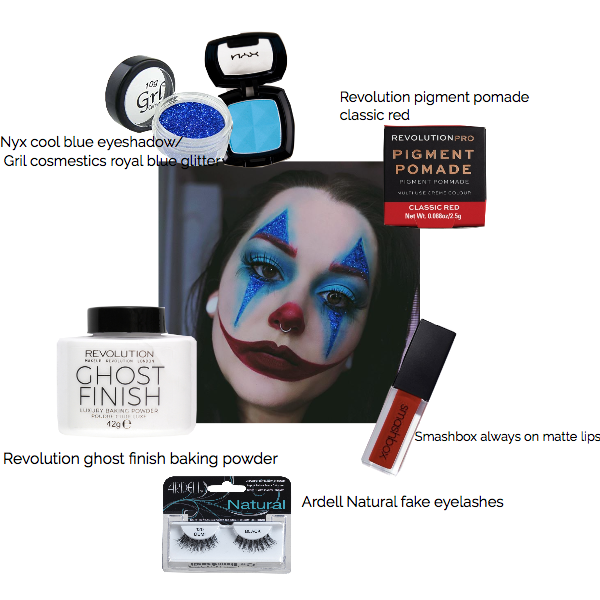 To achieve the full Joker look, you need the clothes to match the makeup. He wears a bright red suit worn with a yellow waistcoat and green shirt. When going on a night out on Halloween and dressing like Joker, you want to be a bit more glam. To take the costume to the next level you could pair a bright red blazer with either belted tailored trousers or tailored shorts.
You then can pair it with a mustard yellow top; something casual to dress down the blazer.
To finish the look and to add a little bit of green into the look add a cute bowtie to the look for the finishing touches.