Miuccia Prada is known to be the "master of the look of not-quite right" and her Paris fashion week runway emulated that statement perfectly. The reimagined back-to-work pieces that we have seen on past runways carried into Paris Fashion Week, with a twist of sexiness and the signature youthfulness of Miu Miu.
The show opened with model, Mia Goth, dressed in a sheer polka dot midi skirt paired with black tights that were messily pulled above her button up cardigan. The sheer skirts and slip dresses were a staple in the A/W 23 collection. Between the exposed skin and intentionally "thrown on" garments, the pieces reminded me of that '30 Going On 30 Scene' of Jennifer Garner rushing out of the door in her satin night-gown and trench coat.
The running theme of the runway seemed to be a nod to the 90's trends that are appearing more and more in 2023, whether it be sheer camisole dresses and kitten heels or the low waisted micro-mini skirts that we have seen Miu Miu style previously.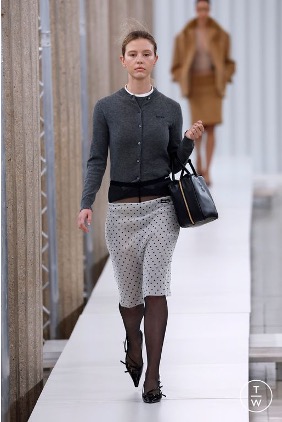 The rushed look did not stop with the gauzy slip dresses as models appeared in hipster cut briefs paired with outerwear such as fur trim corduroy coats and structured zip up hoodies, another element of the "overslept" style workwear that Miu Miu has curated.
The underwear as outerwear seems to be making a bold return in 2023 with models such as Bella Hadid and Kendall Jenner braving the streets in their underwear.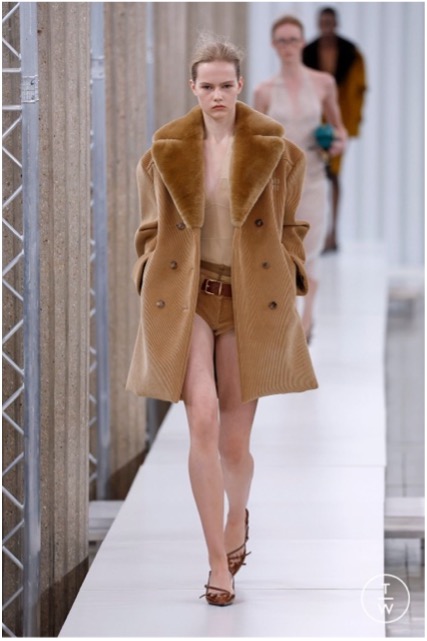 The models sported windswept hair and natural makeup along with their outfits, which lay well with the chaotic theme that Prada has orchestrated. Other accessories such as chunky black sunglasses and slouchy clutch bags that models held under their arms all added to the conceptualisation of a look that had been thrown together before a long day in the office.
The show ended with model, Emma Corrin, sporting a pair of beaded applique briefs paired with a neutral beige roll neck jumper and peep toe heels. This was probably the most controversial look on the runway with a myriad of comments on social media.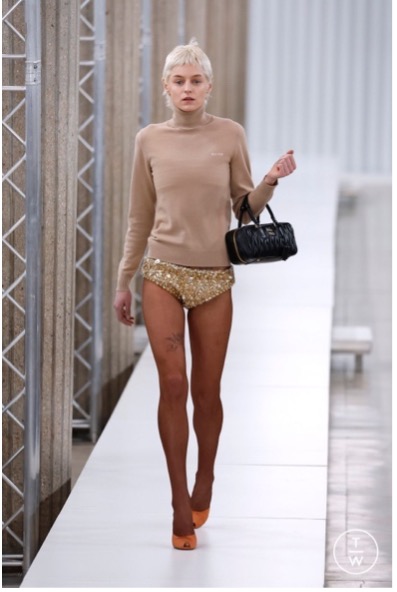 Let us know what you think on Instagram @fashion_north