Topshop proudly represented House of Holland at London Fashion Week, hosted at the Tanks at Tate Modern. The showroom is known for its large circular spaces and was the perfect fit for Holland's Autumn/Winter collection.
Holland hinted on Instagram about this season's collaboration: #woodywoodpeckerxhouseofholland, alongside the phrase "Daddy! Where's my car".
Models such as Jena Goldsack sashayed down to runway to one of the most weirdly wonderful music playlists ever created. Each song specially picked to suit Holland's auto race, cowboy themed runway collection.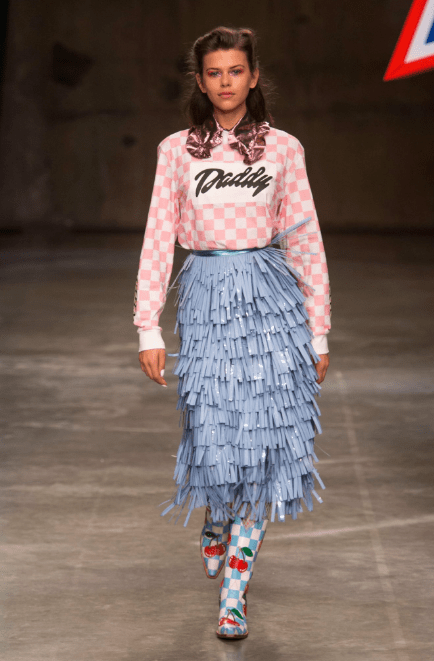 Ladies start your engines, because Holland truly has outdone himself this time. Pastel colours were huge for Holland this season and his pit crew inspired designs were a great way to open the show.
Denim is no stranger to a cowboy and if there is one thing they're also no stranger too it's fringes and flares. Together they made the perfect pair and Holland partnered the contrast distressed flares with a heavily patterned coat with lace front detail.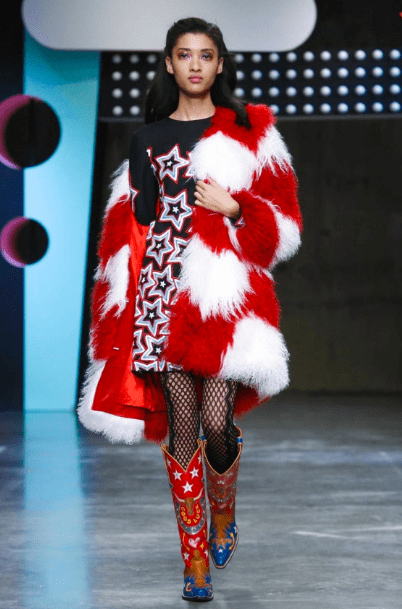 One thing Holland loves, is statement pieces. So, it was no surprise to see contrast fur coats strutting down the catwalk. A hot pink and polar white coat worn off the shoulder revealed a star printed dress underneath. Matching his elaborate staging, many of his outfits were printed with stars. The dress had pink and yellow outlined stars set off against a deep black dress with a round neckline. Fishnet tights have been a major trend among fashionable teenagers and Holland had incorporated that into many of his designs. But of course, what is a statement coat without matching shoes? Knee high cowboy boots didn't just finish off that look but many others.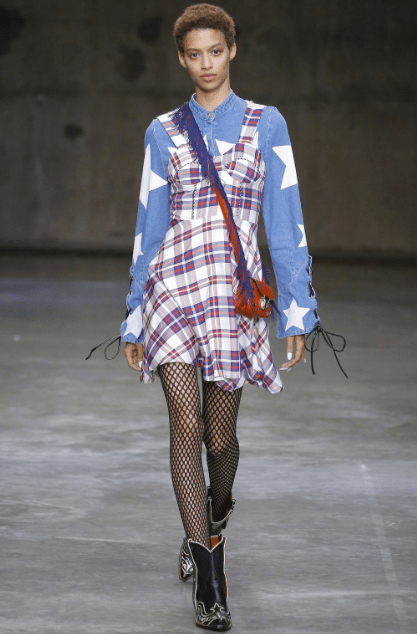 If there is one piece to talk about, out of all his evening wear it was the metallic bronze and gold jumpsuit. So, different to everything else in his collection, the way the light reflected off the suit was stunning and the flared detail on the chest and arms was really flattering as it accentuates the waist line.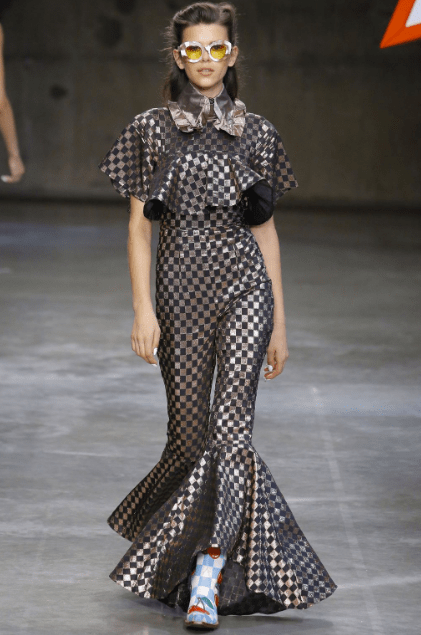 Only one designer could successfully merge auto racing and the rodeo and that designer is Henry Holland.