Black is back yet again with Versus Versace. Making it a hit last year, it returns, smashing again in 2017. The show definitely had the Donatella Versace stamp on it. The main aspect that stood out was the models eye make-up. The harsh eye look ranging from midnight blue to shocking red, the heavy eye make-up screamed Donatella.
Double whammy – Gigi Hadid opens the show gracefully rocking a turtle neck dress with subtle puffed sleeves pairing it with mid rise lace-up boots, alongside her this year however is her sister Bella Hadid, making the show a sister act hit. Bella closing the show wearing, again, a turtle neck, black furry cropped-jumper with a long-length high waisted black skirt with a revealing split going half-way up the thigh. Not only were these sisters the stars of the show but Taylor Hill also walked among the gorgeous sisters.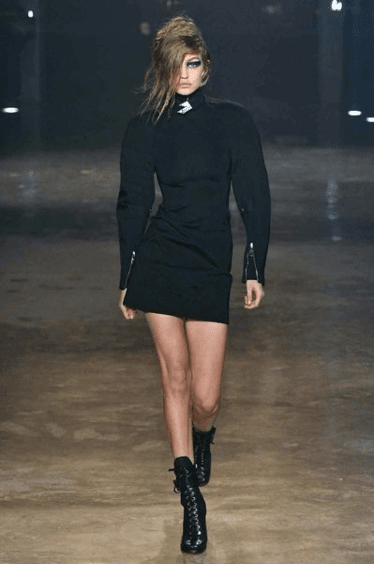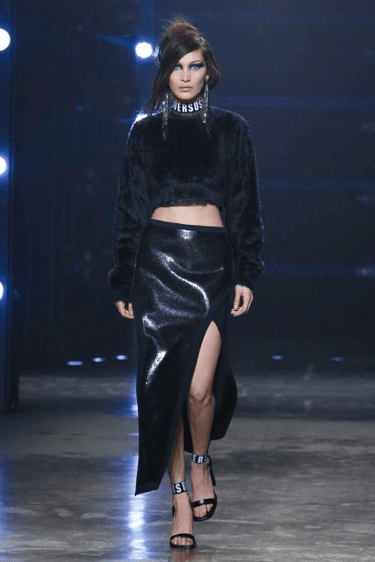 The colours were dark and grungy, perfect for London Fashion Week. But black wasn't the only colour this year on Versus Versace's catwalk, breaking it up there were some electric pinks and vibrant blues making a significant appearance in some key pieces. The moment where the colours made a big impact was when the music changed in the show, it's as if the music when from dark and grungy to dance-like and fun, just like colours.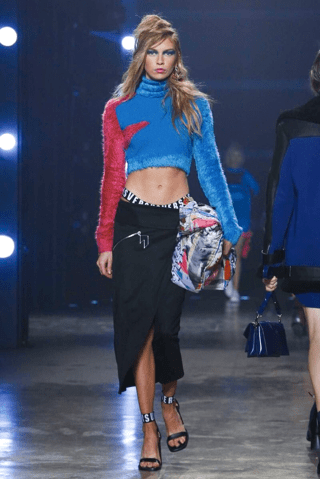 Versus Versace never fail to impress, not only were you watching a fashion show but there was some outstanding entertainment in other aspects, just when you thought the show was over, the room went black and then what sounded like a DJ came on with a fantastic light show, followed by the models taking a final walk before Donatella made a very quick appearance.
Just as you would expect Versus Versace AW17 collection did nothing but grip us from the moment it started. The turtle necks and insanely baggy pants were a key part of the Versus Versace runway this year. It reminded me of how young teenagers would dress in the 90s with the big splits up their very baggy pants. It did nothing but astonish.