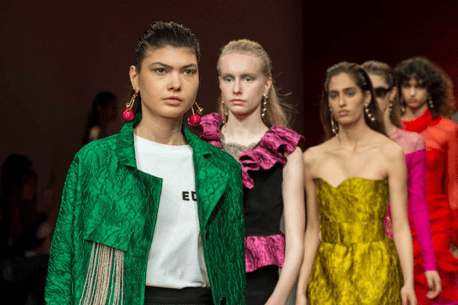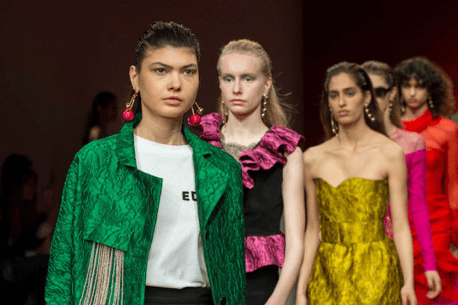 Beautiful women one by one with slicked back hair emerge and walk the glamorous blood red trail. Some going to the office, others are street style gurus, and some are going to prom in the 1980s! All are wearing sophisticated ankle boots with a wicker weaved look that will go with anything.
Morena opened his fall/winter 2018 show at London Fashion Week with some work/street wear of tweed skirts, with matching jackets and coats.
But just when you think its another chic office wear collection the colours, frills, furs and puffs are released. Electric blues, fluorescent pinks, emerald greens all in metallic papery 80s fabric.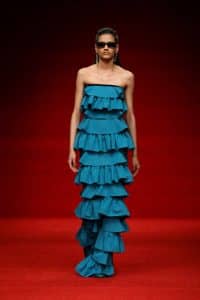 A key look of the 80s trend was an electric blue, metallic mini skirt with a black jersey top, lace sleeves and the blue frilled neckline, complemented with a pair of rectangular sunglasses, blue ankle boots and those statement earrings.
In the 80s, lace accessories were 'everything', which Morena has done a throwback to, and has done more of a fashion-forward full sleeve instead. The frill trend has  been toned down compared to those of the 80s on this garment, but is still as eye-catching. The outfit overall is effortlessly 80s but in the modern way anyone from this era could wear it.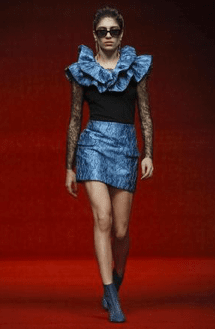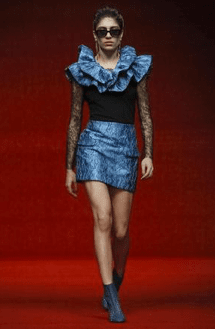 A more casual look from the show was a white statement T-shirt, black tweed skirt, a pink metallic coat with a black fur collar and those ankle boots that are running the show —this time in pink. A throwback to 80s faux-fur and fabrics, yes, but in this particular outfit, the white T is both vintage and current. White slogan Ts have become popular once again with slogans like 'love', but the last time they were popular was the 'Frankie says relax' era which is classic 80s. Morena may have just gone full circle with this look.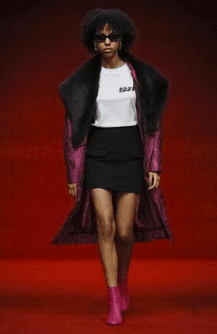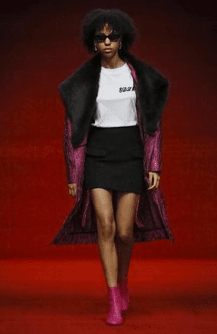 Overall the show has a variety of looks that could be perfect for work, prom, or popping to the shops. He creates a nostalgic yet modern tone to his clothes that does not fail to catch the eye and impress.