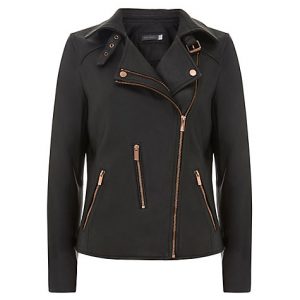 Mint Velvet Jacket– £349
I chose these garments in the John Lewis style challenge because I feel that they project the autumn/winter vibe perfectly. 
Both items chosen were from Mint Velvet, and although arguably overpriced for a high street department store – the jacket coming in at £349 and the hat £35 – fashion, knowingly, can come at a cost.
However, with the quality of the leather jacket, combined with its light-weight feel for comfort, I would consider it worth the price.  
It could be deemed as a more mature style, which is why I have chosen to pair it with a youthful bobble hat which not only brings a pop of colour, but also a new dimension to a more sophisticated jacket. 
In terms of a complete look, I would pair it with some jeans and knee high boots for that cosy/warm feel, which we all crave in the colder months.