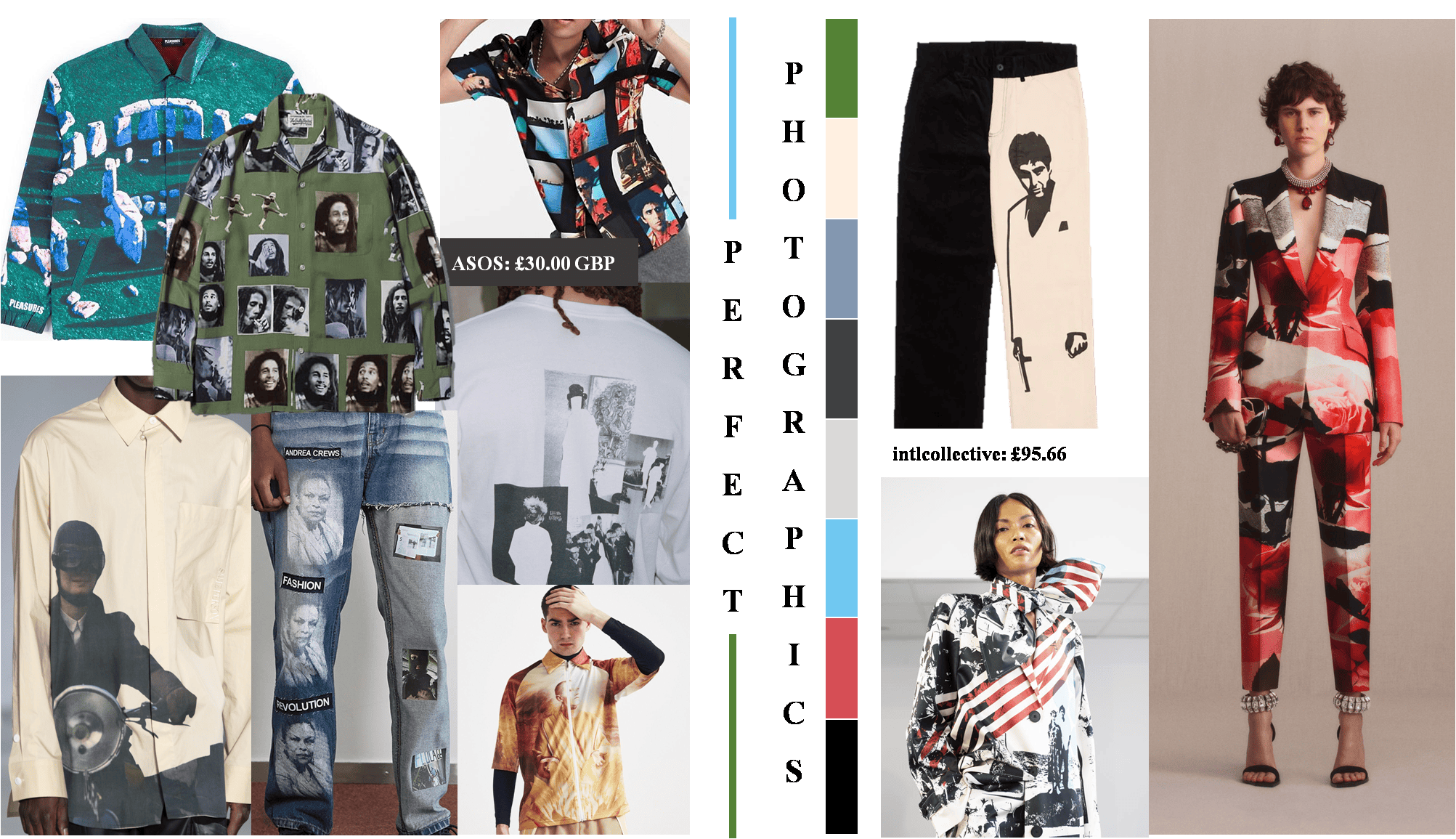 Photographic prints on tees, trousers and all kinds of garments are making a comeback, featuring art, celebs, scenery or cult classic films such as Scarface. The photographic trend has shown up in online shops such as ASOS and INTL Collective but has also inspired a flow of creativity in upcycling and homemade garments for creators on apps like Instagram and Depop.
This fashion trend allows plenty of room for innovation, with some pieces splicing images together to make collages, some with a single print filling the entire piece and others incorporating a photograph into a colour scheme – much like INTL Collective's "Honest Liar Corduroy Pants" shown in the mood board. There is no right or wrong way to take part in this trend, giving you room to breathe when you can't quite find that specific look.
Photographs are a great way to express oneself and your interests or beliefs. You can sport a movie you love or an influential figure and show the world a little more about you. Maybe you could make a public statement by wearing clothing that shows what you believe in or a cause you feel strongly about. There's no limit to what can be said through a simple photograph. They can invoke emotion and make you ponder on days gone by, especially those pieces that feature cult films or other nostalgic elements.
These "renaissance print skate jeans" are available on Jaded London on offer now from £65 to £45.50, saving you £19.50. Their light colour palette and simplicity means they can be paired with almost anything. You could throw them on with a white or cream hoodie, as shown on the model, or style the jeans with brighter colours such as yellow or red. They'd be a great casual addition to any wardrobe for everyday wear and are a great change-up from a regular pair of jeans.
ASOS have this Topman Michelangelo photographic print shirt for £30. It features the work of artist Michelangelo, specifically his piece "The Creation of Adam". The contrasting light and dark colour palette in the shirt means it looks good with anything. Whether it be styled, with regular blue jeans as modelled or dressed up with black trousers if you want the fit to look smarter. It also works over a t-shirt or vest as modelled.
Photographic prints can be bold or subtle but it depends on what style you're looking for. While some prints are bright and brash, others are more simple, and even with the more simplistic styles, you can still catch the eye of those around you. Show off what you like and what you stand for, whether it be worn on a day out or a night out, make the statement that works for all places.