Two thousand and eighteen has been the year of power suits.
With influences from Julia Roberts and Lady Gaga, pantsuits are defiantly on trend, so as we are coming into the festive period we have decided at Fashion North to ditch the dresses and track down the best pantsuits on the high street for you to wear to this year's Christmas parties.
First, we have this black glittery jumpsuit from H&M. This outfit is perfect for this time of year as it has long sleeves. Paired with black heels and delicate silver jewellery this simplistic outfit will make you stand out from the crowd. This would be great for those who don't want to wear a bright colour this Christmas but still want to look festive.
H&M, Glittery jumpsuit, £34.99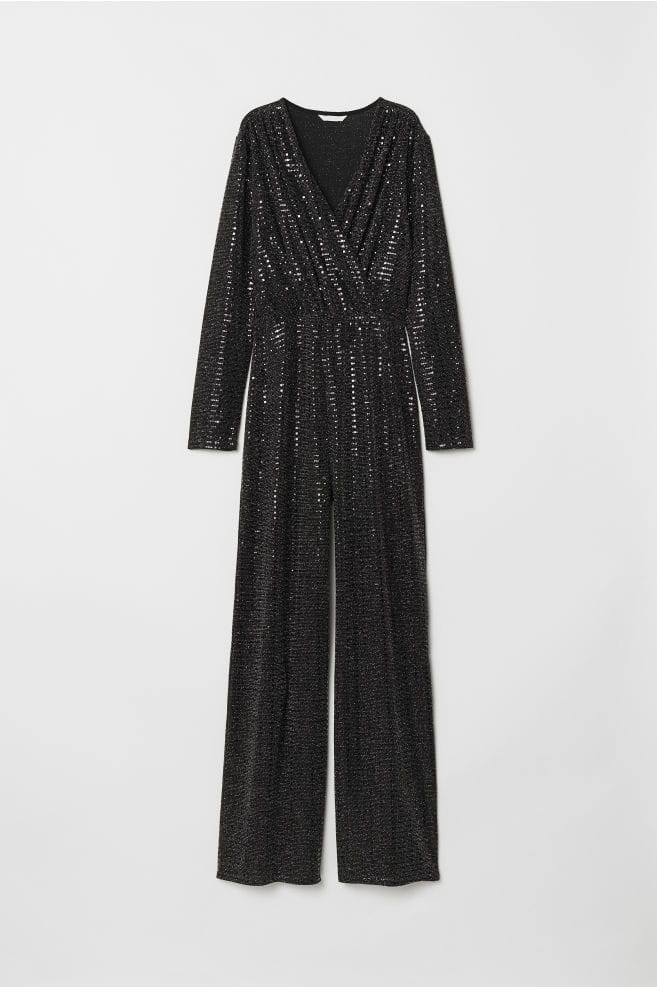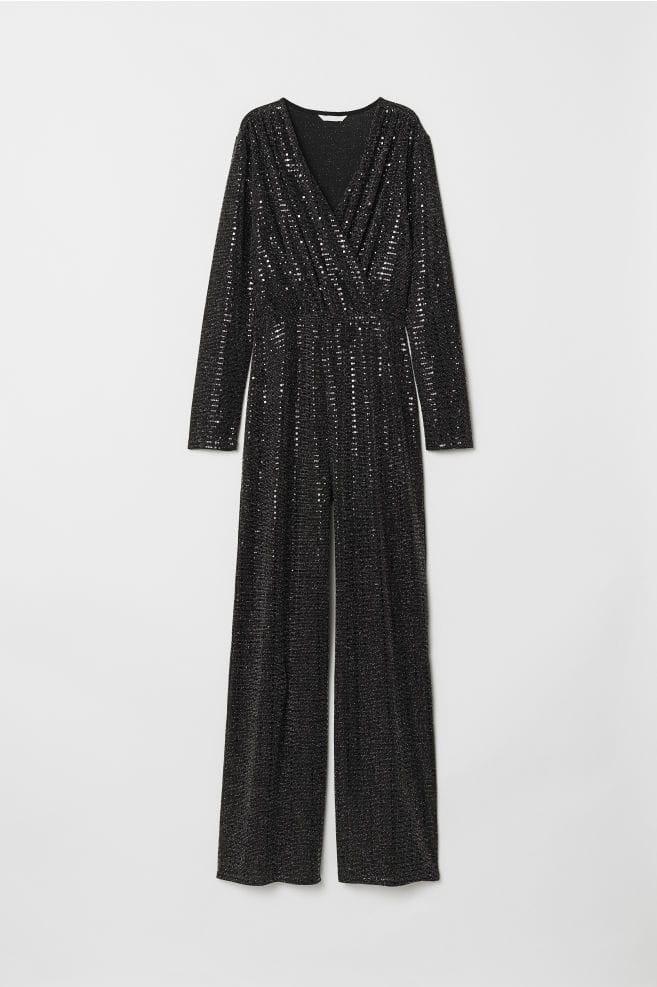 For a unique look, this matching pantsuit from Zara is the outfit of the season. The dark floral pattern on this matching outfit is not overpowering but stands out nicely. The subtle hints of metallic silver make this outfit festive, without you looking like tinsel from your tree. Although both pieces in this outfit are sold separately (Trousers- £29.99, Blazer- £69.99) they would pair together with a simple back cami-top perfectly. Great for a party look.
Zara, Floral jacquard trousers,
 £

29.99, Floral jacquard blazer, ££69.99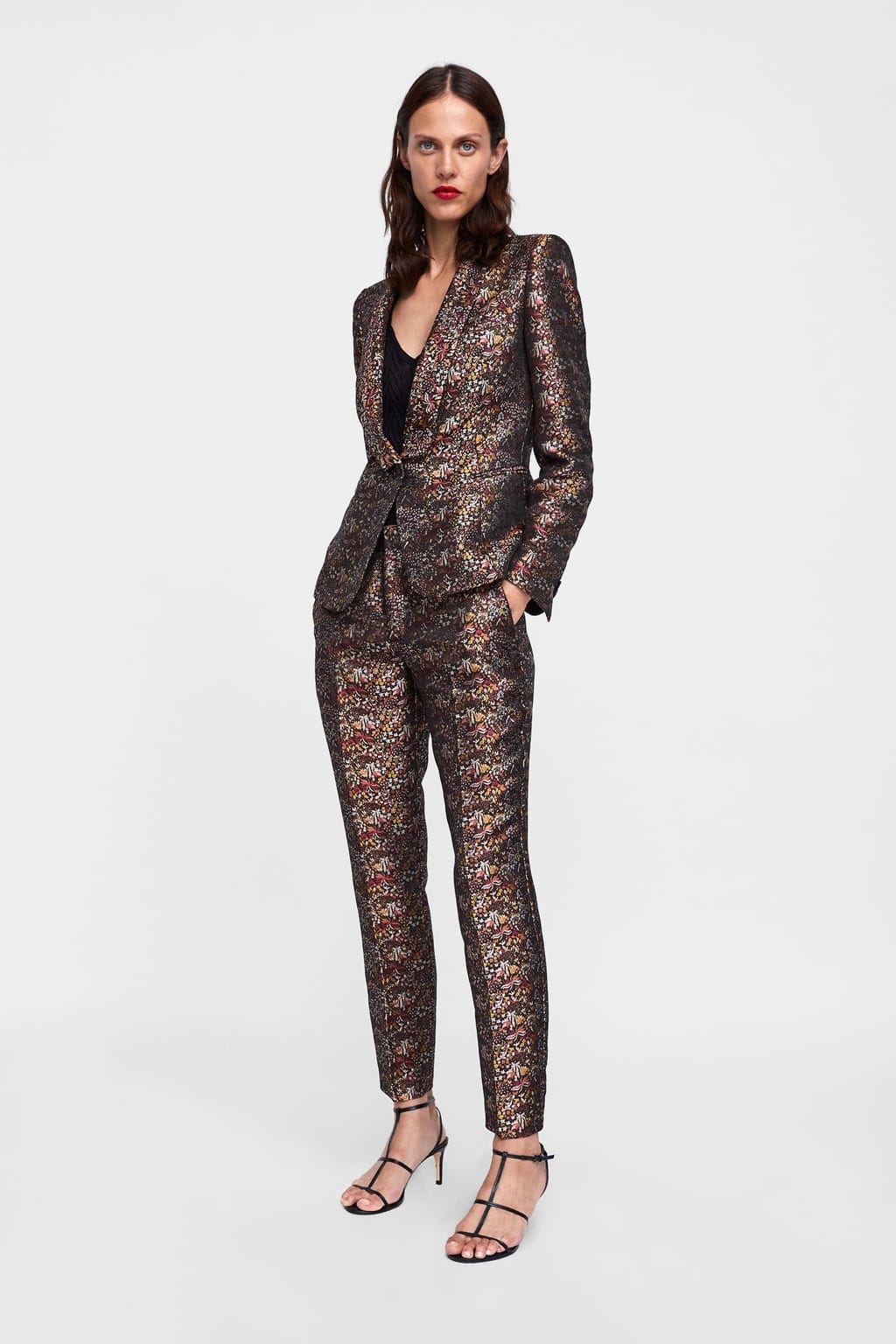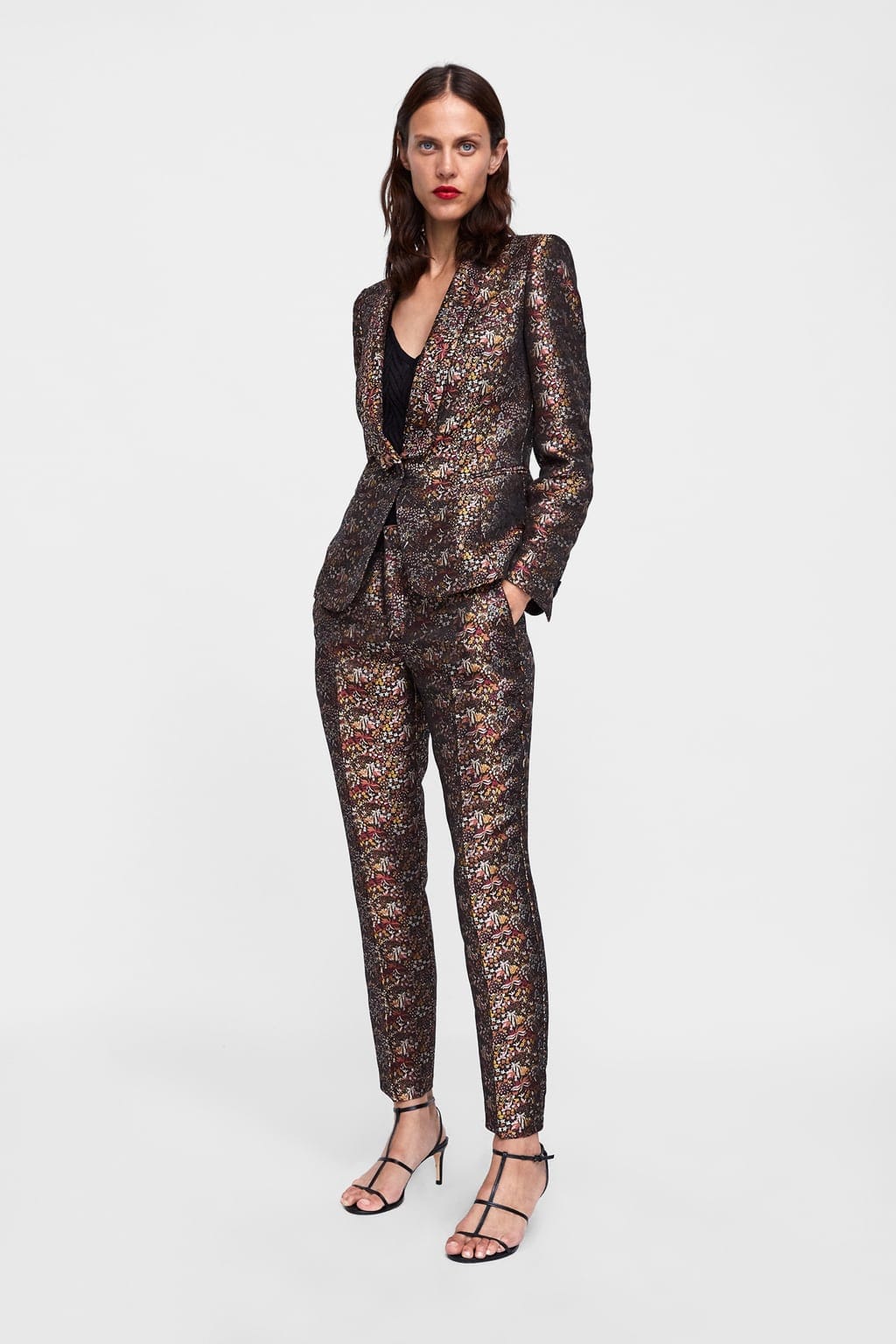 If you don't want to have matching pants or wear a jumpsuit, then why not wear a glittery blazer to jazz up your look? This 'Rainbow Sequin Satin Collar Blazer' from New Look is a great option, as again black is stylish and not too dramatic, however, the outfit still looks put together and party- ready. If you really want to look like a jazzy disco ball, the pants are also available in the same design.
New Look, Rainbow sequin satin collar blazer, £
69.99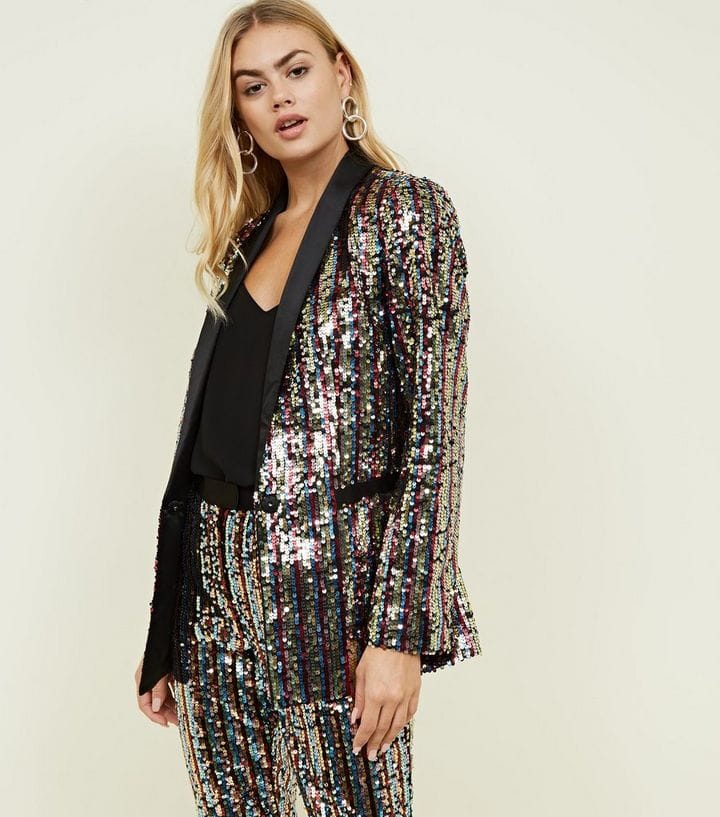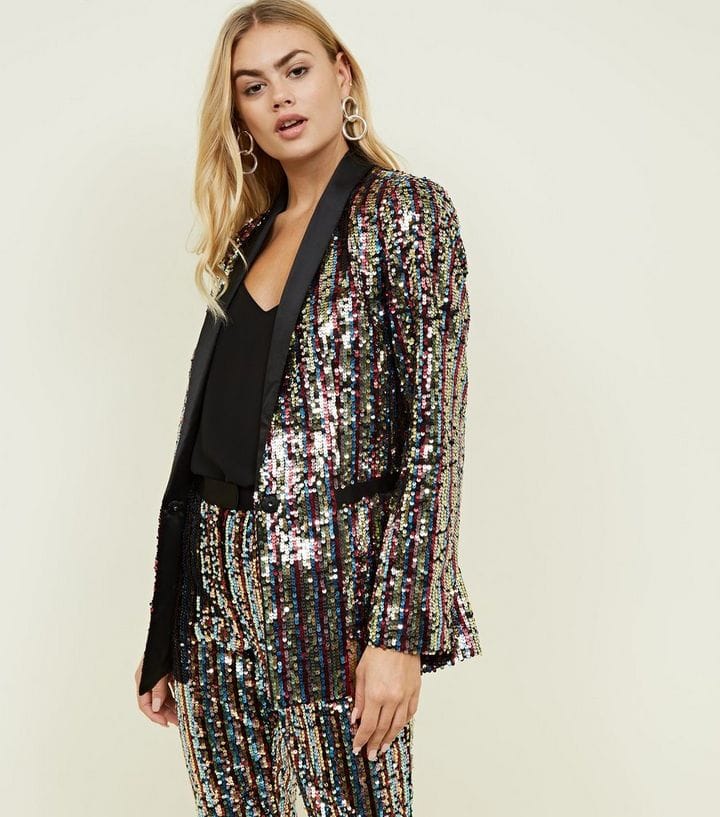 The last sparkly outfit which we have picked which is NOT a dress is this red sparkle pantsuit from Debenhams. The wide leg, berry jumpsuit screams Christmas, however, the satin legs and the subtle sequin detail allows this outfit to look sophisticated and stylish. At £65, this outfit will put you in the Christmas spirit!
Debenhams No. 1 Jenny Packham, Dark red sequinned 'Sandra' satin wide-leg jumpsuit, £65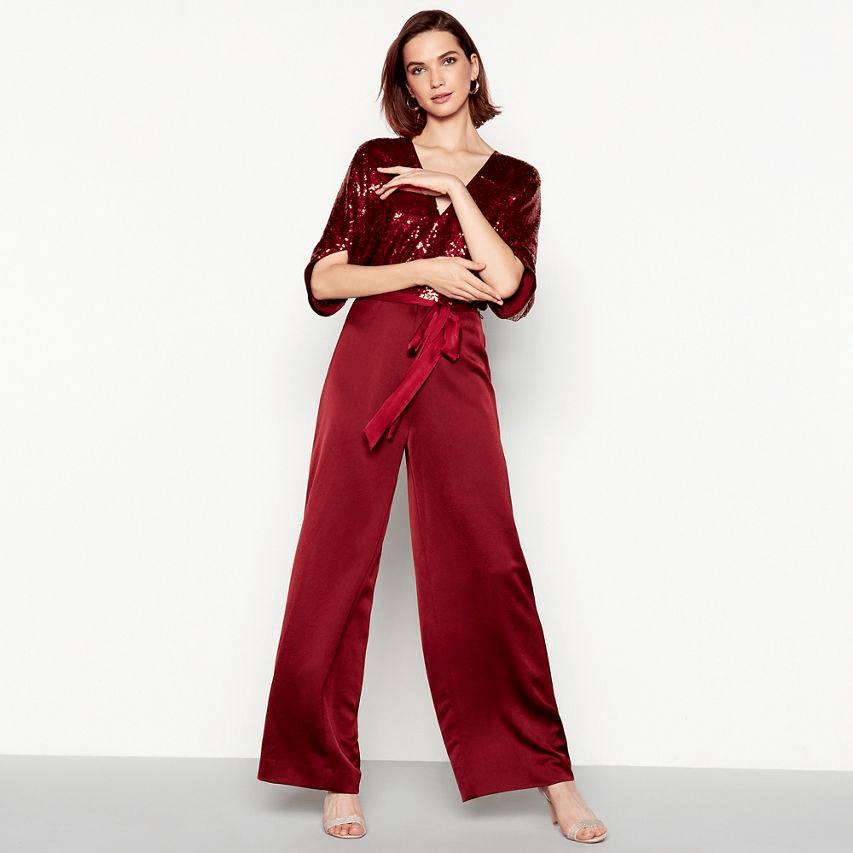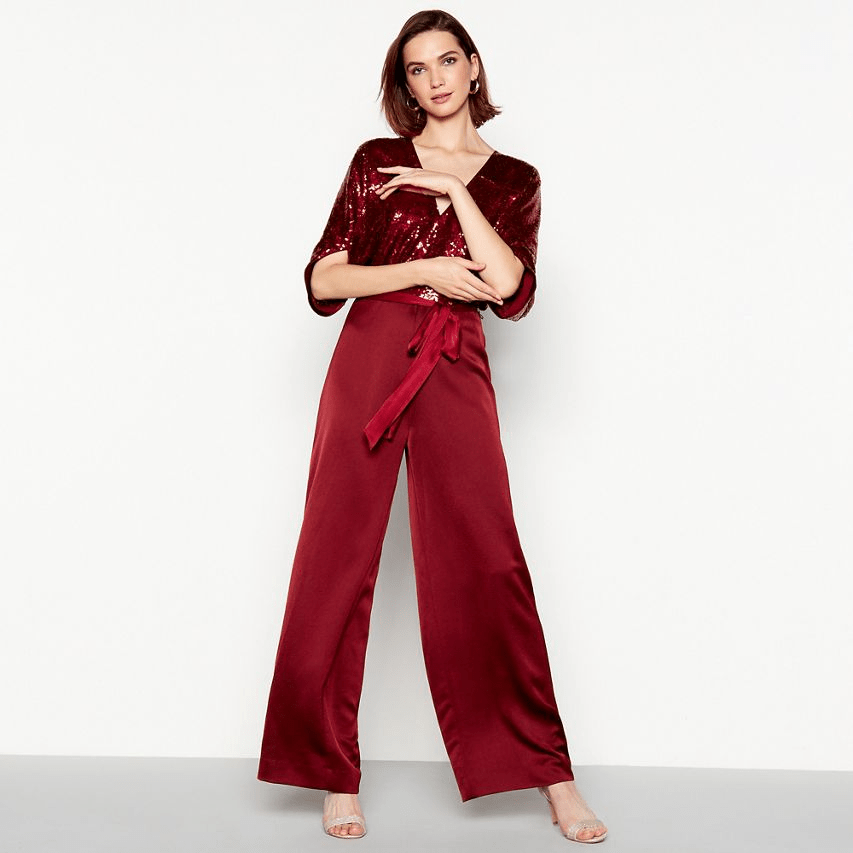 All though some of these festive pieces are out of our usual price range, there's nothing better than treating yourself at Christmas as well as your loved ones.
What's your statement Christmas outfit that isn't a dress? Tweet us @Fashion_North