Punk is such a profound era in fashion. With a heavy dose of fishnets, sprinkling of leather and one hell of a lot of attitude, it's hard not to be inspired by the movement. After visiting the Punk 1976-78, a British Library exhibition, at Sunderland Museum and Winter Gardens, Fashion North's styling team were full to the brim with kick-ass, alternative punk outfit ideas. Take a look below and don't forget to check out the exhibition which runs until Feb 26.
Hannah Boozer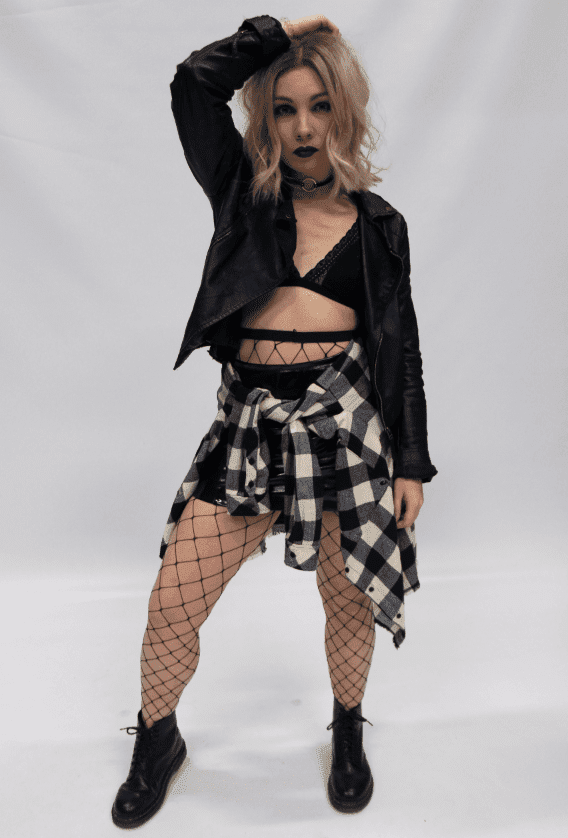 Jacket: Stylists own
Bralet: Topshop
Tights: eBay
Skirt: Topshop
Shirt: Zara
Boots: Dr Martens
"I decided to go for quite a rebellious styled punk theme. All black seemed appropriate with minor details like the large fishnet tights and delicate bralet accompanied by more statement clothes like the chunky boots and contrasting leather skirt and jacket seemed to work. The make up played a big part in this look with the dark lips and eyes."
Lou Forsyth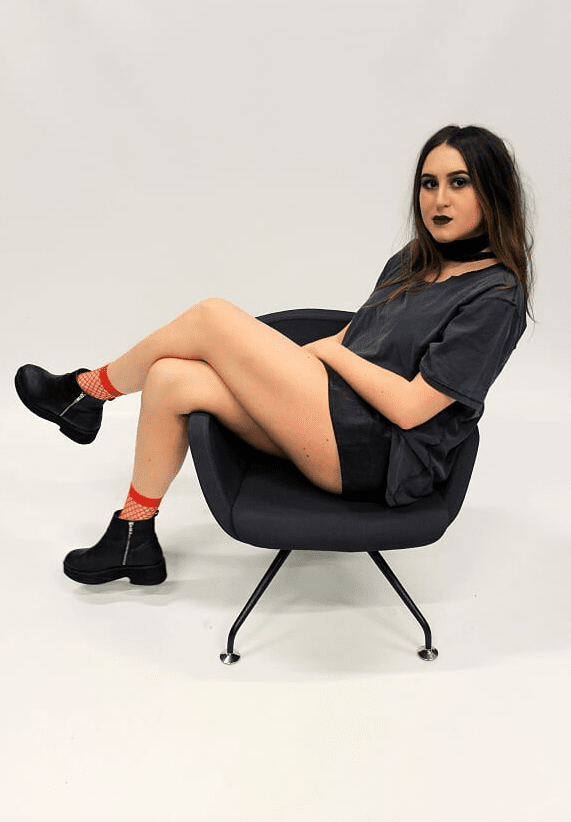 T-shirt – Topshop
Leather skirt – Zara
Boots – ASOS
Fishnet Socks – Urban Outfitters
Choker – Topshop
For this punk inspired look, I tried to make the little details stand out the most. The red fishnet socks really catch the eye and the dark, punky makeup grunges up the look. The t-shirt is also actually a 2pac t-shirt turned inside out to look a bit ripped and rough! The black leather skirt is also classic.
Georgia Gow and Rio Beadie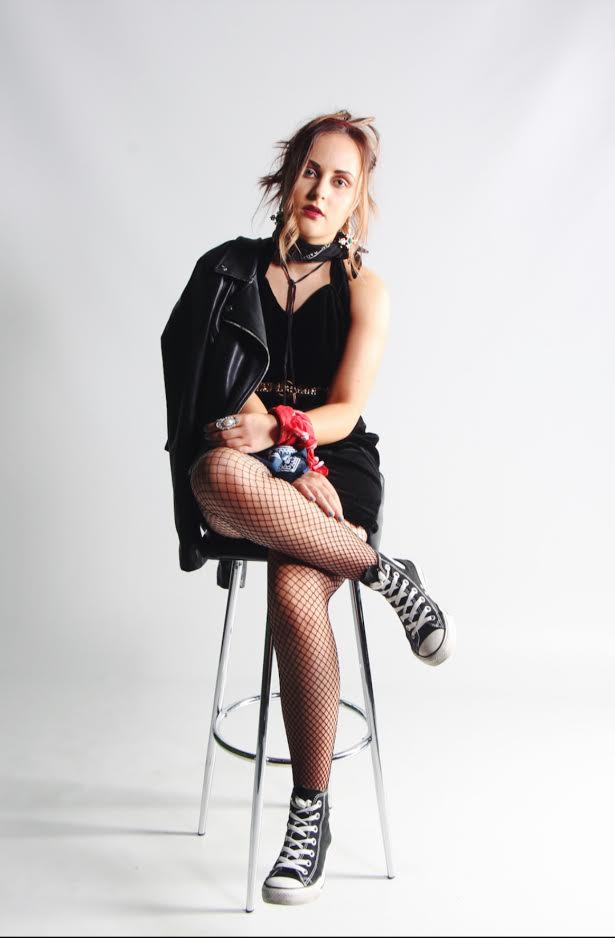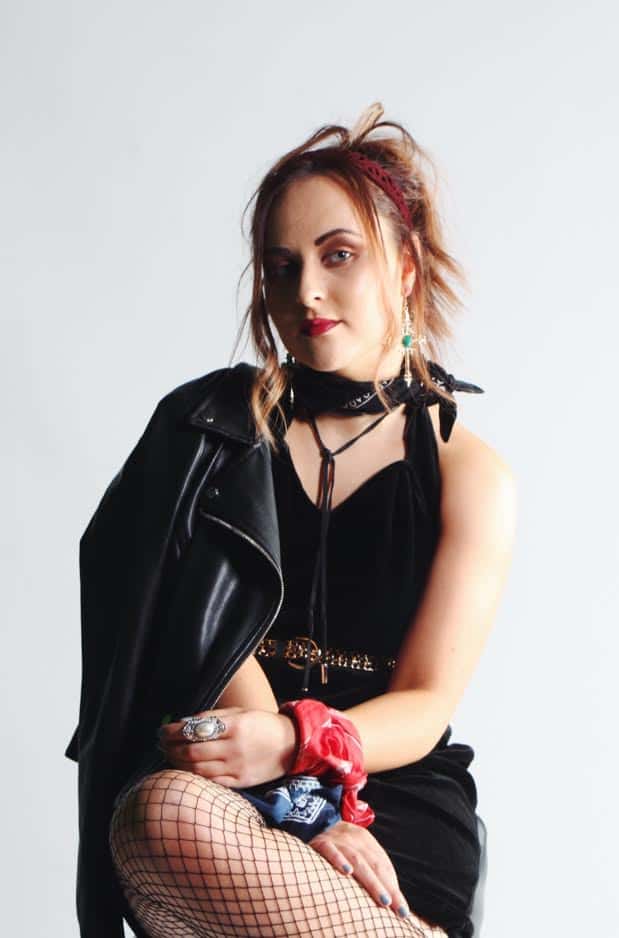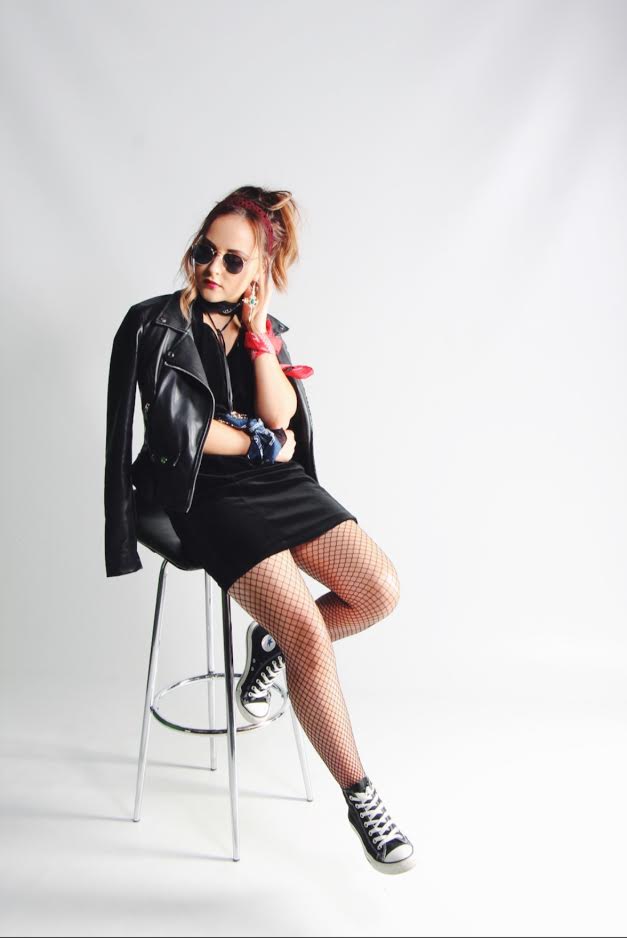 Dress – Local charity shop, £4.99
Jacket – Zara
Bandana's – Topshop
Fishnet tights – Ebay
Shoes – Converse
Earrings – Ebay
Choker – Zara
Ring – Primark
Headband – Primark
Sunglasses – Primark
Have you ever acted upon a spontaneous purchase to then get it home and have no pickle on how to style it? We've all been there!
On a recent styling challenge, myself and Rio Beadie were faced with the PUNK theme. So we put our heads together and hit the shops to hunt down some of the best punk themed items. Of all places, we actually found the perfect product hidden away in a local charity shop for just £4.99! It was a black velvet halter-neck dress that just screamed out 80's Madonna vibes. So with that in tow, we headed back to the studio to put together our guide on how to style an exciting new purchase, while not blowing the budget and getting the most out of your money.
This dress can be very versatile and can be worn dressed up or down and either vintage or bought bang up to trend for the current fashion scene. We decided to explore a more edgy age with this item, exploring the Punk theme through the 80's generation to show you how to take a different look with an ordinary/everyday item.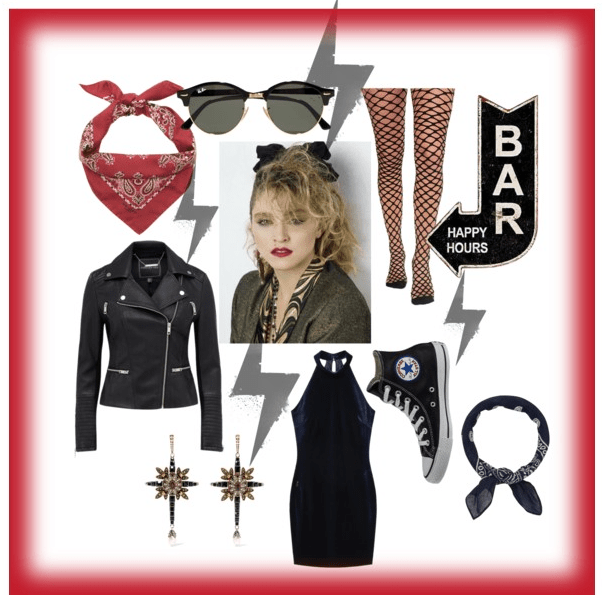 Alex Laws and Polly Kirkup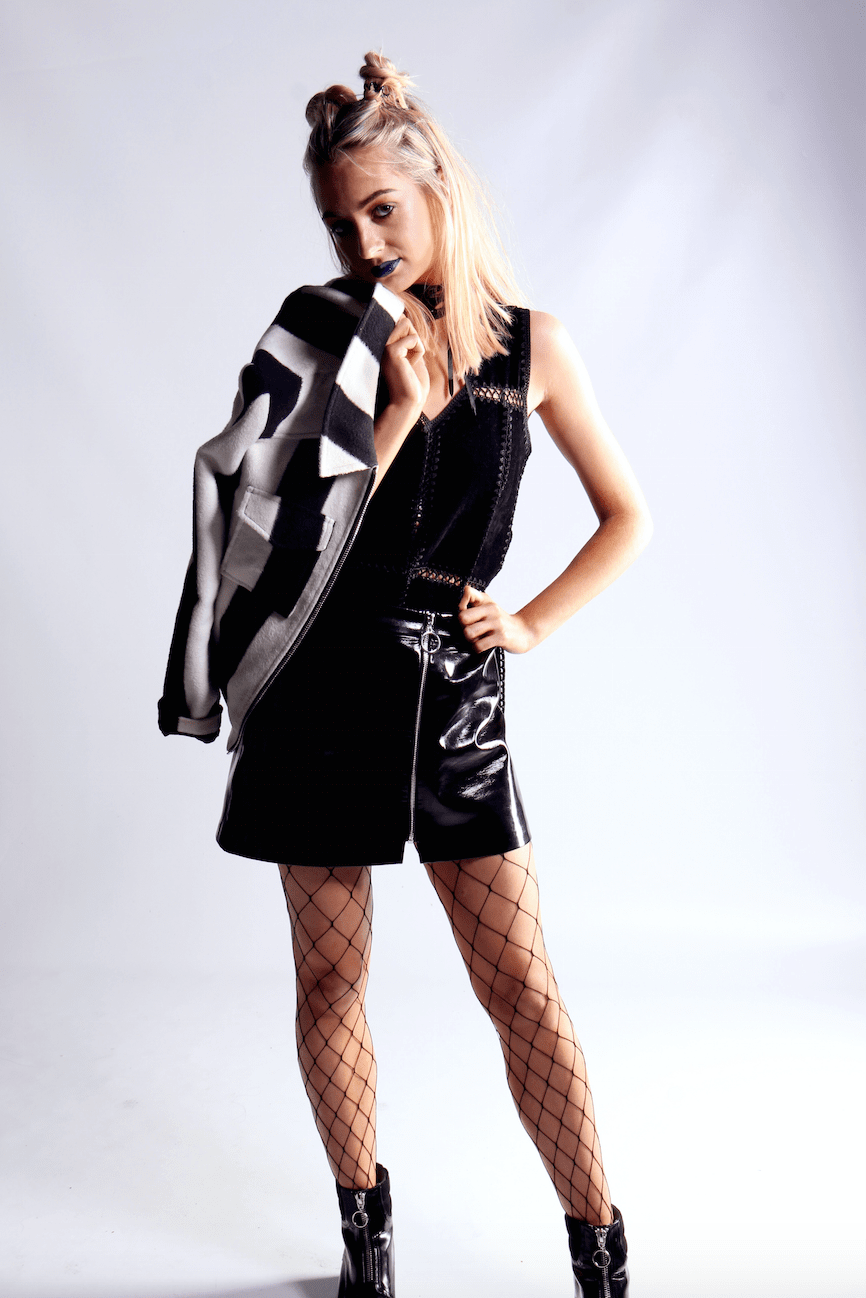 The striped wool jacket broke up the black and offered a contrasting element, taking inspiration from Vivienne Westwood's eccentric styles. Meanwhile, the lace up choker and diamond fishnet tights emphasised the Punk essence that little stretch further.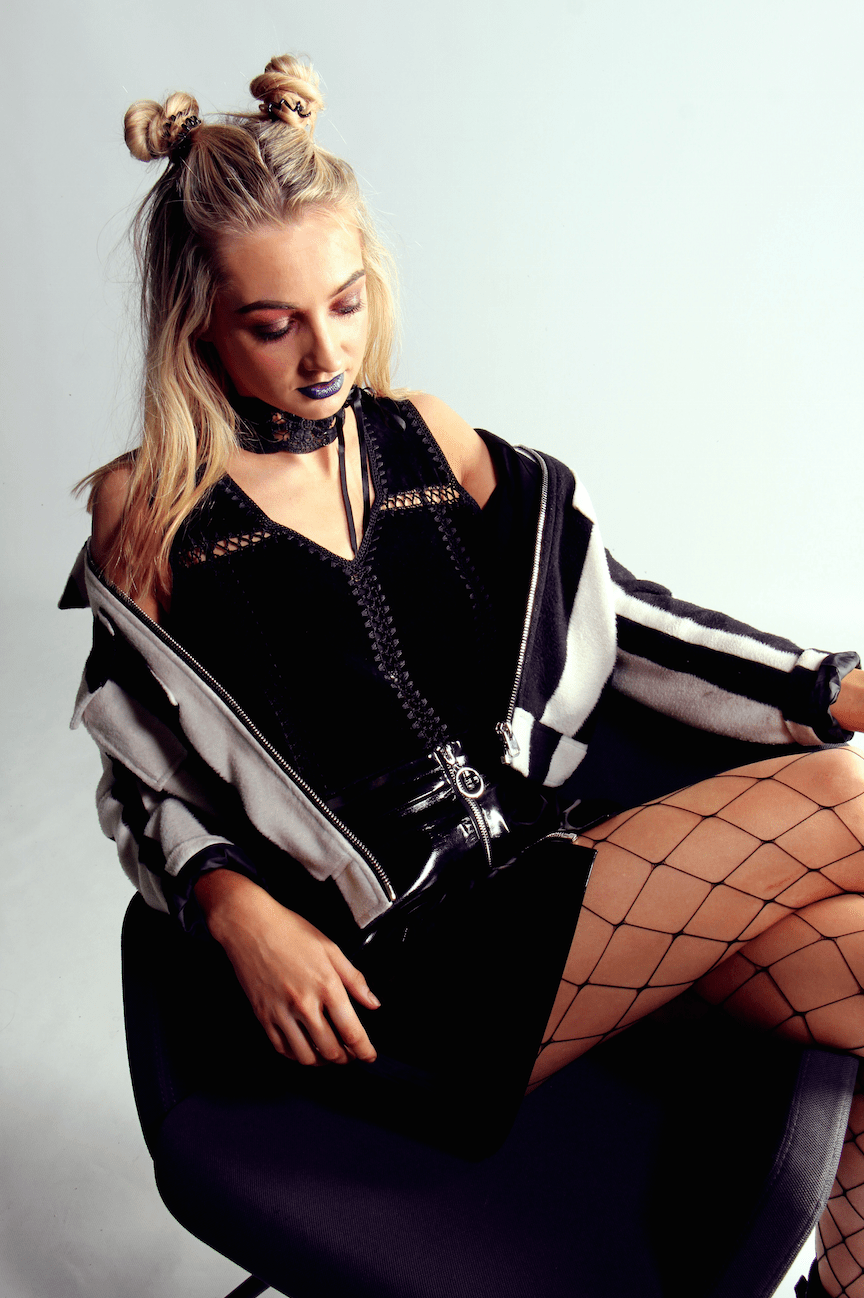 The Winter Garden's very own Punk Exhibition inspired the styling for this following look, whilst also taking inspiration from modern trends appearing on the catwalks at New York Fashion Week. Anna Sui AW17 formed a great deal of inspiration for the hair and makeup for this edgy vibe, in which, the playful knotted half-up half-down buns, heavy eyes and lips created a romantic-punk beauty look.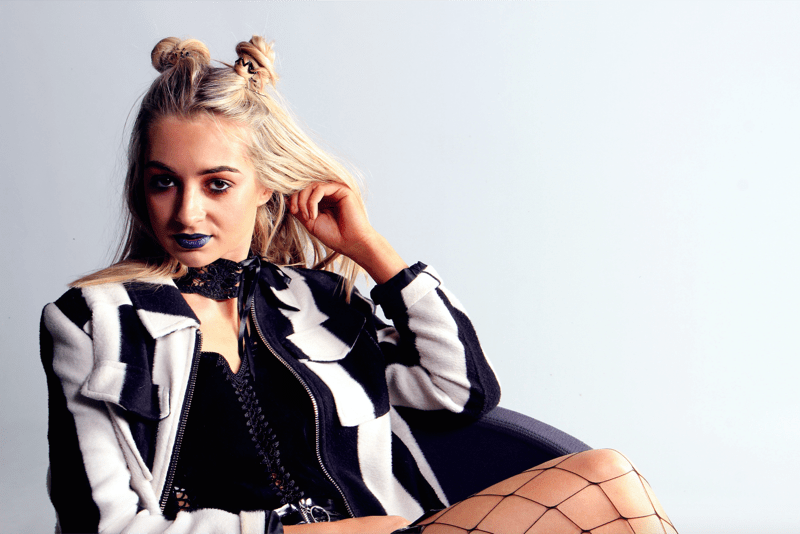 This quirky vibe flowed into the outfit too, where we channel monochrome, exploring the textures and layers from the 70's era; adding a modern twist in turn. The patent skirt paired with the matte, suede camisole top gives an opposing effect, showing the materials in full. The chunky patent boots aided the outfit in becoming an entire punky look through duplicating the shiny effect of the skirt.
Stylists: Alex Laws and Polly Kirkup
Model: Natalie Jones
Make-up: Anna Mcclen
Choker – New Look
Fishnet Tights – MissPap
Skirt – Zara
Top and Jacket – Topshop
Boots – River Island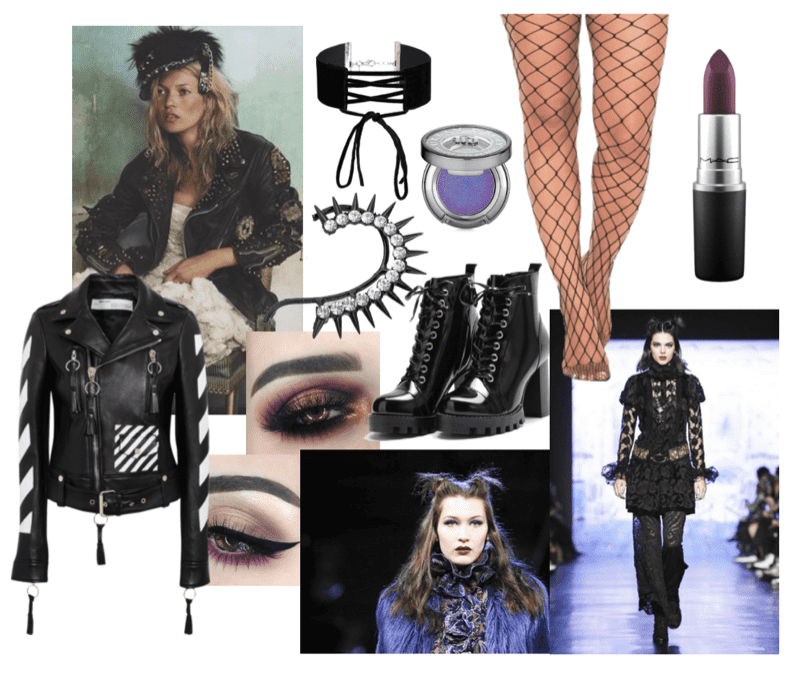 LOOK TWO
After visiting Sunderland's own Punk Exhibition it seemed the perfect time to put a 21st century spin on the era and add some punky vibes to Fashion North.
A splash of luminous yellow was enough to set off the PVC/net orientated look. By layering the coloured bra on top of the black mesh body it was perfect for a statement piece but just to keep the edge up throughout the whole outfit we added a pair of PVC skin-tight trousers, which have graced high street stores for SS17.  They were a fabulous addition to the 1970's Sex Pistols vibe.
To make the throwback relevant to 2017, we added some Anna Sui style buns to the model's hair and chucked on a pair of the chunkiest zip up biker boots to punk up the look further.
Vibrant make up was the only way forward and nothing says quirky like purple eye shadow paired with a strong eye catching blue lip. With both outfits this beauty look blended in perfectly and created the style we wanted to achieve.
Model: Natalie Jones
Make up: Anna Mcclen @annamcclenmakeup
Stylists: Polly Kirkup & Alex Laws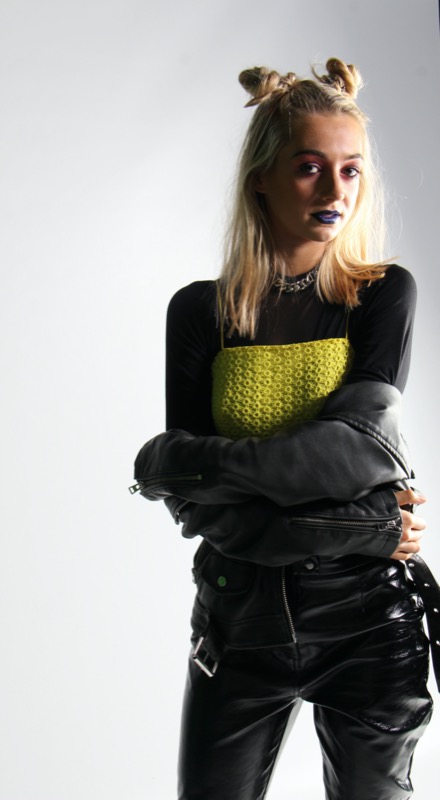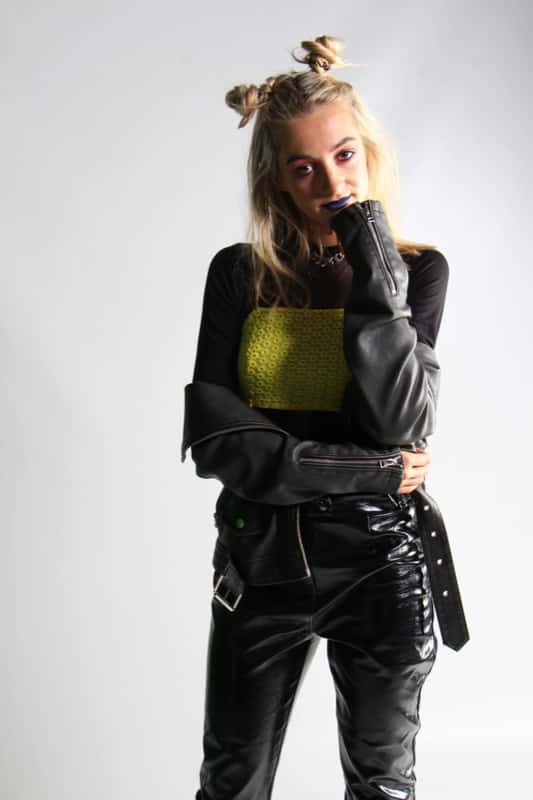 Choker: Zara
Mesh Bodysuit: Missguided
PVC Trousers: New Look
Bralet: Topshop
Boots: Asos
Leather Jacket: Topshop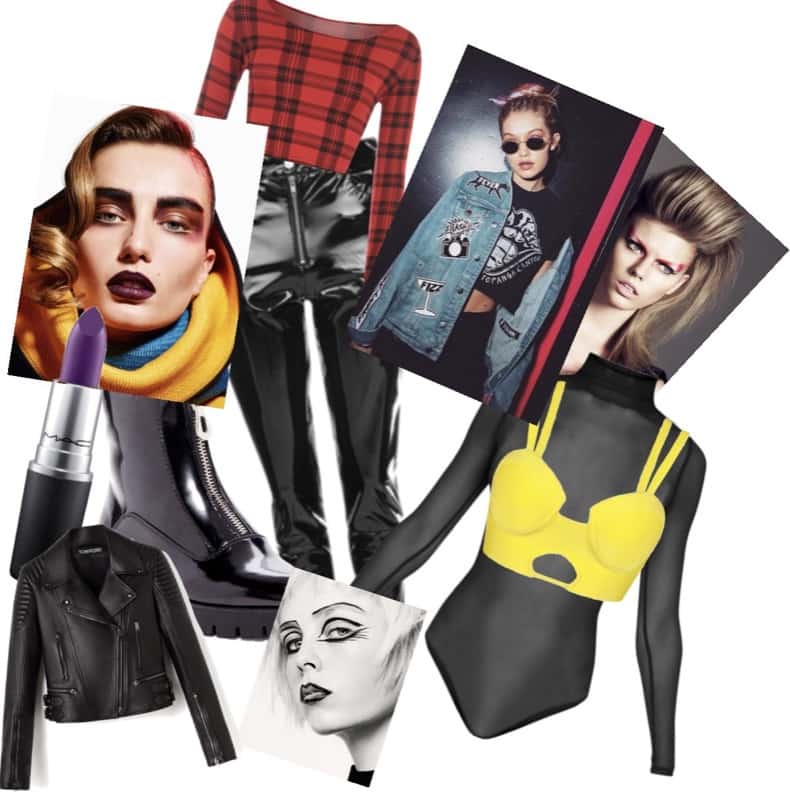 Louise Barber
When I heard that we were doing a punk inspired photoshoot, I was in my element. I am a huge punk fan and own a lot of punk inspired garments myself. Amy Johnson and I came up with two concept themes for the shoot inspired by the PUNK 40 Exhibition at the Sunderland Winter Gardens and Museum. We would do one shoot based around 70s musicians and the other about the infamous street punks.
For outfit one, we were highly inspired by the Vivienne Westwood 'boob' top and punk bands that was on display at the Punk Exhibition, such as The Clash, The Damned and The Jam. We wanted to create a 70s rock vibe from the likes of The Damned and The Clash.
We used a simple ripped V line top with a lace bra on show along with ripped black jeans and snakeskin boots teamed with accessories including a thick velvet choker and cross and mood stone necklace.
Added props such as the patterned scarf, beer bottles and microphone create a  relaxed live rock band vibe.
For outfit two, we went for a 70s street punk look. The added check trousers with oversized genuine 70s leather jacket, showing a more street punk look. Zipped boots were very popular in the 70s so we modernised them up by using heeled zipped boots instead of flat chunky boots.
The tamed backcombed hair shows a messy look that was popular in that era. Again, we added vodka and cigarettes into the photo to show a typical rebellious street look from the 70s.
Styling: Louise Barber
Hair & Makeup: Amy Johnson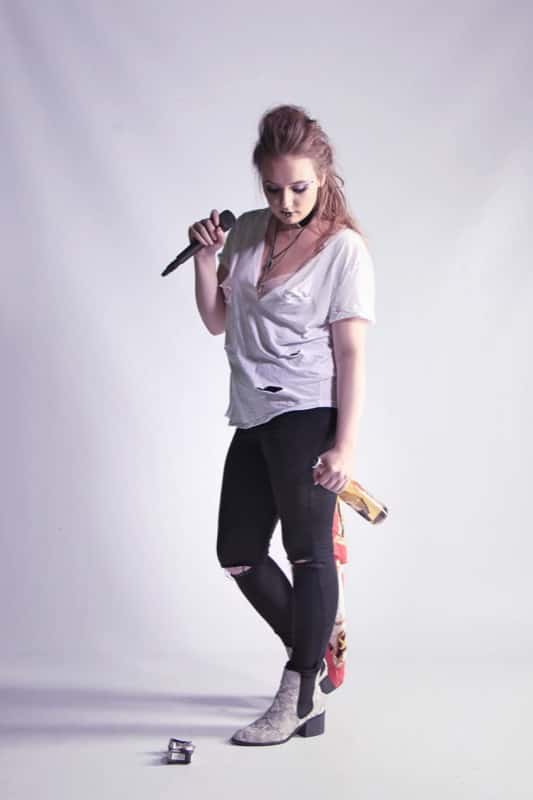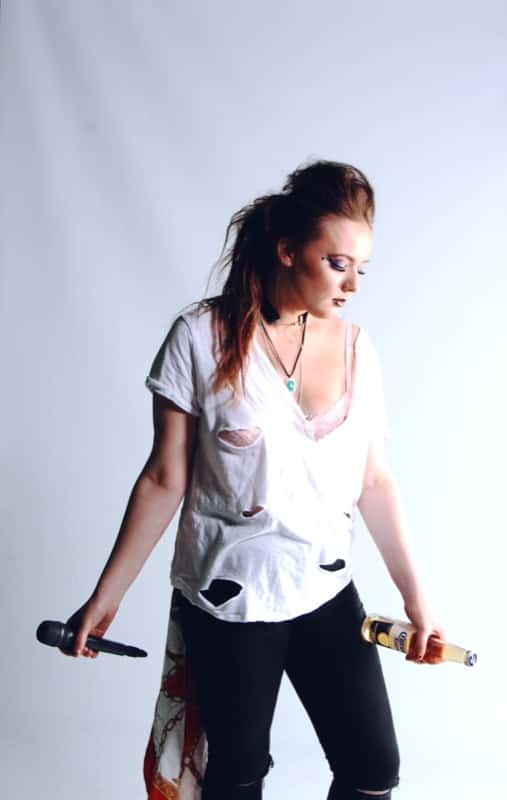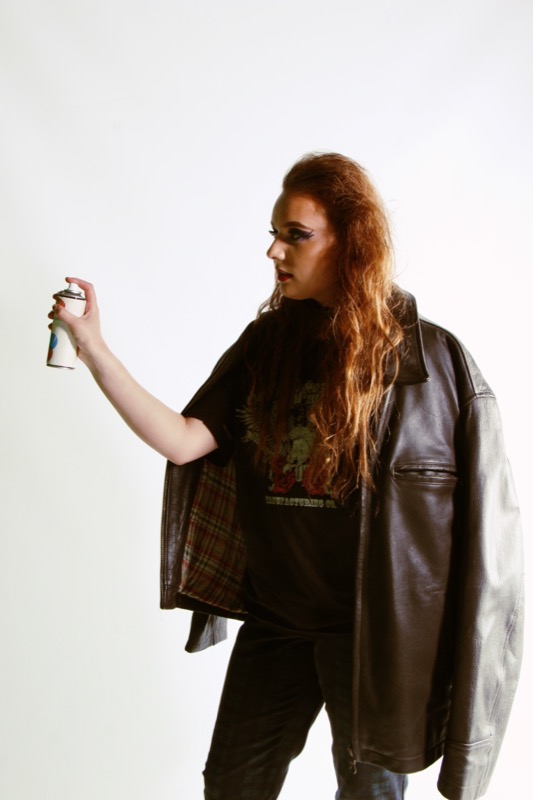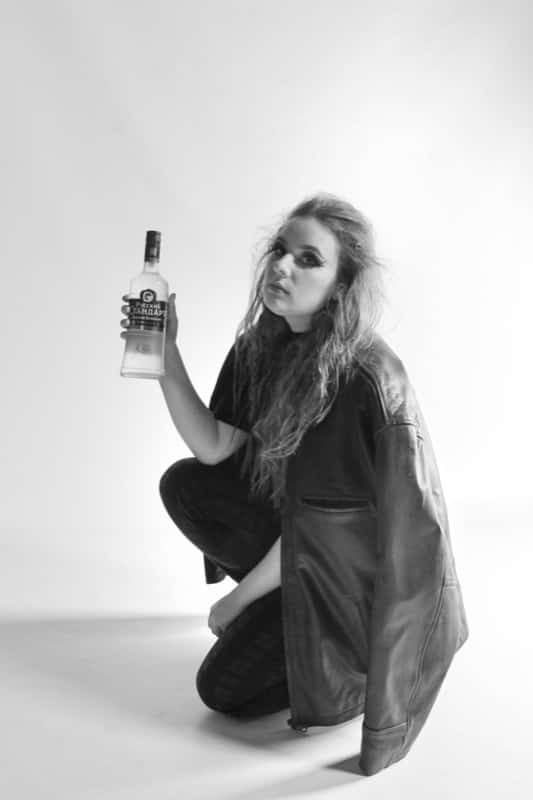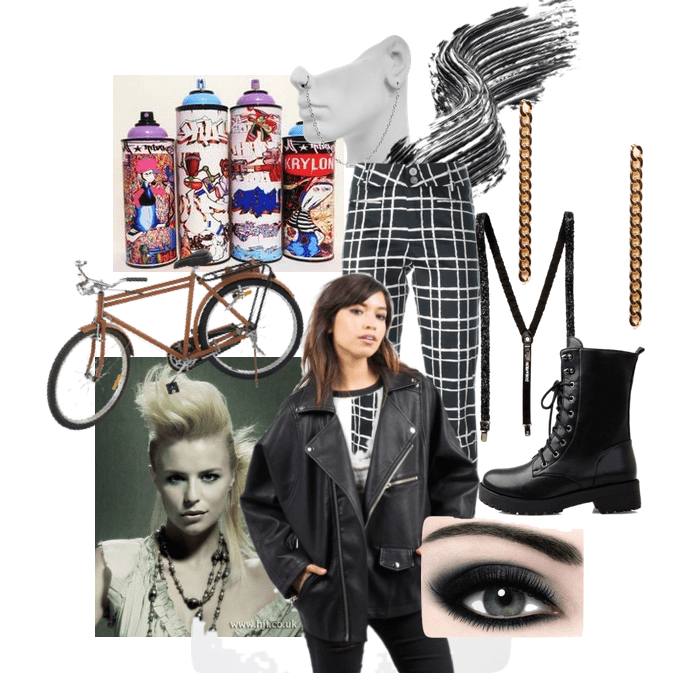 Outfit One:
Top: H&M Basic £8.99
Jeans, Necklace and Bra: Primark
Boots: M&S
Scarf: LUSH Knot Wrap
Outfit Two:
Check Trousers: H&M
Motorcycle top and Boots: Primark £6
Leather Jacket: Vintage