Here at Fashion North, we are looking back at the most memorable decades within fashion history. The 1980s is definitely a decade that stands out, with its flamboyant trends, colourful leg-warmers, perm hairstyles and gothic subcultures. However, throughout the 80s, a popular culture for mainly the younger generation was to be and dress like a 'Yuppie'.
The term 'Yuppies' was associated with professional young adults, who had and made a lot of money, and this was shown through their choice of clothing. Their fashion style is still considered as 'power-dressing', which mainly consisted of pin-striped suits, Rolex watches and Ralph-Lauren female power suits.
Designer items and products were worn by these individuals to show off their wealth. Their clothing was a symbol of status, which was what a Yuppie had within their working life.
Arguably it was a style which was a typical look for young graduate professionals (with their brief cases and suits). The Yuppie fashion trend was something new and different, which was not seen before.
If you want to achieve this look and are wanting to recreate it for yourself, then here are some items and products which are available on the high-street for an affordable price!
We have picked out some simple black tapered trousers from River Island, which are smart and were worn by Yuppies for work and casual wear. These would go perfectly together with a checked scarf, as simple patterns and natural colours were seen to deem popular with them. Finally, the grey patterned suit jacket from H&M, allows the look to look professional and mature, even though the Yuppies themselves were only young.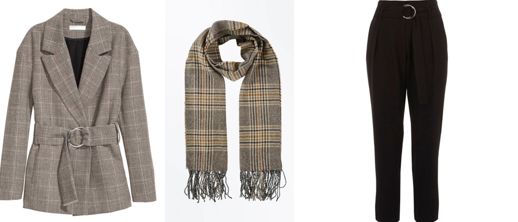 Paired altogether, these items will transform your look back into the 80s and you will have the iconic style of a 'Yuppie'!
Coat: H&M £39.99 
Scarf: New Look
Trousers: River Island £38