It's the most wonderful time of the year. Fashion North have prepared a variety of Christmas drinks that you won't want to miss out on this festive season.
Costa
Costa have a Gingerbread Latte this year — a classic latte with a dash of gingerbread syrup and whipped cream on the top.
Another classic you definitely have to try is their hot chocolate. They serve a Mint variety which uses a dash of mint syrup and is topped off with whipped cream and a touch of shimmer crumb. Doesn't it sound delicious?
Their signature drink — Black Forest Hot Chocolate with a cherry syrup, whipped cream, sour cherry sauce and chocolate sprinkles — has returned this year.
Caffé Nero
Caffé Nero has a good range of festive syrups that you can try with your cappuccino or latte, so you can make your hot chocolate special with this touch of sweet heaven.
You can choose from four different flavours –– salted caramel, roasted hazelnut, clementine and gingerbread… and don't forget to put marshmallows and cream on the top!
Our recommendation for you is their hot chocolate with gingerbread syrup, topped with a cream and marshmallows. It's delicious!

Starbucks
Starbucks fans are sure to be happy with their Christmas menu, which offers:
Toffee Nut Latte — the rich, buttery flavour of sweet toffee, combined with the warmth of toasted nuts, topped with whipped cream and toffee nut sprinkles.
Gingerbread Latte — the flavour of gingerbread cookie on top, with a ginger cream and wafer crumbs.
Fudge Hot Chocolate — creamy milk, fudge flavour, topped with whipped cream and a gold chocolate curl topping.
You could also try their new Festive Cold Brew with orange and cranberries!
So don't wait a minute longer!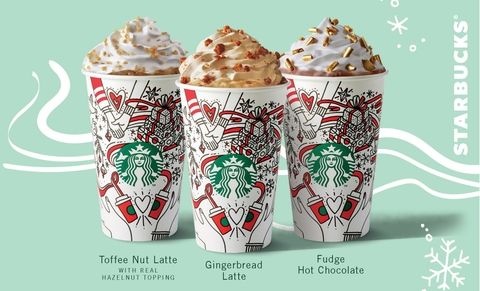 Which one is your favourite?