Are the days of the mini-skirt over?
Ladies, it seems that trousers and high-waist joggers have become a new staple in femininity, this trending adaptation of the generic jumpsuit is a symbolic piece transforming gender stereotypes.
It's named the boilersuit and dates back to the 1940s, a time where Rosie the Riveter represented women who worked in masculine jobs during World War II.
It is largely recognised as a feminist convention due to the garment's historical association with military occupations.
The suit is commonly designed with long sleeves, a baggy fit and a collar reverse button-up styling, sometimes with a cinched waist.
This trend is ideal for women who are laid back in fashion and prefer something trendy and simple which can be styled up, with a pair of heels, statement jewellery, and a designer belt – or down with a pair or chunky trainers and a bandanna or headscarf.
This trend has been worn by celebrities and style icons of today including Gigi Hadid, Jordyn Woods, Kylie Jenner and Rihanna. Each are recognised for their sleek but tom-boy image in this evidently timeless trend.
Rihanna, who was first seen in 2008 when she wore the boilersuit out in London and then again in Cali 2012, with the iconic Armani denim jumpsuit. Jump forward 10 years and the trend is revived. Bad Gal Riri was seen again in June 2018 wearing a Virgil Abloh white monochromatic boilersuit as she appeared in the frow for the Louis Vuitton Menswear show.
Unlike the previous looks, she styled the look with glamorous pointy, white toe pumps, thick-rimmed angular sunglasses and of course; the look was completed with a Louis Vuitton see-through Keepall duffel bag.
The supermodel Hadid sisters have also worn the boilersuit; get the look on NastyGal.com who are currently offering 40 per cent off! This look is priced at £36.
You can see below the different styling of the boilersuit from other celebs such as Gigi Hadid who wore the look at Parish Fashion Week walking for Isabel Marant. Along with reformed bestie's, Kylie Jenner and Jordyn Woods.
View this post on Instagram
View this post on Instagram
View this post on Instagram
The boilersuit has also been featured in the FW19 Stella McCartney runway show, worn by model Kaia Gerber and shared with the caption: 'Dedicated to the ones we love in the past, present and future.'
View this post on Instagram
The jumpsuit exposes a military influence in its khaki green colouring and large fit decorated with uniform buttons lining the collar, a matching belt and chunky black, platform boots. It blurs the gender line and daringly challenges social expectations of femininity recalling the significance of Rosie the Riveter in female fashion trends.
Bloggers have also been wearing this trend on Instagram. Fashion blogger Amy Fuchsia posted a photograph wearing a white boilersuit with zip detailing, large pockets and a belt – finalised with a pair of chunky, white trainers.
View this post on Instagram
Get the exact look on Boohoo.com with the 'Contrast Stitch Denim Jumpsuit' currently priced at £35.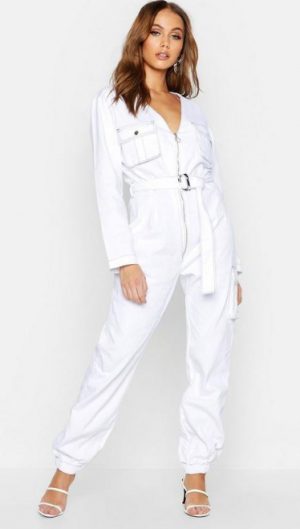 What do you think of the boilersuit trend for spring/summer '19? Tweet us and let us know @Fashion_North.