With the advent of Paris Fashion Week taking place this week, the world's leading designers are as always showcasing innovative and beautiful new pieces.
However, as much as we expect the best from fashion week, we also expect some truly eye-watering prices.
In this article, we aim to show off some of our favourite clothes and looks from new Spring-Summer 2024 collections, and some more accessible alternatives.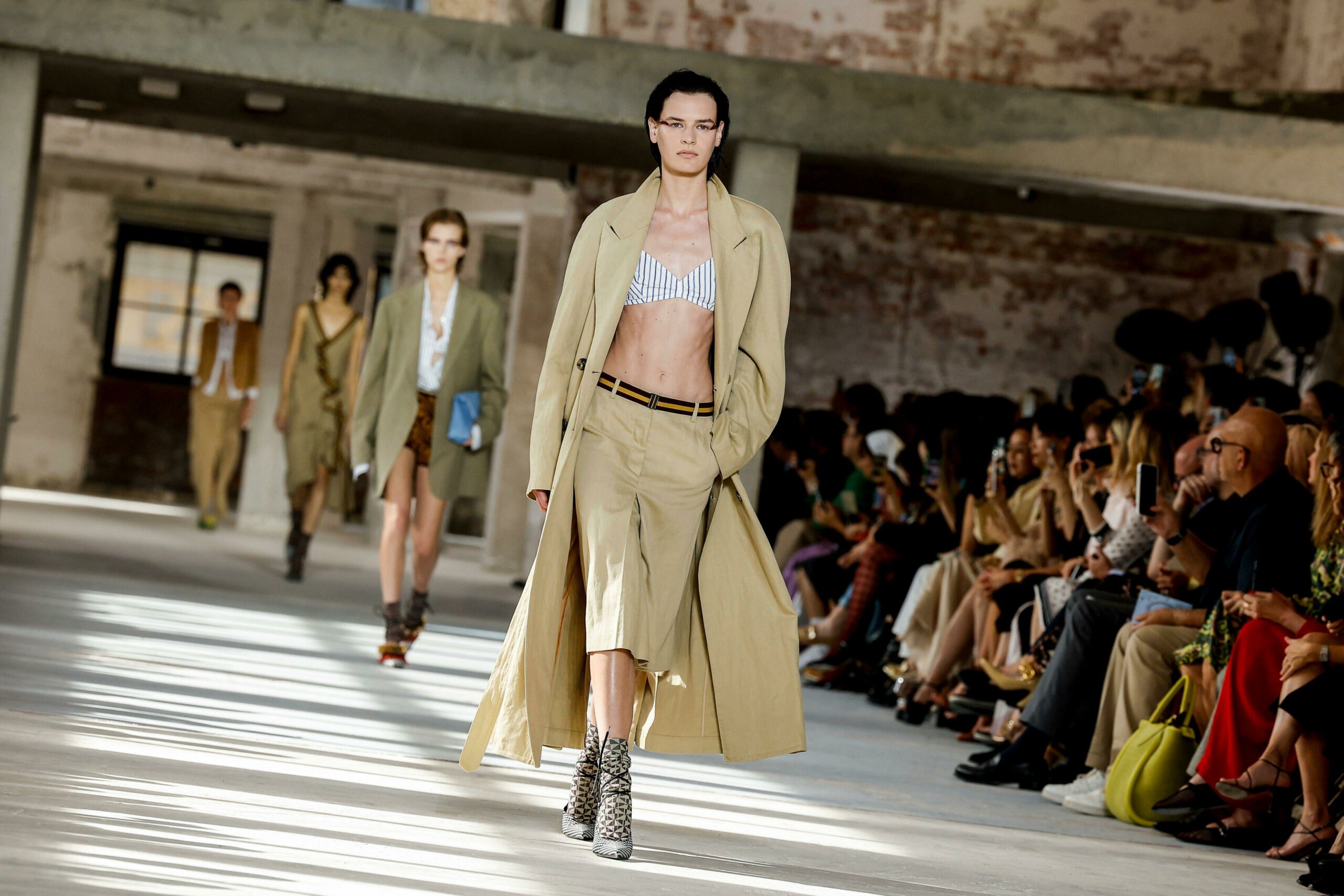 Photo credit: Alamy.com
Dries van Noten tan long coat
Fashion fan favourite and Antwerp Six member Dries Van Noten returned on peak form with his new ss24 collection.
Though the current fashion landscape feels upside down, Dries remains a fierce traditionalist, with this new collection containing elements of classic menswear with twists of femininity.
Denim, sharp tailoring, and long coats (like our personal favourite in this lovely tan colour) are styled openly to show lots of skin, as well as being paired with striped or white bra tops.
This soft oversized coat from Zara will achieve a very similar look and silhouette at a fraction of the cost.
SOFT OVERSIZE COAT – camel | ZARA United Kingdom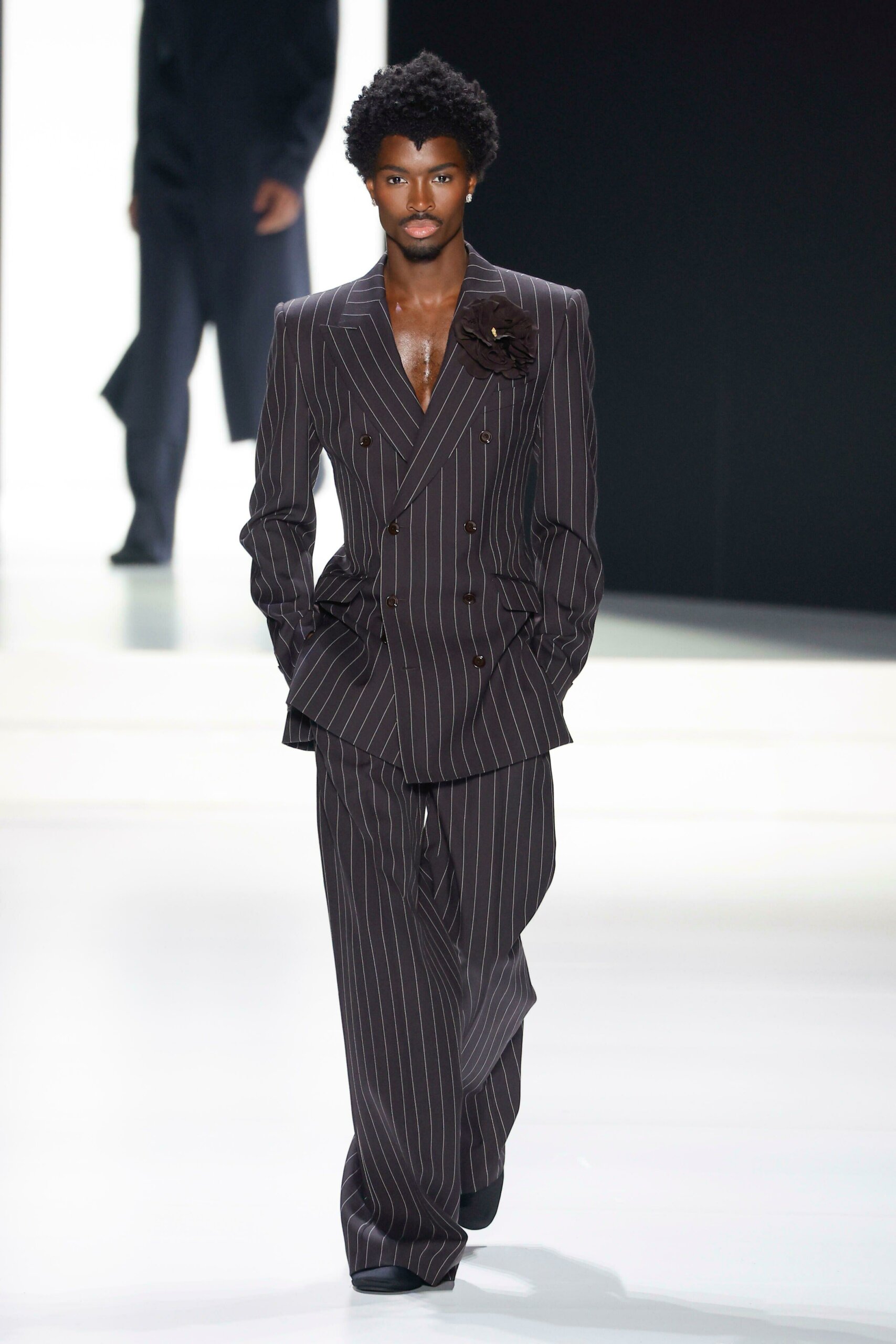 Photo credit: Alamy.com
Dolce and Gabbana oversized pinstripe suit trousers.
As the 40th anniversary of Dolce and Gabbana approaches, the duo-run brand maintained an air of timelessness throughout their newest collection.
Double-breasted suits like the one we selected were shown alongside satin corsets and tulle slip dresses for a sense of classic elegance.
However as usual Dolce and Gabbana provided a fun and playful twist on classic formulas, like pairing tuxedo jackets with lacy underwear, mismatched patterns, or draping blazers over a model's shoulder to have one half covered and one exposed.
Try these wide-leg pinstripe trousers from ASOS for a taste of this classical new collection.
Vero Moda oversized shirt and wide leg trousers co-ord in grey | ASOS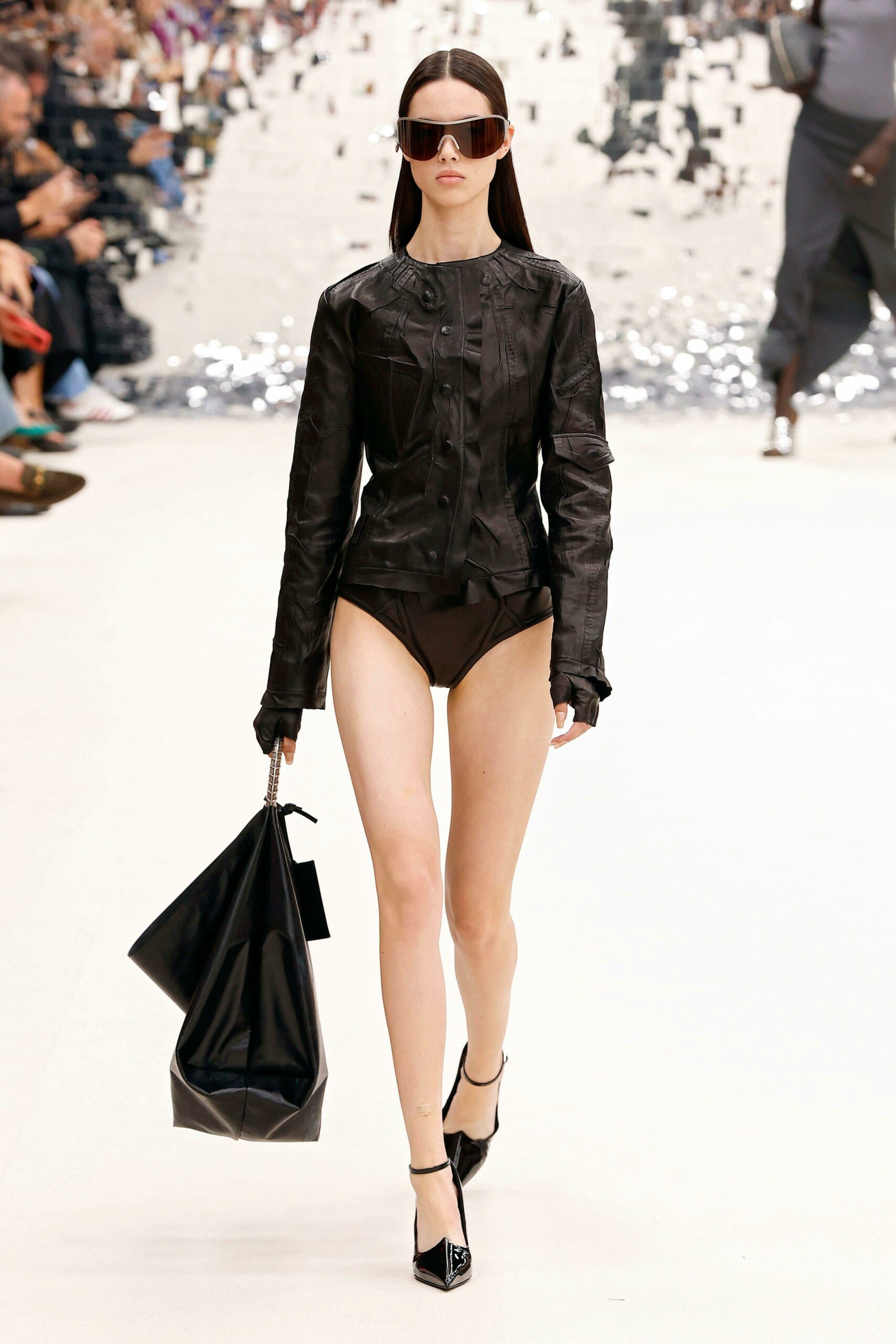 Photo credit: Alamy.com
Acne Studios leather racing jacket
Jonny Johanssons' Acne Studios provided a refreshing new take this season, with lots of interesting twists on their classic items, like the 5-pocket denim pant that was covered in glistening studs, or trucker jackets coated in a layer of white chalky plaster.
However, our pick is this black leather racer jacket that was styled with kitten heels, an oversized leather handbag and curiously, no trousers.
Leather is a wardrobe staple as we progress into autumn and this slim-fitting jacket from Hide Park maintains the same look as the runway for significantly less, while still not straying into faux leather to maintain durability and quality.
Meghan: Collarless Leather Jacket Black (hidepark.co.uk)
Givenchy emerald green flower dress
Following the brand's recent collaboration with Tiffany & Co, Givenchy looked to classic Parisienne evening wear led by design superstar Matthew Williams.
Williams has stated that his muse and inspiration is Audrey Hepburn, which was evident in this show as classic staples of her era such as the little black dress alongside opera gloves and coats appeared throughout.
However, Williams put his own unique take on staple pieces as usual, with his now trademark high-collared and wide-shouldered tailoring filling out the show.
Our chosen piece from the show is this dress in a lovely tone of green with embroidered flowers, this alternative at House of Fraser lacks the flower motif, but is sure to provide a similar and beautiful look for evening wear.
Biba | Biba Pleated One Shoulder Midi Dress | Maxi Dresses | House of Fraser
Saint Laurent military cargo jacket
At Saint Laurent, designer Anthony Vaccarello made the bold decision to simplify the fashion house's newest show to usher in a new era and "Start again a new chapter from Saint Laurent."
Most of the items in the show were made from simple cotton, with a militaristic shape and look to the majority of the show's garments. This makes finding alternatives to pencil skirts, cargo jackets and fatigues relatively easy.
This chore coat from Superdry is similar, but if you're open to second-hand options, then nearly any military surplus store will carry near identical, more sustainable choices as you aren't buying new.
Men's – Surplus Four Pocket Chore Jacket in Brown | Superdry UK
Did you have any favourite shows from Paris Fashion Week that we didn't include? Will you be picking up any of our alternatives? Let us know on Instagram @fashion_north.