Release after release after release!
The Bo and Tee brand are really trying to take all of our money right now, but are these Instagrammable gym outfits really as good as they look?
If you follow OhPolly or BoandTee on Instagram you will be well aware of all the new gym wear lines they have been sharing. Each as sleek, sexy and colourful as the previous one but the new releases offer slight variations on design and colour.
View this post on Instagram
You have probably seen your favourite influencers wearing the designs and maybe even spotted people in the gym wearing these bold two-piece sets, however, are they more suitable for a workout or a photoshoot?
View this post on Instagram
See below our verdict on various pieces from the Bo and Tee gym wear line and some photographs of what the pieces look like on.
No.1 'Make it Count' Seamless Unitard in Coral XS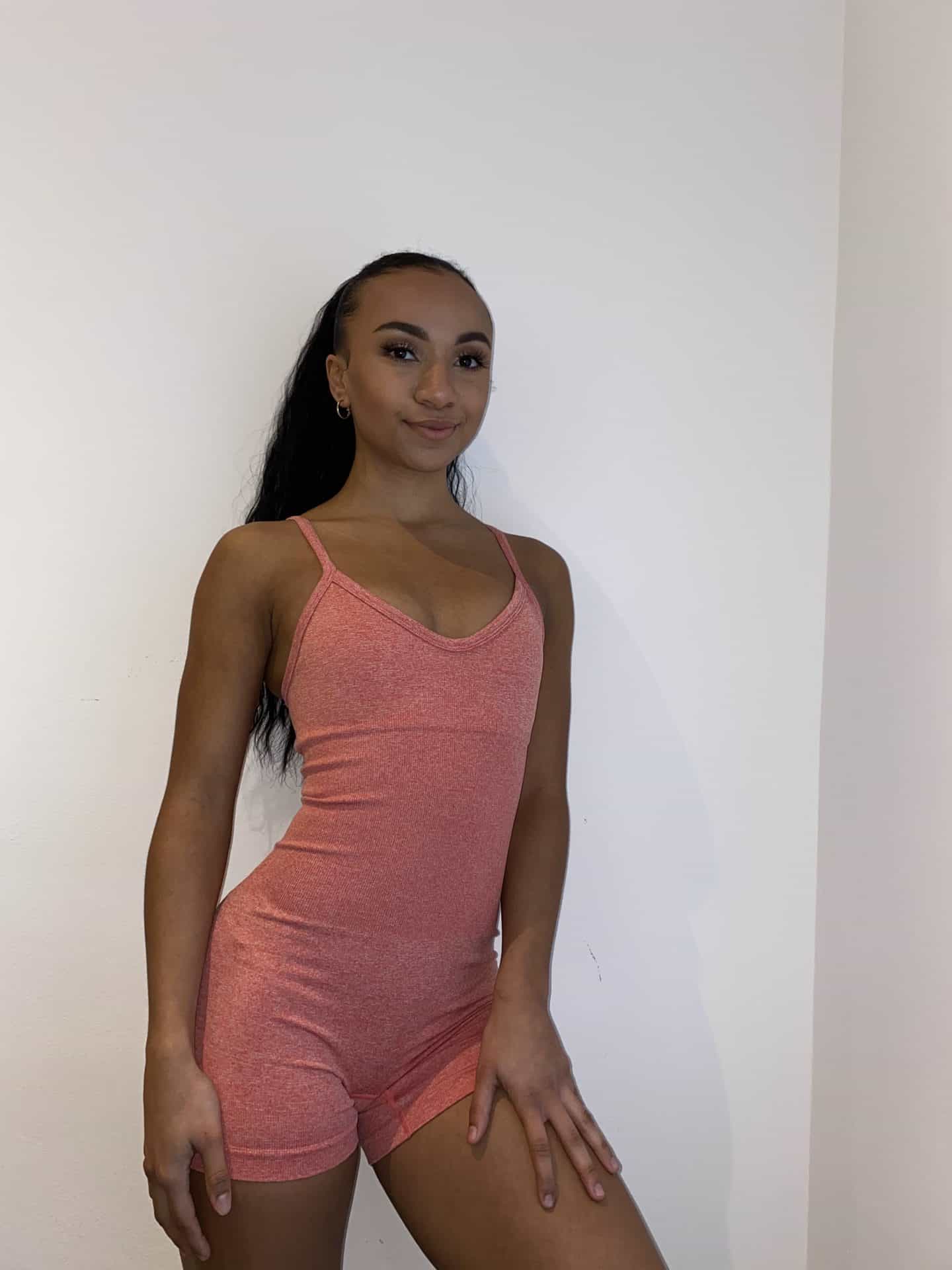 This is a piece featured in the 'seamless' collection priced at £35.
It is definitely on the pricer side for gym wear however, you can feel the quality in the material as it is thick, stretchy and squat-proof.
With unitard styled clothing, the fit can be slightly off causing an ill-fit around the bum resulting in you feeling a little uncomfortable.
Luckily you get what you pay for, and this product fits very well and we recommend you buy your usual size. It does its job for high intensity workouts at the gym, in dance classes or other fitness activities you do not need to worry about major sweat marks or anything 'popping out.'
However, be prepared for some eyes to be on you at the gym, you will not blend in with this piece.
We rate this product a 10/10 for sizing, 9/10 for design and an 8/10 for practicability.
No.2 'Unleash' Seamless Cycling Shorts and matching Plunge Neck Sports Bra in Baby Pink XS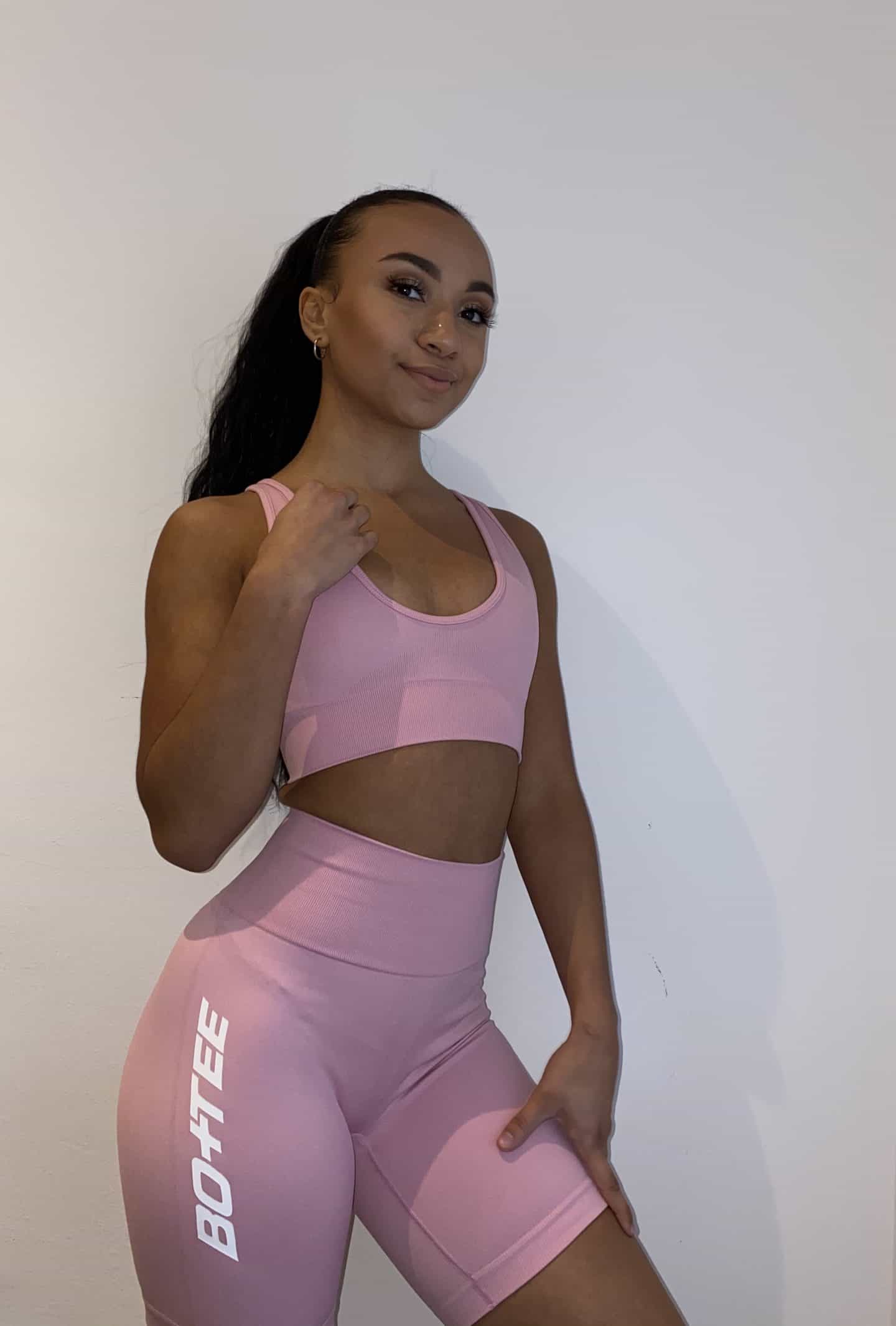 The shorts in this set are priced at £28 and the bra at £30 each feature in the Limited-Edition collection.
This set is also a great fit, the sizing is accurate and not too tight or too loose in any areas. Again, the Bo and Tee brand is all about bright colours and girly designs and you can't get much brighter than this baby pink set.
The bra is sturdy and has adjustable straps for comfort and seen as the shorts are cycling style, they are slightly longer in length which may be a preference for some.
If you don't like to wear shorts at the gym but are getting bored of your good ol' black leggings then this might be your alternative. The high-waist design shapes your waist and provides enough coverage so you don't feel too exposed while you are training.
The only downfall with this product is the colour runs when washed!
We rate this product a 10/10 for sizing, 10/10 for design and an 9/10 for practicability.
No.3 'No Limits' Seamless High Waisted Shorts in Cream XXS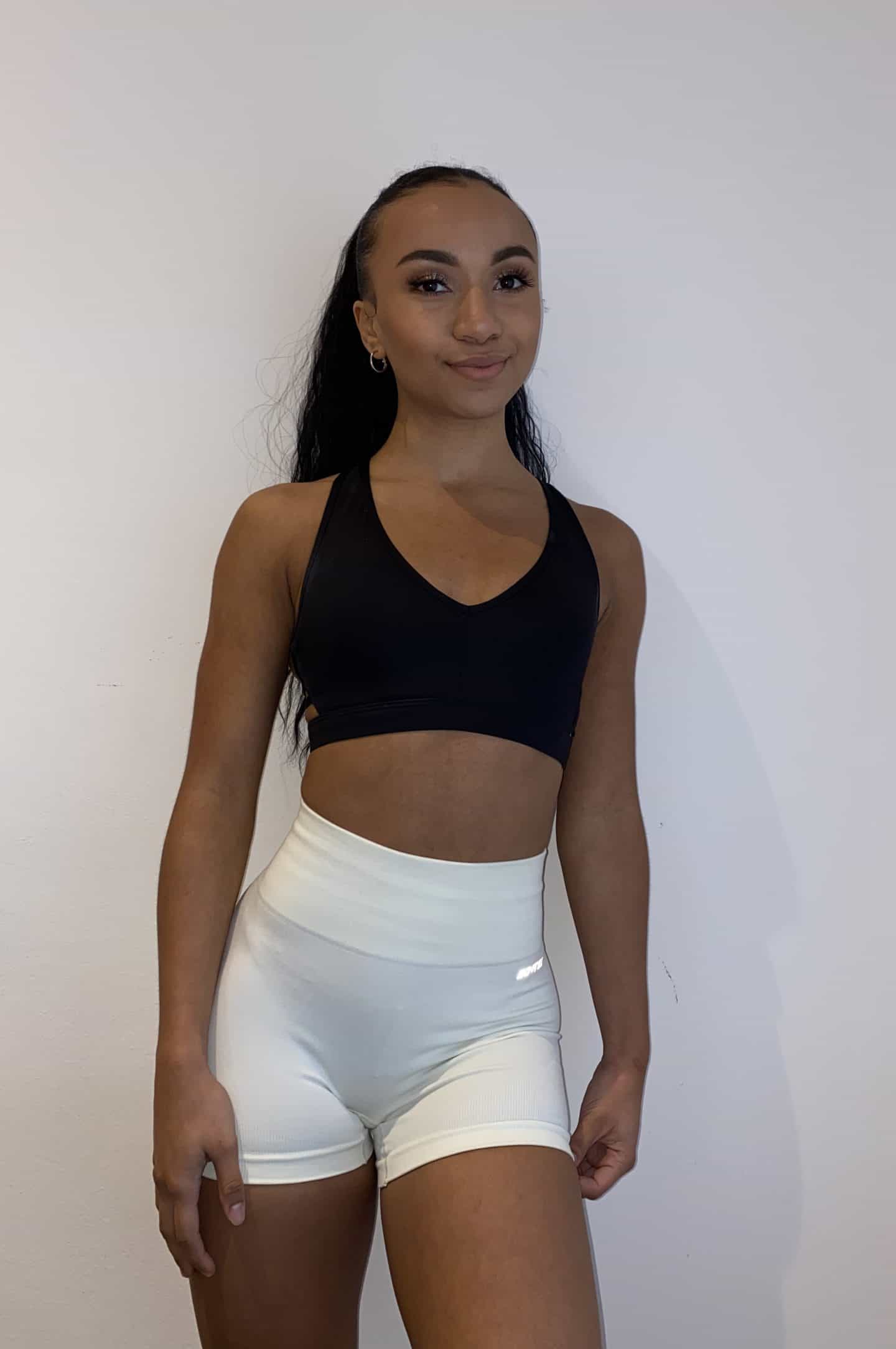 This piece is priced at £27 as part of the 'seamless' collection.
These shorts were one of the first pieces featured on the Bo and Tee line, and definitely filled a gap-in-the-market for us as white gym wear is extremely hard to come by.
I know what you're thinking, white equals see-through, but nope! This product just like the others is completely squat proof, and still has that thick design and great value for money.
We would recommend buying your usual size again, it is possible to size down and it still fits, however, the smaller size is likely to consistently roll up around your thighs so stick you your usual.
We rate this product an 8/10 for sizing, 9/10 for design and an 7.5/10 for practicability.
We love the move to more stylish and colourful gymwear. Bo and Tee are doing a great job in catering to this market but keep an eye out for student discount offers, you might bag yourself a bargain.
Tweet us your thoughts on this brand @Fashion_North, we'd love to hear from you.