It's not news to anyone that trends come and go in cycles. However, it's safe to say that the early 2000s has had a lasting impression over the past few years. Since lockdown hit in 2020, we have seen just about every Y2K trend make a return from Juicy tracksuits and UGGs to ultra-miniskirts and low-waisted jeans more recently.
Since it looks like the noughties are here to stay, Fashion North have created some early 2000s looks, inspired by some of the most iconic celebs of the era that, you can recreate yourself.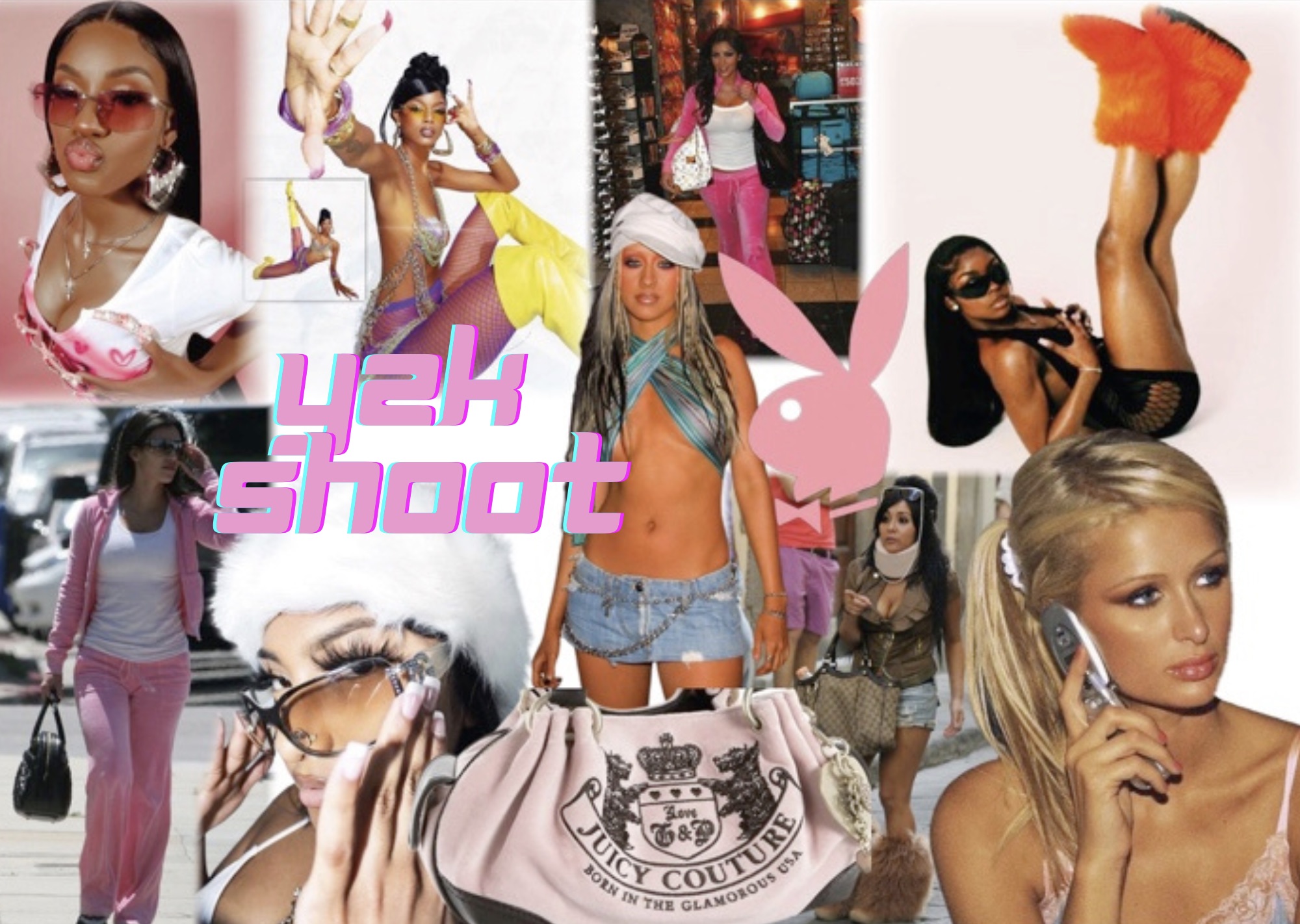 For the first look we took a lot of inspiration from none other than pop culture icon herself Paris Hilton. I mean she is the queen of the 2000s. We paired a hot pink velour Lipsy tracksuit with classic UGGs and a silver metallic bag. Unfortunately, we did not have the same budget as Paris and Kim who stepped out in matching Juicy tracksuits and metallic Louis Vuitton bags back in the day. Of course, we completed the look with some diamante sunglasses in true paparazzi avoidance style.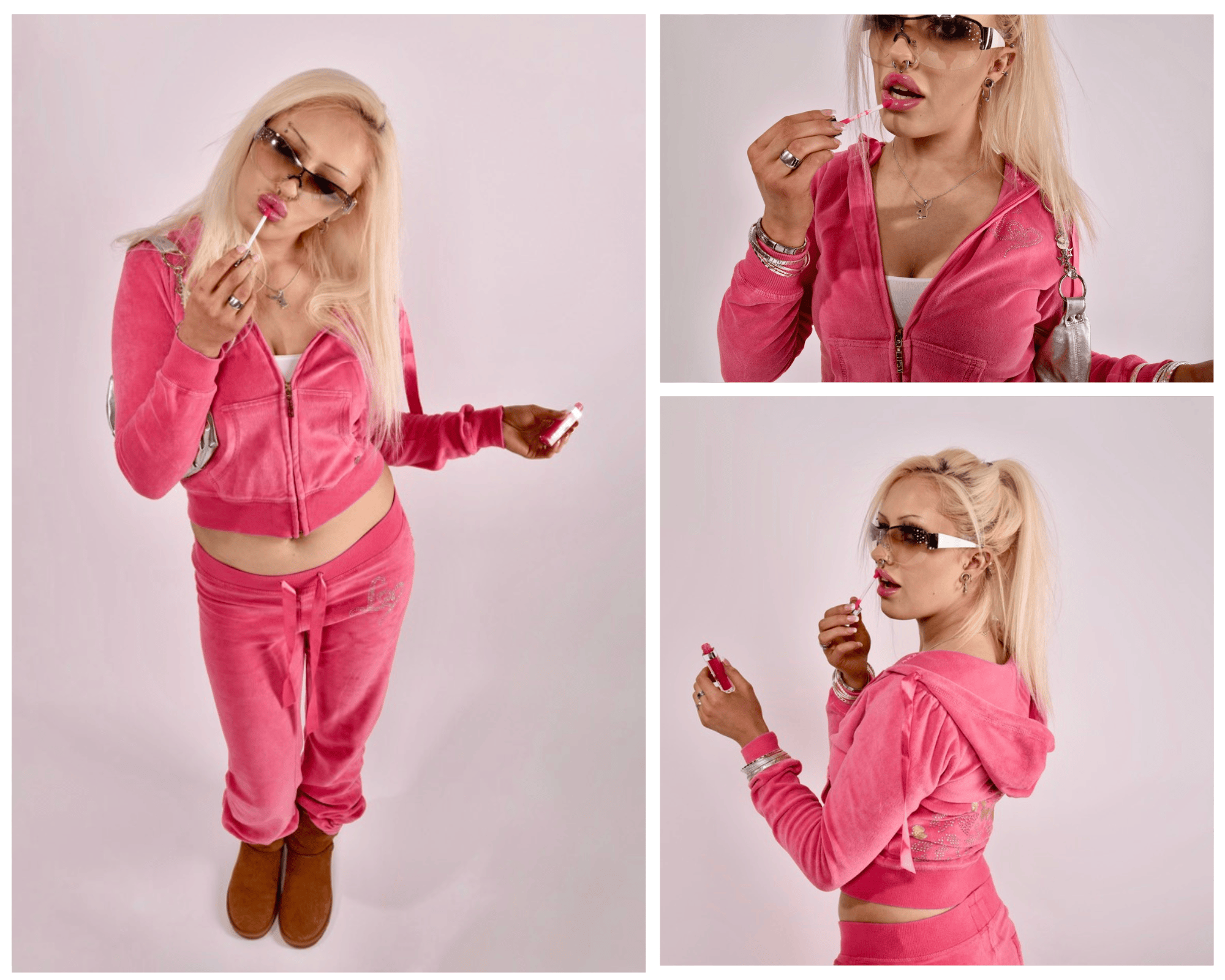 Shop similar look:
Pink velour tracksuit – JUICY COUTURE, DOLLS KILL, PLT
Silver shoulder bag – EGO, ZARA
Boots – UGG
Diamante sunglasses – H&M, ASOS
The second look is a combination of a few Y2K trends; mini skits, hip belts and fluffy yeti boots. What's not to love. Such a simple outfit can be made to look so much more with the right accessories. The yeti boots make quite the statement and are not for everyone however are slowly making a return. In the 2000s we seen them sported by Snookie from Jersey shore who is the epitome of Y2K fashion. More recently we have seen them on celebs such as Kendall Jenner and Dua Lipa who brought a more modern twist to them.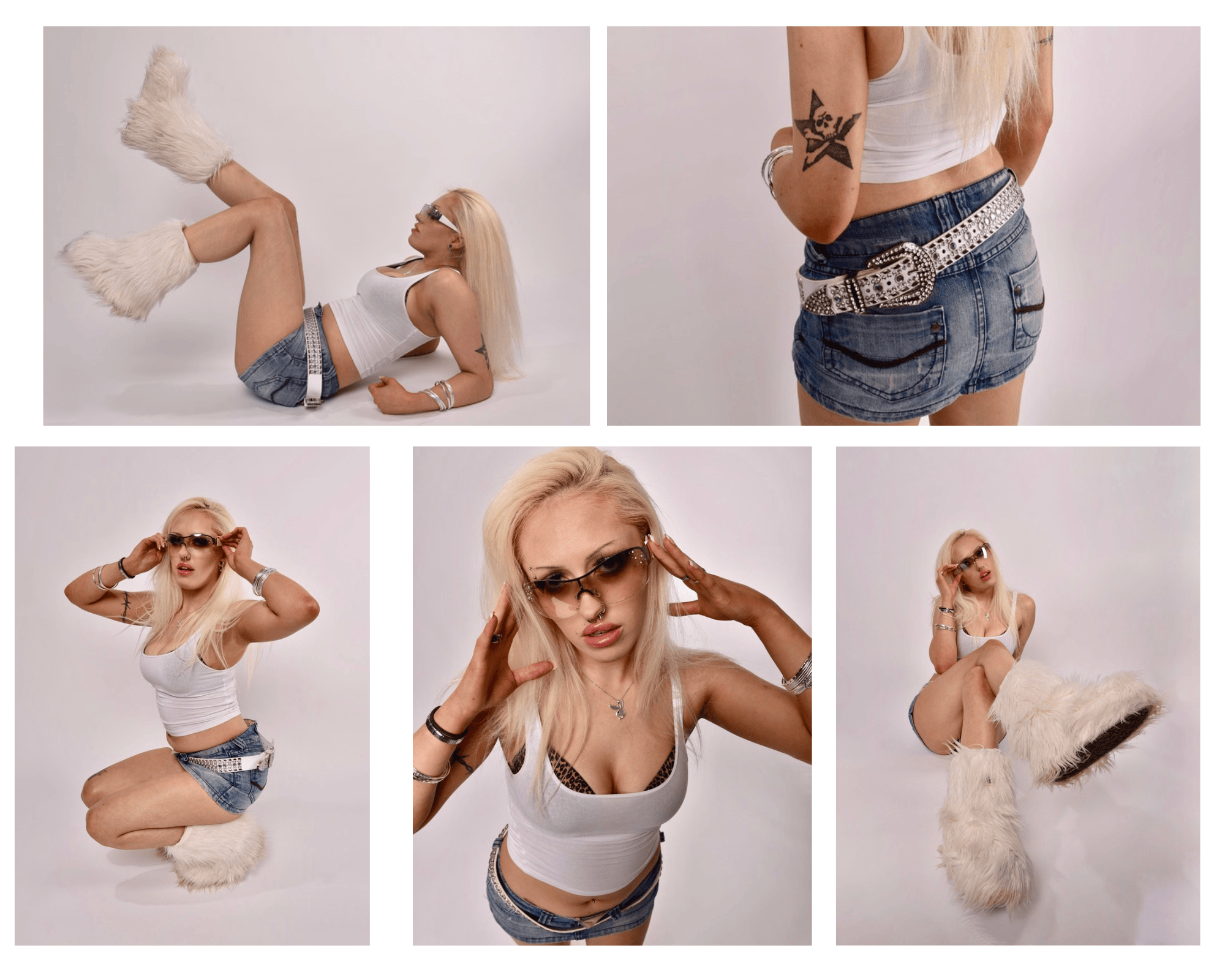 Shop similar look:
Basic white vest top – PLT, ASOS, PRIMARK
Low rise denim mini skirt – VINTED, H&M
White studded belt – URBAN OUTFITTERS, ASOS
White fluffy boots – AMAZON, ASOS
Diamante sunglasses – H&M, ASOS
For the third outfit we choose to keep it simple with the same tank top to create a more wearable daytime look. We kept very on theme with baggy low waisted jeans which were very popular at that time paired with some chunky white skateboarding trainers. To accessorise the outfit, we matched the jeans to a denim hat covered in diamantes to give the full effect. Caps and denim were a staple at the beginning of the decade even seen on red carpets by celebs such as Christina Aguilera.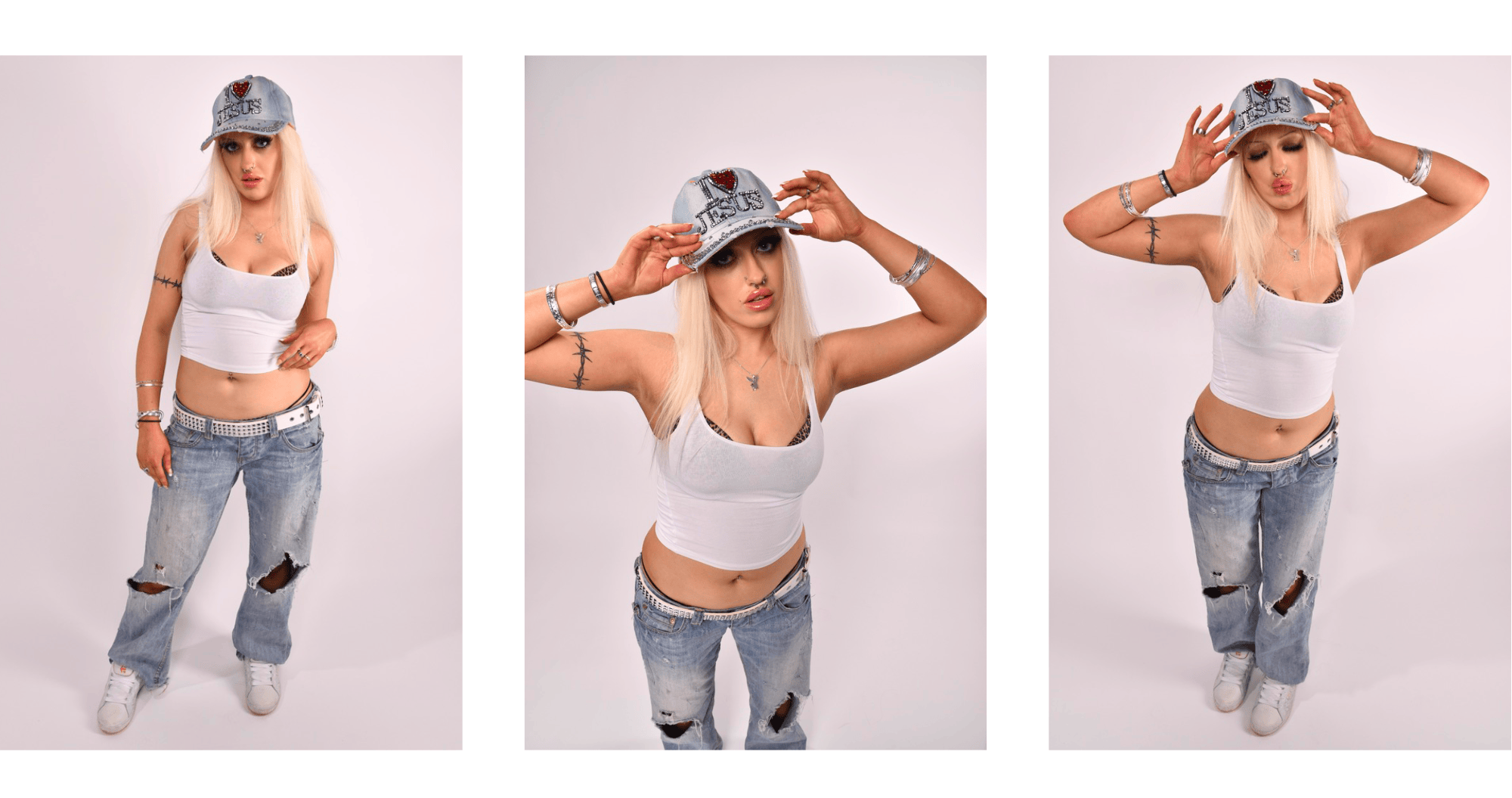 Shop similar look:
Basic white vest top – PLT, ASOS, PRIMARK
Low rise baggy jeans – ZARA, WEEKDAY
White trainers – OFFICE, SCHUH
White studded belt – URBAN OUTFITTERS, ASOS
Denim studded cap – DEPOP, URBAN OUTFITTERS, AMAZON
The last look is a grungier version of the second look. This one takes more inspiration from the likes of Avril Lavigne with the black leather look skirt and vest top paired with a studded belt. This look could be dressed up with a pair of kitten heels or platforms however we went with the classic 2000s combo of UGG boots and fluffy leg warmers.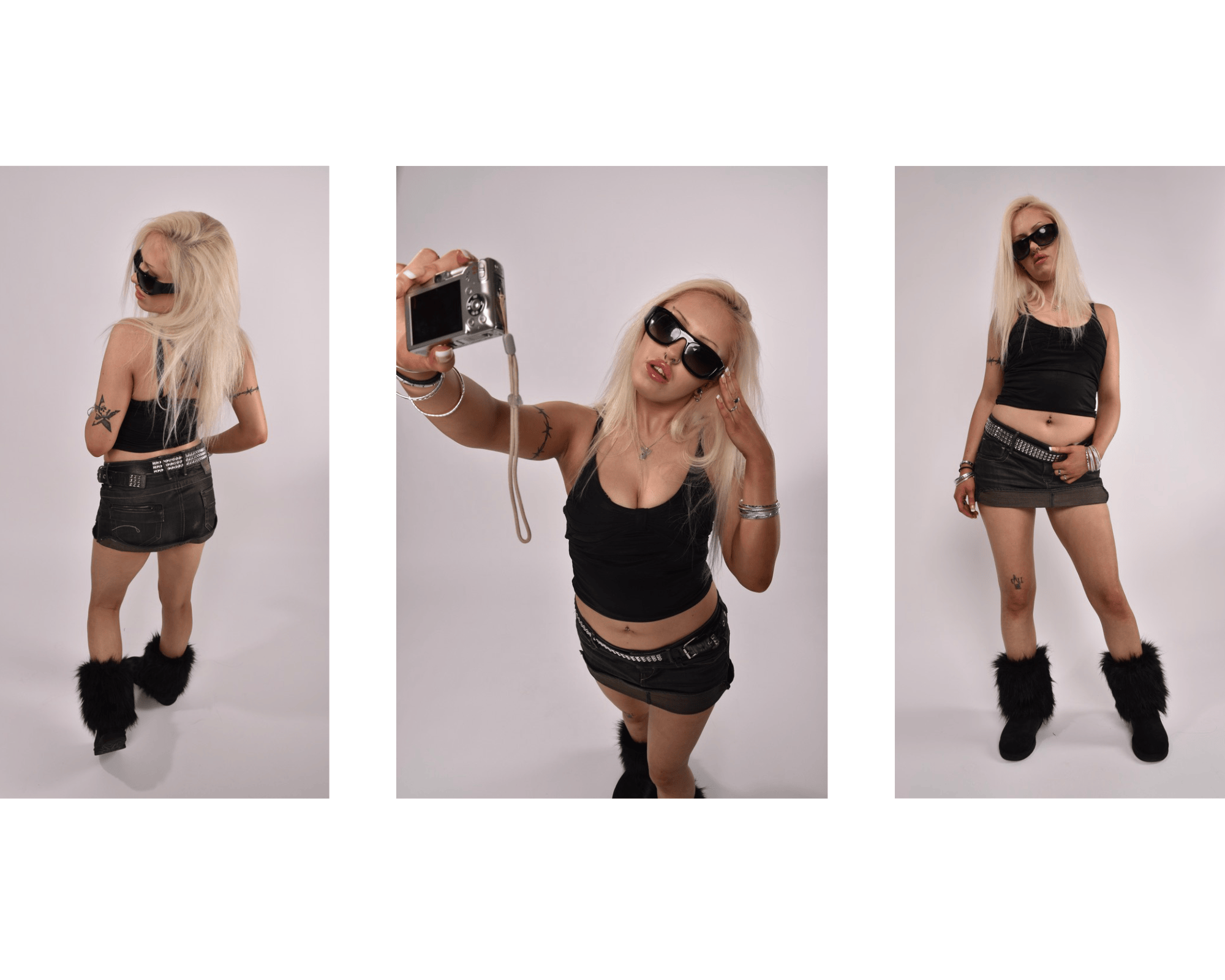 Shop similar look:
Black cami/vest top – PLT, ASOS
Black leather mini skirt – DEPOP, VINTED, ASOS, PLT
Black studded belt – ASOS, AMAZON, URBAN OUTFITTERS
Sunglasses – ASOS
Black fluffy boots – UGG, AMAZON, ASOS