At only 28, Emma Buckham's career has rocketed from trainee hairdresser to a celebrity make up artist.
It was a typical cold December afternoon when I met Emma at Newcastle Central station. The bubbly and friendly girl I talked to over email was exactly the same person I imagined. As we walked to the nearest Starbucks across the street, we chatted endlessly about both our favourite subjects; fashion and beauty0
I soon found out, at only 28, Emma's job entailed her working at both London and Paris Fashion Weeks. Also, while working these jobs, she has done make up for many soap star celebrities, such as actors who have been on Big Brother and Emmerdale. Not only does Emma Louise own a make up artistry, but she is currently working on an upcoming Netflix original series', CBBC and Lime Pictures.
Emma told me, whilst sipping on our coffees, that it was at the young age of 16 when leaving school, she began her career off in the beauty industry. She first trained to become a hairdresser, as this was the path she wanted to go down.
"When I finally got my qualification, they shut the salon down sadly and so I went back to college to study beauty therapy. You don't get a lot of training in make up in beauty therapy, but during my training and after I qualified, I worked for spas and counters and then opened my own salon at the age of 20."
Emma only had her own salon for three years, before going mobile. During this period, she decided that after letting her salon go, she went back to college to do a course in make up, learning all the trends and special effects, as she could be more flexible with her time.
"Once leaving I then trained with a top celebratory make up school called DFMA in Manchester and after that my career took off in make up at the age of 25."
After working in the beauty industry from such an early age, I asked her the question "When did your love for beauty and make up start?" She replied: "It began from a really young age. I used to be obsessed with collecting make up and I used to have a massive treasure chest meant for pens and stationary but mine was full of different kinds of make up."
Along with her huge interest in make up, she told me that fashion was also a passion for her. "Being behind the sense at different fashion weeks and seeing the new fashion first hand is just amazing," she said.
The response which most definitely inspired me the most was her answer to the question; "Was this your dream job, working with makeup?" She replied: "Yes, I have always wanted to be in the beauty industry, I love watching all the new trends coming through and keeping up with them. Not many people can say they have been to Paris and London fashion week and been on TV sets." She added: "Plus now I'm teaching with my old college DFMA and I get to teach all the new trends coming through to new students."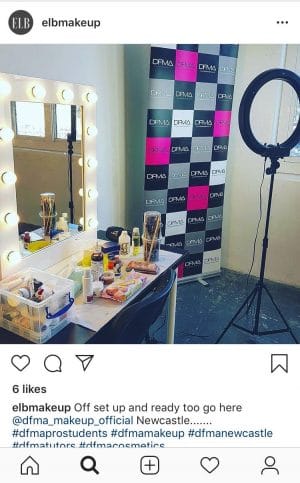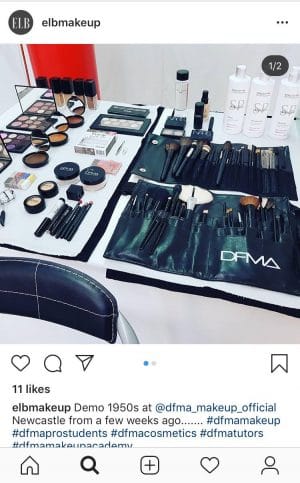 Although Emma's beauty career, is very impressive as she has worked at some of the biggest fashion events in the world, I asked her if there are any low points within her job, and she replied: "I would have to say the highs and lows of my job are sometimes not always having work and having to keep saving money for times where there is no work. Also, my industry is very dog eat dog."
Whilst finding out where Emma's interesting career has taken her and what she has done was not only impressive but also explained how stressful it can be while working on demanding sets. She discussed how busy it can get, as she has multiple make up looks to do on different people. Emma explained during the interview how "sometimes you get the odd model that thinks they're above the station and think there famous and then there are times you get lovely models who become your good friend."
Considering how people she works with can be abrupt and sharp during the job, she frequently said that these small lows in the job don't change how much she loves it.
Again, when working with celebrities, I asked the question: "Have you ever got frustrated or angry with people on the job?" as I knew that her work can leave her in a hectic environment, but she said that "when it does get busy or stressful, you just have to do the best you can."
"TV Celebs sometimes turn up late and you have to get on with it. I'm used to it all now in my line of work. It's all about the poker face in my job."
Although Emma does make up looks for celebrities and people on TV shows such as Geordie Shore, she also does bridal make up. I asked her which part of her job she prefers to do, and she replied with: "Definitely, weddings and TV Shows, as I like the control and rush it brings and it keeps me on my toes. You can't beat seeing your work on the TV or in a photo and know you did a good job."
ELB Make up Artistry has also been published in over 11 magazines, papers & online, on ASOS and Not on The High Street and many more websites. And now ELB make up artistry has her own YouTube channel, where she uploads videos which include her job experiences, behind the scene of her work and advice given by other MUA's.
A girl from Washington, who started out training to be a hairdresser, to now celebrity make up artist, Emma Louise Buckham has plummeted into the beauty world and shown us in the North that you can achieve what you want to do if you try hard enough.
Click on the picture below to head to ELB Artistry's youtube.