Designers are taking inspiration from past decades, using signature silhouettes, fabrics and themes to make their own modern day versions of past designs. The 70s bohemian culture is used as inspiration for designers such as Longchamp, Dries Van Noten and Oscar de la Renta in their recent collections.
Wrap dresses
The iconic 70's silhouettes are making a come back by designers in recent years, the silk wrap dress was first seen by Diane Von Furstenberg in 1974 which was a relaxed, silk jersey dress made to suit all bodies shapes, soon making it an iconic design for Fursetenberg. The figure hugging design became a cult item during the decade and helped her to become a successful designer and boost her business over the decades.
This simple desig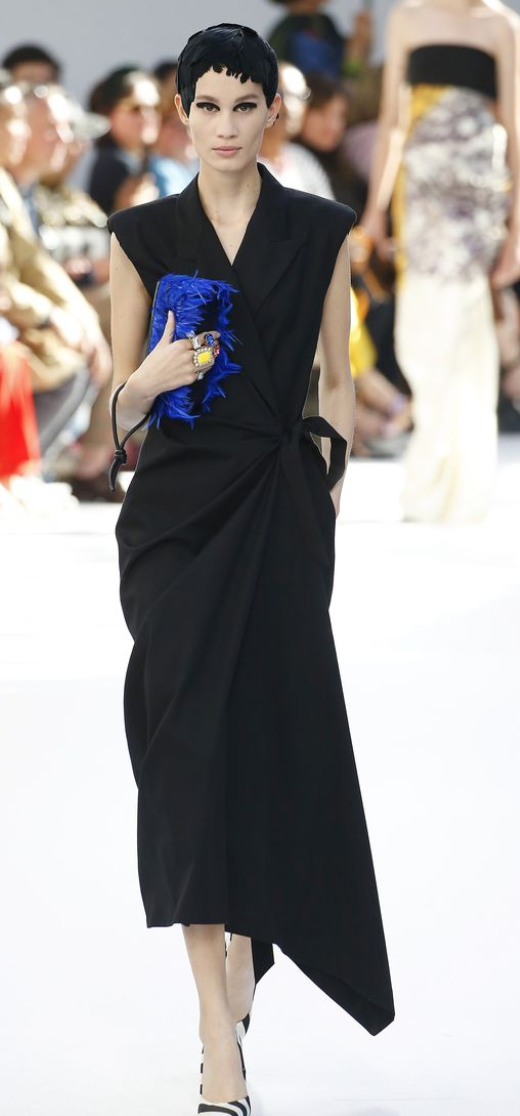 n was adapted into the Spring '19 collection by Dries Van Noten becoming a classic staple piece in a spring wardrobe. The design was given a structured collar, much like the early design by Furstenberg but came in black colours and paired together with a simple pump.
Bohemian chic
Bohemian culture is a major trend seen throughout the 1970's, first popularised by Karl Lagerfeld at Chloe who took inspiration from hippie style seen throughout the decade.
The theme of Boho chic was made popular by the hippie movement, the theme is about free and relaxed fashion, taking on elements of textures, fringing and patterns.
The peasant dress was a major silhouette of hippie style, seen in the spring'19 presentation from Alice + Olivia the dresses included stripe-y circular patterns.
As well as peasant dresses, bell sleeves were a major feature of clothing in the 70's, they were paired together with flared trousers to create the perfect loose silhouette inspired by hippie chic. This classic style has been updated into a silky button-down blouse, seen by the likes of Carolina Herrera's spring 2019 show.
The footwear of choice during the 70's was clogs and gladiator sandals which are both making a comeback during the spring 2019 shows. Max Mara gave us clogs whereas Longchamp brought fringe gladiator sandals paying tribute to hippie chic that dominated the decade.
Western details
The 70's was a decade that romanticised the Wild West, fringing and loose clothing was made popular by designers such as Chloe. In the 1970's the creation of the mini skirt was made popular by Pierre Cardin, women would wear these together with knee-high stripped socks tucked into a pair of cowboy boots, giving the ulimate outfit inspired by the subculture of Mods but also incorporating Western themes.
These styles are becoming increasingly popular today, with Longchamp taking note from this trend and incorporating it into their spring 2019 collection, using fringe skirts and boots for a mixture of boho-chic and wild west.
California dreaming
The 1970's was about movement and travel, fashion took notes from far away lands as travel became more popularised.
These advancements inspired the use of crochet detailing, designers used bright colours for these silhouettes. Crochet wasn't left in the 70s but is being used in spring collections by designers Michael Kors,Oscar de la Renta, Victoria Beckham and JW Anderson.
The use of die dye also became popularised  around this time as well as hippies would experiment with colour to reflect their values towards the world, today tye-die is being incorporating into catwalks at R13 and Prabal Gurung, however coming in sophisticated forms of blazers, knits and mini skirts.