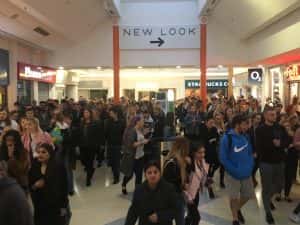 The Bridges Student Raid In was a massive success with a 68% increase on last year. We spoke to some of the event organisers and the happy shoppers. 
The Event was run by Route 69 and the Bridges in partnership with UNiDAYS who were there giving students the chance to win a holiday to Ibiza if you took a photo with the camper van and tagged it on Instagram.
Event manager Simon Howartson told us he could not give any specific figures right now but the sign ups were 68% up on last year with around 4,000 pre registered and about 6,000 at the event itself with all the retailers reporting increased sales.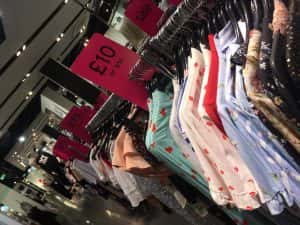 Kieran Pickard, 22, was getting people signed up, checking everyone had wristbands and getting them signed up to the UNiDays app. He was excited to finish work as he had his eyes on some bargains. "There's 20% off in TopMan and I've seen a coat I love. And students can go and see Spamalot for just a tenner!"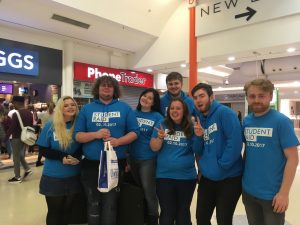 Sam Czwordon-Wright, Marketing and Communications manager, was super excited about the success of the evening: "It's gone amazingly! I'm absolutely delighted with tonight. I thought it was going to be good but I didn't know it would be this good. I think a little bit of it is down to the partnership with the UNiDAYS app and all of their help and input. Predominantly though our retailers have really pulled it out the bag this year by not just putting a discount on.  Some of them have got incentives on and some have DJs in store and it's all those extra bits that appeal to everybody. We've definitely beaten last year so I'm delighted with it".
Sam also managed to grab herself some bargains: "I like to get my winter staples from here and I think thats what the students do as well. They buy their boots, their coats and I've done the same".
The shopping centre opened from 18:30 and as the shutters opened all of the students flooded through in a frenzy but amongst the chaos we managed to catch up with a couple of shoppers.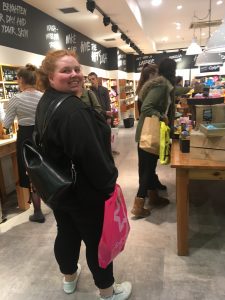 "I'm Kate Angus, I'm a third year Primary Education student. My favourite deal was this cropped cut out jumper from River Island for £17.98! It was busier than I expected though and the queues were crazy! I've had so much fun though".
Jessica, studying Health and Social, said: "I am really happy with the free massage bar I got from Lush. I also got some really cool jumpers for a reduced price from H&M".
Retailers saw a definite increase in sales and worked super hard to serve all the customers.
Kirsten, sales assistant at Lush, said: "It's really really mental! we haven't really had a discount but we've had a scheme called 'random acts of kindness' just little gifts for everyone who purchases something".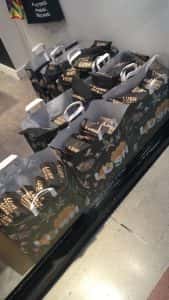 Aimee Little, store manager at KiKo said: "We weren't open this time last year so we didn't know what to expect. It has been very busy we've not had a quiet spot until right now at 9 which is really exciting."
A couple of us from Fashion North were also at the event taking pictures of the most stylish shoppers as part of our competition to win a £50 Bridges voucher. Keep an eye out for the post in the next few days so you can vote for your most fashionable shopper at the Student Raid 2017.
So, after such a successful night you all must have got your hands on some great bargains. Tweet us @Fashion_North with your favourite purchases.