The nights are getting longer, the wind stronger and autumn has arrived in its full beauty. To keep yourself warm, take inspiration from celebrities and choose the sweater that will keep you warm.
Kendall Jenner
The model was seen in a mustard coloured long sweater with jeans and a spaghetti strap black crop top leaving dinner in Hollywood.
The similar warm chunky cardigan can be found on momofashions.co.uk for £16.45 where you can choose your favourite colour.
Dua Lipa
The British singer has chosen brown pattern cropped button-up sweater which she paired with tink top, jeans, white sneakers and a black Chanel bag.
If you would like to go for something simpler Shein offers plain coffee brown front button-up cardigan for £16.49.
Hailey Bieber
Going to a restaurant or being on the red carpet, model and wife of Justin Bieber is always stylish. White button-up knit cardigan paired with straight leg denim jeans, high heels and LV handbag.
The white chunky knit cardigan in cream colour can be found on onenationclothing.com for £22.
Bella Hadid
Every time Bella is seen in public, her outfit is on point. We love this cropped tiger print jumper with jeans and white jacket.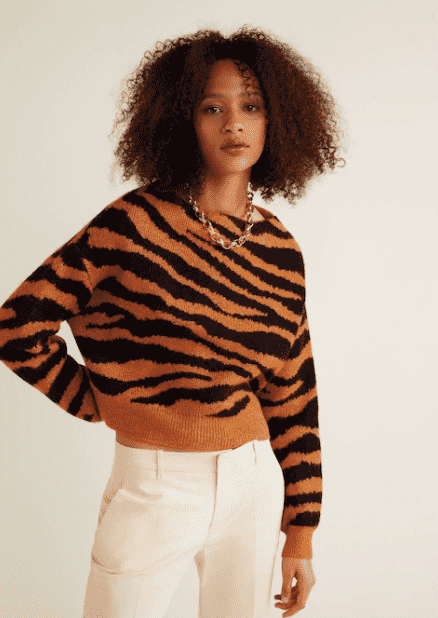 Photo credit: Mango
For the exactly same tiger print sweater visit mango.comwhere you can find it for £35.99
Vanessa Hudgens 
Bad Boys For Life movie star knows how to shine in both, movies and streets. Vanessa wore bright colours like mustard for a cropped knit sweater, baby blue straight leg trousers with stripes and brown platforms.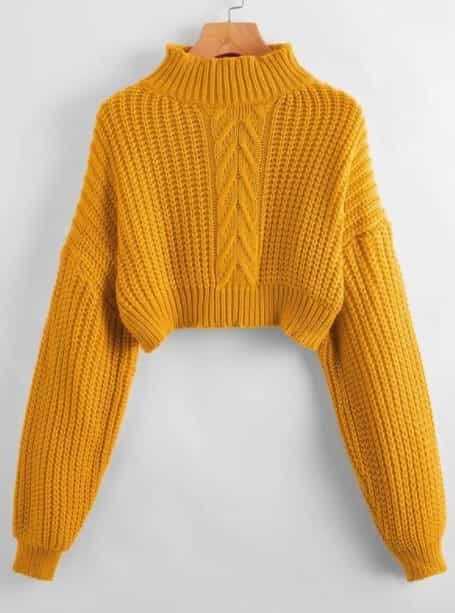 Photo credit: Shein
To shine in rainy days same like Vanessa does visit shein.co.uk for this drop shoulder knit crop jumper for £16.99
To get more inspiration visit our Pinterest profile and let us know your favourite sweater on Instagram or @Fashion_North