Fashion North was treated to an exclusive masterclass by make-up artist Lois Wilson-Fowler who has opened a stylish studio in Sunderland..
 LWF Makeup Headquarters, in South Hylton, offers one-to-one tutorials, bridal make-up and glamorous makeovers.
It is owned by University of Sunderland student, Lois who opened the studio earlier this year as she believed that there was niche in the market: "A lot of makeup artists that do freelance work go to their clients house or they go to yours but there has never been a stand alone makeup studio where you can get your makeup done, especially in this area," she said. "The market is increasing on people who get their makeup done. You go get your hair done nice so why can't you pay to get your makeup done?"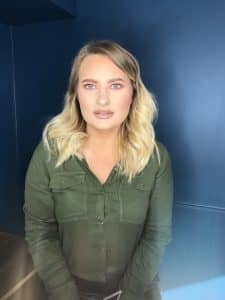 The self taught 32-year-old from Ashbrooke has always wanted to own her own business, she said: "This is what i'm passionate about. It was the obvious and there was a niche in the market so I went for it. My inspiration comes from YouTuber, Jamie Genevieve. She does a lot of makeup tutorials. This has been a dream for me for so long, to be self-employed and build my own brand, but I would never have had the confidence to do this before I came to university."
Business support for Lois, came through the Enterprise Place, the University's business start-up service, funded through the European Regional Development Fund. The Enterprise Place offers office space and facilities, start-up and growth courses, and specialist advisers offering support and guidance all aimed at helping you turn a business idea into reality.
She said: "The support has been fantastic and I feel very proud that I've finally reached this stage. When my son  Henry came along all that changed and I took the opportunity to fulfil my ambition of going to university. This is for him, to show his mum can do this."
Two of our editors were treated to a make-over by Lois. Siobhan, our social media writer, went for a natural makeup look.
Products used: 
Primer – Mac Prep and Prime
Foundation – Illamasqua Skin Base – 06
Concealer – Mac Prolonger NC15 
Contour – Anastasia Beverly Hills Cream Contour Kit in Medium Tan 
Brows – Mac Micropencil in Spiked and NYX brow gel in brunette 
Eyeshadow – MAC wedge, Inglot 285 & 305 
Lashes – Eye Envy
Setting Powder – Laura Mercier 
Lips – Inglot lip paint in 51 
---
Lois revealed some of her top beauty tips:
"When you put foundation on , go in with the brush first and then a damp beauty blender. Dip the blender into the product and dab it on the face to blend. It makes it a more flawless finish. Another tip would be, to find a good glue for your eyelashes. That is a must."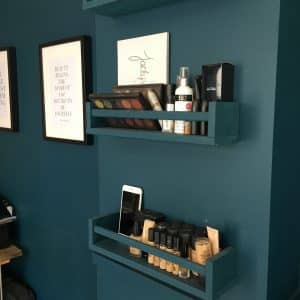 A 2018 makeup trend that Lois thinks will be big is coloured eyebrows! Do you guys think this will be a trend? Let us know over on our Twitter Fashion_North
---
Our other social media writer, Kaitlyn, decided to go for a more bold look than Siobhan's. Both looks are seriously amazing.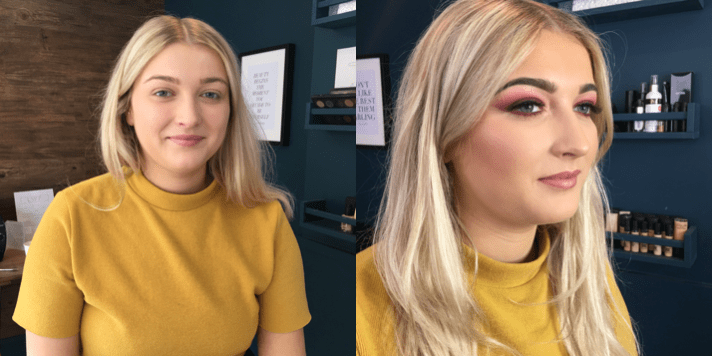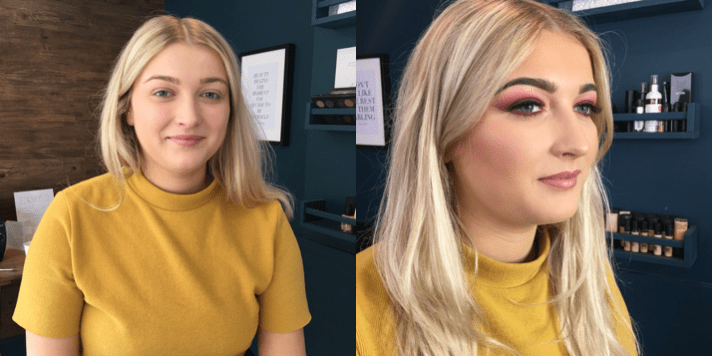 Products Used: 
Primer – Becca Priming Filter 
Foundation – Illamasqua Skin Base 
Concealer – Mac Prolong NC20
Highlighter – Champagne Pop 
Brows – Mac Micropencil in Spiked and Anastasia Beverly Hills dip brow gel 
Lashes – Eye Envy
Setting Powder – Laura Mercier
---
Lois also does makeup for weddings, nights out and various other events such as proms and graduations.
Fashion North has teamed up with LWF to offer Sunderland University students an exclusive discount on a makeover.  You can get an amazing £5 off when you quote over the phone (07478 737881) FASHION NORTH right up until the end of July. You must take your student I.D along to redeem this offer.  So get your graduation or prom looks booked in ladies.
You can get:
Full face with lashes for £30
Full face with no lashes for £25
Full face with Mink cases for £35
Lois will be at the I Love Fashion charity event in the function room at The Barnes, Sunderland on April 11. You can buy tickets here
She is also holding a Ladies Night at her headquarters at 6:30pm on March 2, with a live demo, prosecco, canapés. Tickets are £25.
Follow LWF on Facebook