Moschino… Wow.
A fab intergalactic and interactive 1960s style build-up, with a splash of pop art. Not only did their advert for the fashion show scream different, but the show itself exceeded expectations.
At first glance, the show did not get off to a good start as it started an hour later than planned and Moschino didn't keep their watchers in the loop via social media about this change.
The style of the set was very stripped back which was quite a shock as normally, Jeremy Scott normally has his usual eccentrics and goes all out.
As the mundane catwalk music started to play, we weren't feeling to optimistic about the show, but our minds soon changed.
The first few models to walk out were dressed in 1960s style colourful co-ords, with the 60s flipped bob as the go to hairstyle. There was a clear Jackie Kennedy theme from the get go which gave Moschino some unseen class to their usual punk and raunchy reputation.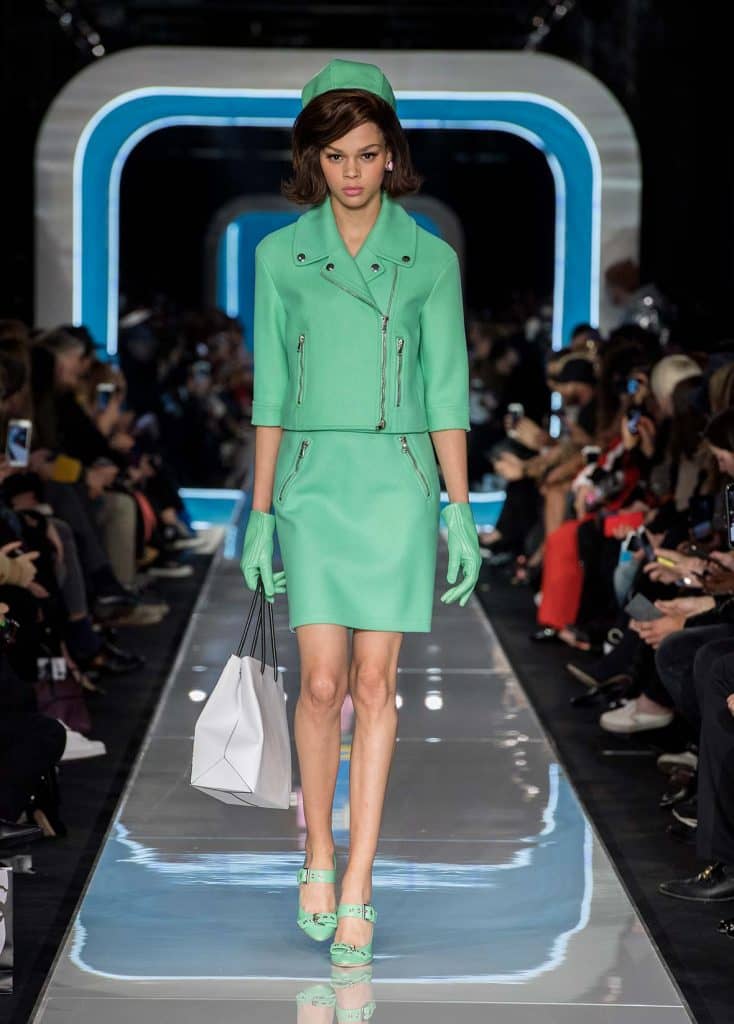 They kept it classy yet modern and edgy, by adding zips to their co-ords giving them a biker feel and accessory wise, the co-ords were matched with same colour, leather look gloves and a small mod hat which gave off airhostess vibes.
Some of the models wore pastel colored body paint which signaled a slight intergaltic theme and the contrast worked fabulously with the colour of the co-ords making Scott's clothes stand out further.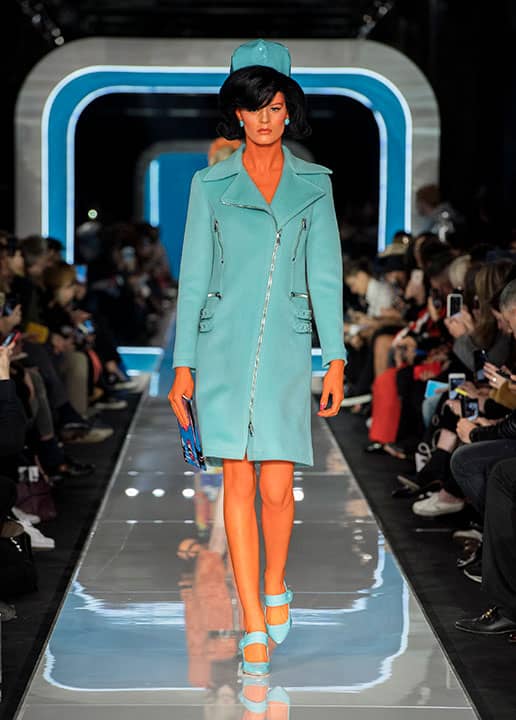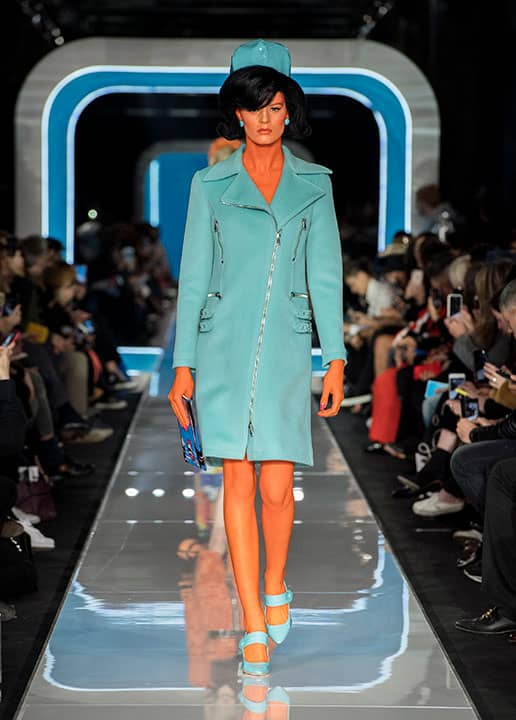 Adding some extra edge but keeping with the 60s theme, Scott hit us with froot loop style, pop art dresses! A selection of A-line to empire dresses screaming with pop culture and hints of Marilyn Monroe. The dresses were paired with retro buckled heels and 60s mod hats.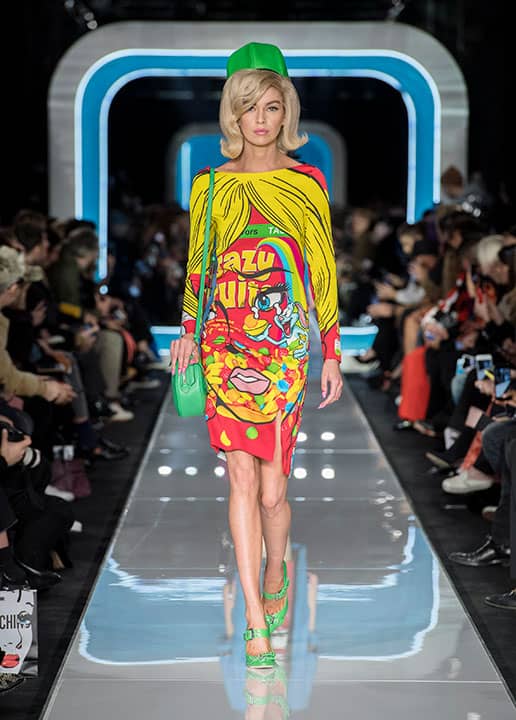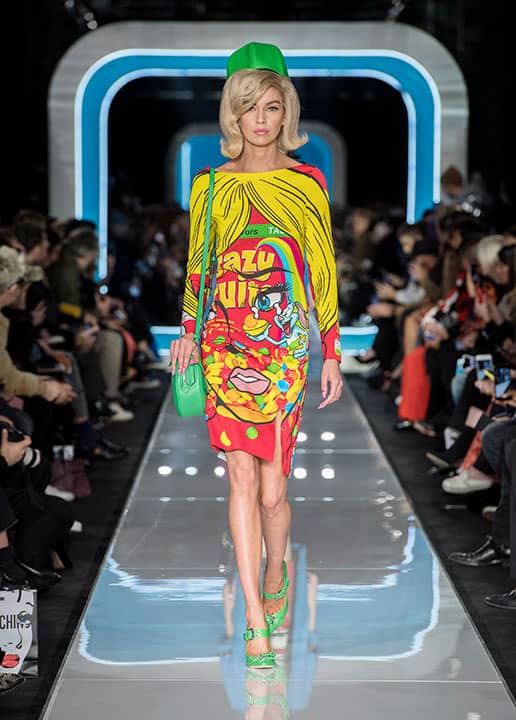 The 1960s style clothing juxtaposes really nicely with the incorporated pop art, that was popular in the 60s.
Models such as sisters Bella and Gigi Hadid were among the many stars included in Moschino's catwalk show.
Scott really wowed with the glitz and glam of his gowns and diamond pyramid clutch bags.
Eccentric decoration yet immense classiness and the satin and glitter embellished dresses. Could it be too much glitter?
I don't know but we think it's certainly working somehow, we'll soon see if it trends with couture lovers.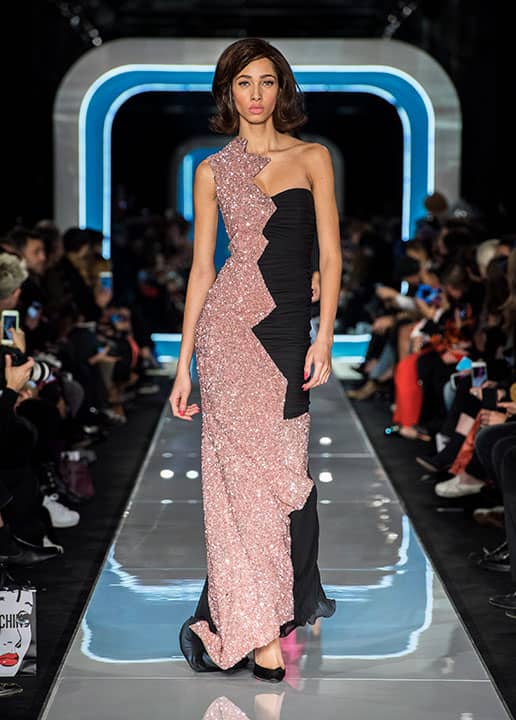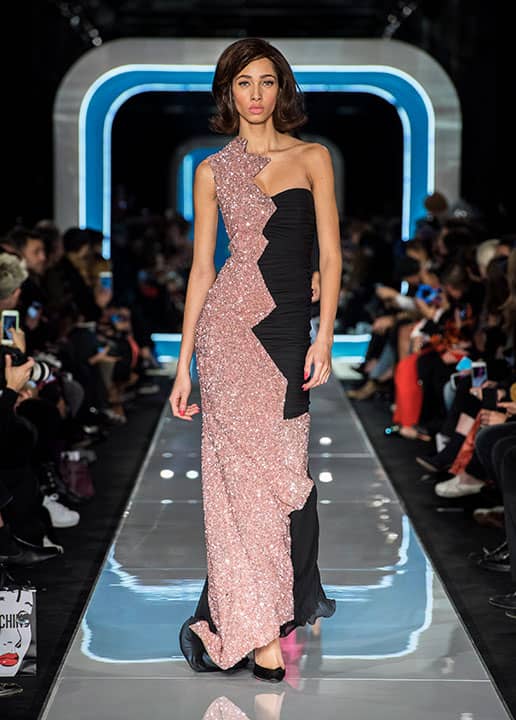 Overall a huge well-done to Jeremy Scott.