Spring and summer 2017 is another season which wants females on the top of the list for the most sexy and chic appearances.
This season's collections are full of fashion trends that we can't wait to wear ourselves.
Each season comes with new styles, with some new trends and some repurposed from past years. In this season, the lights are focused on bright and bold colours, florals, 80s style and Statement stripes.
Here are eight of the best fashion trends you should be wearing this season.
1. Head-to-toe florals
A garden party overflowed many fashion shows for this season, many floral with calm contrasts and harmonies colours. We have seen Floral outfits from many fashion shows including the Balenciaga, Jason Wu, Carolina Herrera, Blugirl, Altuzarra, Tory Burch, Victoria Beckham, Michael Kors, Delpozo, Philip Lim, Diane von Furstenberg, etc.
2. super-bright
The spring/summer 2017 fashion trends comes with super-bright dresses.  Many designers focus more on bright blue and grass green colours, pink and yellow, blue and red, purple and pink…but the choice is endless.
3. Robes 
After so many nightgowns and pyjamas that were in the fashion trend in recent times, it was just a matter of time before the robes came our way. If you don't feel like getting dressed in the morning, in this season, robes come to make things easier and for a more comfortable wear. Toss on a fancy robe and you're ready to go.
4. Statement stripes
For a long time now, the stripes do not seem to step away. For the fashion spring/summer 2017, not only did the stripes remain in fashion but they had also received horizontal and vertical lines. The stripes were not missed by any fashion week. That style had been adopted by many designers in Paris, London, New York and Milan.
5. Bra tops and Bustier
Bra and Bustier will have a field day in fashion spring summer 2017. The bra tops worn in any way, either as a blouse or over it, shirt (see Prada) or dress. This is so convenient because in many cases it may be just your swimsuit.
6. Deep slit skirt
Maxi, Midi, asymmetrical skirts or dresses that permit legs to appear in one or more places with deep openings or slits. Many fashion houses showed this trend for fashion spring summer 2017, such as the Balmain, Topshop, Mulberry, Trussardi, Vivienne Westwood, Topshop, Pamella Rolland, Elie Saab etc.
7. Chatty T-Shirts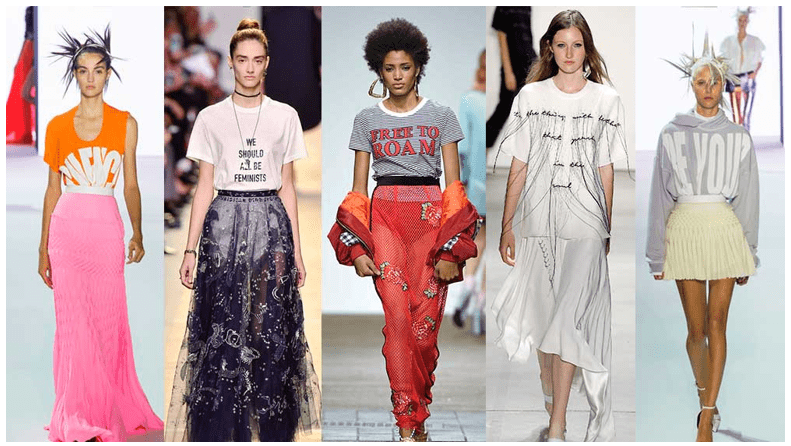 New T-shirts with slogans and chatty Speeches, were on each runway. It is the number one piece you should buy for the summer, do not forget it!
8. 80s style
80s clothing played an important role in this season. Think metallics, disco leggings and dress with one-shoulder. It's a good idea for a night-time attire. We had seen it by Marc Jacobs, Kenzo, Gucci, Isabel Marant and Balenciaga.