Fashion content on TikTok has become increasingly popular, Lucy Britnell explores the impact influencers are having on the fashion industry.
TikTok as a platform has increased in popularity during the pandemic, with more users turning to the app for light-heart content suitable for all interests. With fashion content dominating our feeds, questions arise as to how powerful the app is in influencing fashion.
The rise of fashion content has led to the phrase "TikTok couture" emerging as trends are materialising on the app as we see users globally experimenting with clothing and trends.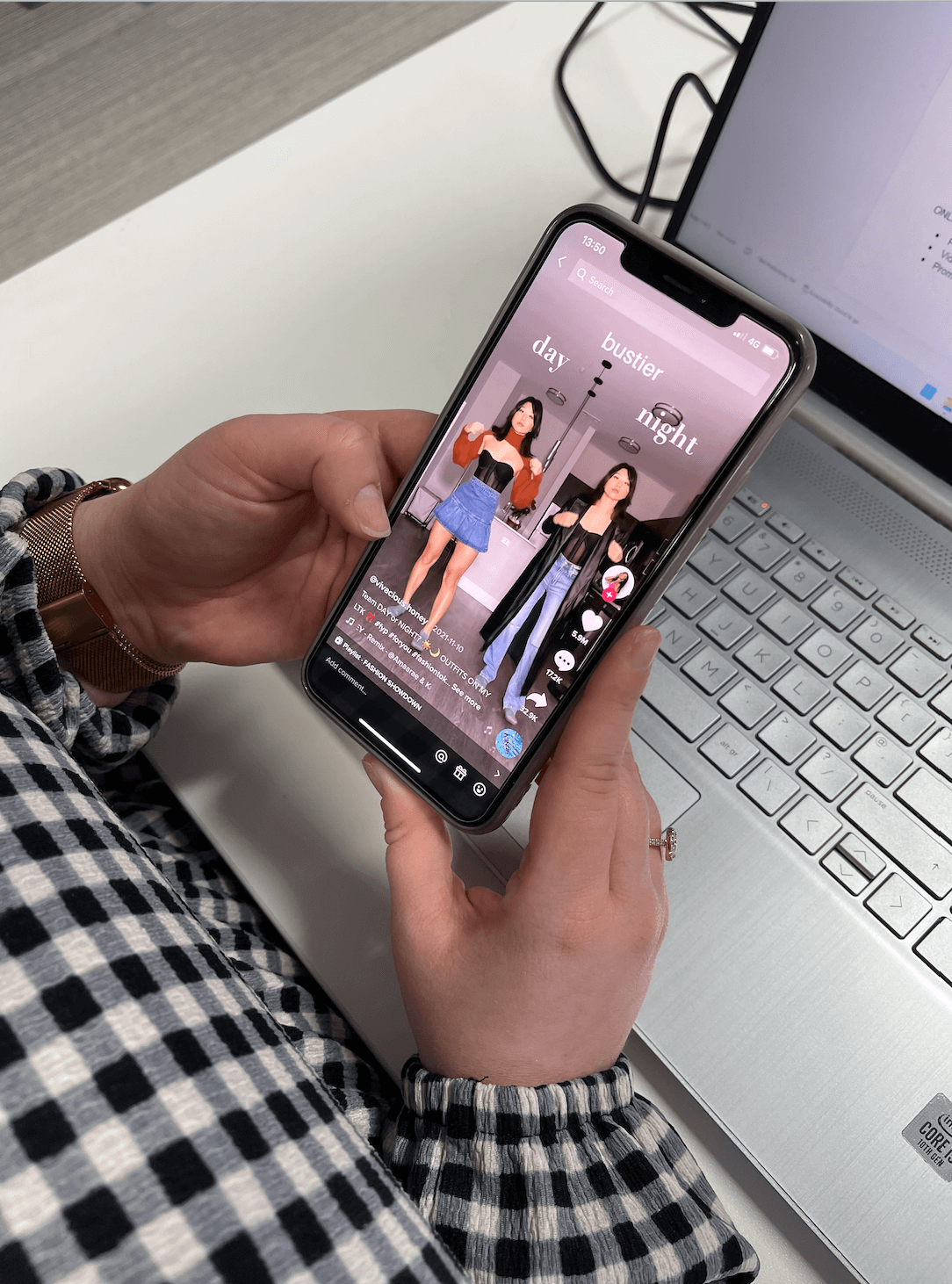 Whether professional or amateur trend watches who are combining their interests and the audiences need for outfit inspiration, it has proved to be a successful marketing technique for many brands who are now using the app to get their clothes featured in these content creators' videos.
The supercharged algorithm is important for creators like Natalie McCullan and Claire McCarthy who have built their following from fashion-related content and are now responsible for changing the way their audiences are shopping.
Natalie McCullan, 32 is an Executive Office Manager from Liverpool who has built a following of 6.4k on TikTok with her videos primarily based on sharing her recent Zara finds or outfit inspiration.
Her laid-back approach to the app has helped her grow her following "I don't take it seriously, if you start acting people will notice that and you'll lose your following.
"I find Instagram such a serious platform compared to TikTok, it only pushes through this perfect type of people whereas TikTok is what people call their safe place. It's relatable." Natalie said.
After posting a video in 2021 sharing a new beauty product she found in Primark Natalie's video soon gained traction leading her to realise that she could share her love for fashion and beauty with a wider audience.
Creators like Natalie have catered their fashion content to meet the needs of their audiences.
"I think fashion for a lot of people is a big part of their lives, people love picking an outfit for the day. And on the other side of that people don't know where to start when their shopping." Natalie said.
TikTok is a major player in the fashion industry, today the app is being responsible for popularising fashion trends and even giving smaller brands a platform to grow and become recognisable in the industry.
"This is still a baby platform which is actually quite scary because, in my opinion, it's the most powerful social media platform. "Natalie said.
For 26-year-old Claire McCarthy from London, her TikTok account has gained 10k followers where she uses her videos to share her knowledge and insight into the fashion industry.
Working as a fashion buyer for some of the biggest retailers like ASOS and Net-a-Porter she uses the app to "educate people on things that customers don't know." Claire said.
The app is now responsible for changing the way customers are shopping, through videos by creators like Claire, people can get a closer look at clothing items and take styling inspiration.
"I think now people prefer things that are more visual like when you're shopping you want to see something moving instead of a picture that could have been edited. I think Instagram has this reputation of perfection with edited pictures which I think TikTok doesn't have." Claire said.
The fast-paced nature of social media causes the fashion industry to increase its production time and release more collections to meet the demands of Gen Z shoppers.
"With social media, everything is so fast now, even if you look at how videos go viral and then next week there not relevant, it's the same with the industry, the turnaround is so much quicker." Claire said.
The traditional fashion system is being affected due to the rise of social media, traditionally consumers would look to the catwalk to inspire the latest trends, and over time street style reversed the way we preserve clothing causing a shift in consumer shopping habits.
Hannah Miller, 22 from Cambridge has over 100k followers on the app where she showcases her support for sustainable fashion, but she believes that fashion content on TikTok is not always having a positive effect on the industry.
Hannah encourages her audience to find their own personal style and to move away from micro trends.
"My videos have caught a lot of people's attention and are deemed controversial because they get a lot of people talking in the comments. It's a tactic on my part because I know if people are discussing it will push the video and get my point out more."
"it's making the fashion cycle speed up because all the trends are so accessible people become bored quickly and the influencers who are promoting these micro-trends usually are being gifted those items."
"The main issue is brands and creators need to find a balance and cut off point of how much people are consuming," Hannah said.
A new wave of public figures saw a rise in more authentic content with apps like TikTok only enhancing our need to see more diverse representation in fashion.
"People like realness, the videos that do quite well I've got no makeup on, hairs in a bun, and I'm literally just trying clothes on. "Natalie said.
Fashion brands are now taking advantage of the growing success of TikTok creators and using it as another platform for advertising. As brands become more familiar with navigating the world of influencers, Claire McCarthy believes that the worry of using influencer marketing techniques is that companies are not paying for their services.
"For these influencers, it might get to a point where you get taken for granted. You're doing it and not seeing much reward other than a few free clothes. Clothes to pay the bills." Claire said.
It is beneficial for brands to gift free clothes to influencers, Natalie states that "If you know how to sell something well for someone then all they need to do is send girls free dresses to get coverage on the app. "
View this post on Instagram