Yes, we know a backpack isn't at the top of your fashion waiting list. They conjure up images of bulky boring sacks full of everything but the kitchen sink. But, trust us, the new IT bag this season isn't a buttery leather tote or even a teeny clutch but the new miniature backpack. It's a completely new and fresh take to big backpacks and they're utterly adorable!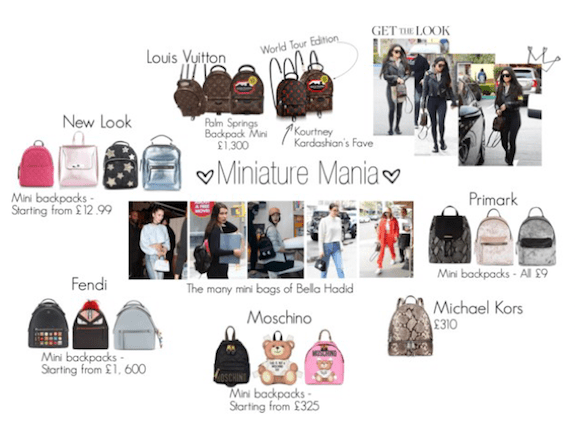 Multiple designer brands have started to include miniature handbags, cross body bags and backpacks among their new collections this year such as Fendi and Moschino.
We can thank the s/s Louis Vuitton collection that kicked off the new trend with the gorgeous £1,300 Palm Springs backpack. It has taken the celebrity world by storm since its release, especially the miniature one. Celebrities such as Rihanna, Bella Hadid, Kylie Jenner and Kourtney Kardashian have been spotted out and about with one. Kourtney Kardashian is an avid lover of the palm springs backpack and is often caught by the paparazzi carrying one with black leather and red detailing.
Of course, all of us would love to have a mini designer backpack but at a hefty price of £1,300 not all of us can justify a huge splurge like that. So, the next best thing is seeing what's on the high street.
Primark have some great affordable miniature backpacks starting from £9, which look more expensive than they are. You can get them in a range of materials from faux leather to crushed velvet. New Look also have miniature backpacks as well as miniature satchels that you can get in funky patterns and a range of materials, they even do metallic coloured backpacks.
You can wear the backpack in two ways, over your back with both straps or carrying it by the handle at the top like a normal handbag and because it's so small the backpack straps won't drag along the floor, the second way of carrying it is a favourite by Kourtney Kardashian.
The miniature backpacks can give any outfit a cute quirky vibe. They're much cuter and dinkier than a normal size backpack that you'd expect school children to wear. They're more practical than carrying around a big handbag, for example when you have such a huge bag you can struggle to find keys, however you'd never have this issue as the backpacks are so small there's just enough space to fit everything you need.
You could wear one if you're going to class, the office or even a day out. As it can be worn hands free, you don't have to worry about where you're going to put your bag down when you're shopping – which is a bonus feature.
The miniature backpacks come with a zip across the top of the main compartment with little pockets inside to hold your phone etc. Usually they also feature a small zip front pocket. A lot of the miniature backpacks available on the high street have a silver, gold, chrome or rose gold coloured zip.