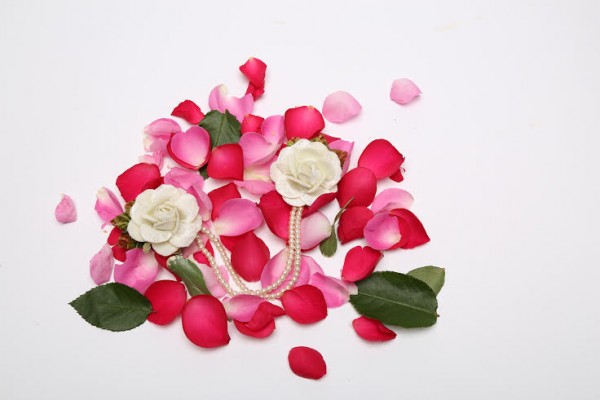 Mother's day is vastly approaching on March 6 and Fashion North are celebrating by taking a look at some of the best dressed Mum's in showbiz, to give our lovely readers some style inspiration.
Mother's are known for giving themselves a hard time, they do their very best at making sure everyone is being looked after, but how often does she look after herself? Very rarely.
However, being a Mum does not mean you have to adopt a boring and very simple style, and it also does not mean you have no time to look after yourself. Everyone needs a little TLC and pamper from time to time, right?
Whether you're young, old, tall or short, we've hand-picked seven of the most relatable and fashionable Mother's in the spotlight to show you how to adopt their style for day and night.
Kim Kardashian-West
Mum of North and Saint, Kim has had her fair share of criticism over the style choices she made while expecting her children, however she's never let that stop her experimenting with current trends.
Day time: This is a relatively laid back look for Kim ditching her trademark bodycon's and instead, sporting a casual pair of skinny jeans. Keep this look super easy styling it with a leather jacket, a grey t-shirt, a black tote handbag and slick your hair into a neat ponytail. Add a pair of classy heels to take the outfit from day to night.
Night time: An evening look that will only take you approximately 10 minutes to put together, perfect for mum's with a million and one jobs to do before heading out of the door! A rather simple look which can be easily copied is a mid length white skirt, paired with a white/crème bodysuit and a pair of lace up heels.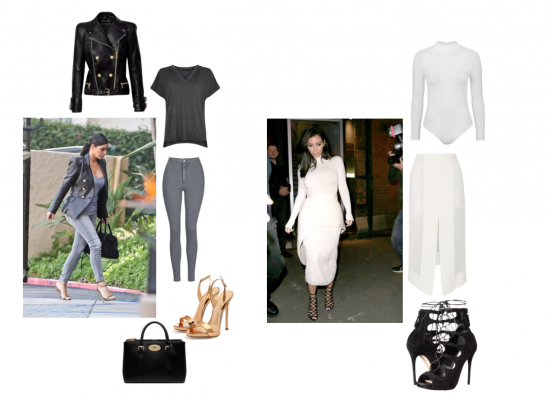 Kourtney Kardashian
Kourtney has always been one to nail the perfect 'Mum' look.
Day time: Try her daytime look while running errands and doing the school run in a comfortable camo-green coat paired with a plain black long sleeved top and a pair of black leather trousers for the ultimate quick and stylish look with a pair of black heeled booties for the added touch of glam!
Night time: If your feeling a bit more daring for a date night with your man or a night on the town with your girlfriends, try Kourtney's super edgy lacy bodysuit and flared smart black trousers. Team this look with a pair of simple court heels and a black choker necklace to add a youthful twist a slicked back pony. The flared trousers will make your legs appear longer, giving short women like Kourtney an illusive taller frame. What's not to love?!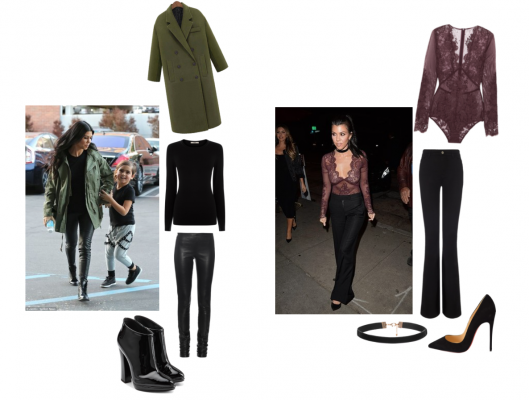 Victoria Beckham
A woman who NEVER gets it wrong and sticks to a very tailored and sophisticated look is the one and only Victoria Beckham. Mum of four, Victoria makes sure her outfits are always on point and fit in with her busy schedule, while maintaining the trademark sunnies and super sky-high stilettos.
Day time: A very relaxed and casual look, team a pastel coloured cosy knit with a classic pair of navy/black culottes for a tailored and comfortable outfit. Pair with a matching scarf to keep the chill away and a pair of boot heels to smarten the outfit and keep it looking very feminine and chic.
Night time: Another super easy evening look for Mum's like Victoria who have a lot of children to put to bed before she goes to an event. You can never go wrong with your trusty LBD and nude heels, paired with a black clutch bag and your good to go!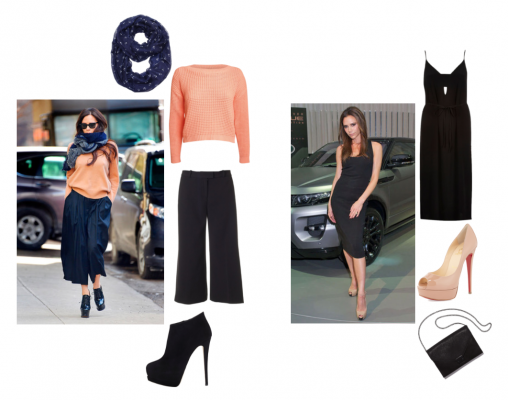 Kate Middleton:
Possibly Britain's most watched woman in fashion. Since marrying into the Royal Family, everyone's eyes have been glued to every outfit choice Kate has ever made and continues to make. While wearing a lot of high street, its proven that whatever she wears sells out in record time.
Day time: Achieve her super trendy and easy daytime look with a navy blazer and trouser suit teamed with a nautical striped top and matching navy wedge sandals.
Night time: Put your own spin on her red carpet glamour and go for a flattering dark purple lace dress, take your pick between sleeves or sleeveless. Paired with some matching heels and of course, every Princess needs some diamonds, add a sparkly pair of diamond earrings to really immolate Kate's look.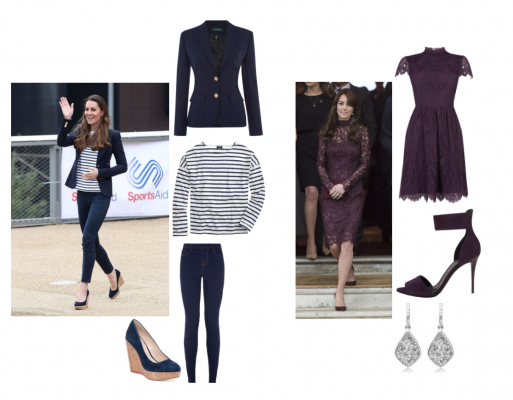 Blake Lively
Former Gossip Girl actress, Blake Lively, is a new mum and never puts a foot wrong in the fashion stakes.
Day time: Try her super chic and cosy winter look with an oversized knitted jumper, a pair of classic black jeans and black court heels, and add a fedora hat and a fluffy/tassle handbag for a fun and young twist.
Night time: Be confident and brave with a bold tailored suit and a pair of nude classic stilettos.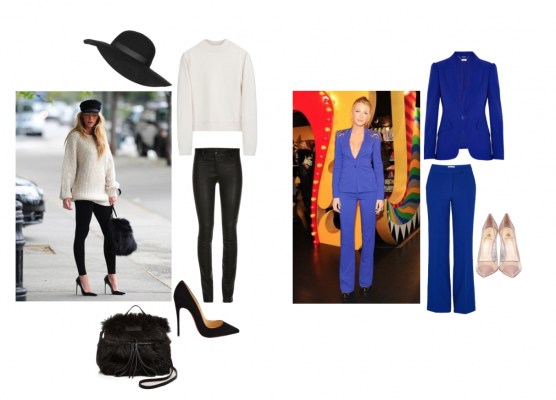 Jessica Alba
Jessica Alba nails daytime to evening looks that are approachable and versatile for every mother out there.
Day time: For running errands and fun days out with the kids, sling on your comfy jogger pants with a basic t-shirt and kimono/cardigan and weather providing; a pair of Birkenstocks or your trusty trainers. Don't forget your nude handbag to carry all the essentials that every mother needs!
Night time: It's time to leave the children at home and take some time to let your hair down. Show off your curvy figure with a bodycon dress and a pair of skyscraper heels paired with a crisp tailored blazer to lie on your shoulders.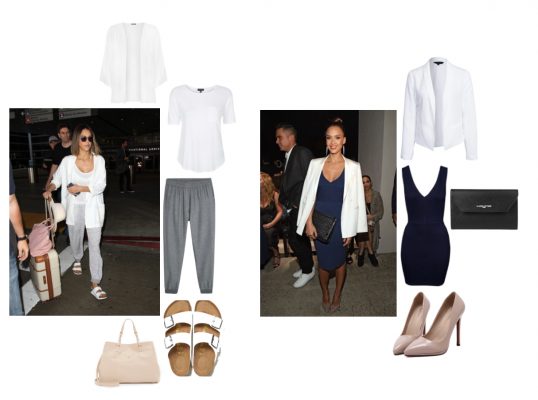 Kris Jenner
Following in suite of her stylish Kardashian clan of young mum's, Kris is also making sure she is noticed for her stylish choices having a large clan of six children and five grandchildren.
Day time: Who says older mothers can't still rock the ripped jeans look? Try ripped white jeans with a basic white top, teamed with a long black blazer coat and black trainers for a relaxed vibe and add a smart black handbag for all your basic belongings.
Night time: A classic flattering look for the older woman, try a lacy bodycon dress teamed with a matching pair of court heels and a small clutch to keep the look classic, trendy and very minimal. Who says you can't keep up with your stylish daughters? Fashion North says you can!