For spring/summer it's the return of power dressing, designers reinventing classic tailoring showing a more slouchy and oversized approach.
Last September from New York to Paris, designers like Jacquemus showed that relaxed tailoring is back in business. The traditional masculine style has been reinvented, power pastels and bra-lets under blazers is giving this trend a feminine touch, showing a modern-day version of Yves Saint Laurent's iconic 'le smoking' suit from 1966.
Tailoring isn't something new to the runway, but this season's designers have taken a different approach, swapping fitted silhouettes for carefree and baggy throw-on styles like oversized blazers. Colours are loud, colour blocking and stand-out patterns for a feminine tailoring look.
Blazers: structured, slouchy and everything in between
Fresh from the runway, Jacquemus showcased two slouchy and oversized blazers, coming in a bright pink with green accents it was styled with a simple nude tone dress and a large tote carried under the arm. A matching pale lilac blazer and low-rise trousers touching the floor was styled with a sand tone bra-let taking a beach outfit from day to night.
Jacquemus set the tone for many designers who incorporated a mixture of tailoring and underwear as outerwear, at Michael Kors preppy and fun is the theme for spring/summer. A gingham structured shoulder blazer with matching bra-let and safari-style shorts was styled with platform white sandals and a wicker-style cross-body bag with white detailing.
Michael Kors showed that tailoring doesn't have to be for the work-place but a structured blazer is the answer to summer outerwear.
New-York designer Jonathan Simkhaki's collection included white and pastels shades with elements of tailoring, including a coral structured-shoulder blazer and matching flowy skirt.
Once again, the designer paired this with a crochet bra-let and strappy sandals for a beach-ready look suitable for colder summer days.
Low-rise trousers
Fitted high-waisted trousers are old news, for this season it's all about low-rise bottoms adding a relaxed approach to tailoring.
The runway featured lots of variations of this style from Jacquemus and Michael Kors, an example being patterned trousers styled with block colour bodysuits.
How to wear the trend
From models' 'off-duty' looks to stylish fashion influencers, the trend is easy to incorporate into your spring wardrobe, a throw-on blazer is a power move.
Bloggers and influencers have the accessibility to tailored looks fresh from the runway, a note for spring summer tailoring is that colour blocking is the best way to incorporate the style.
Leonie Hannes (pictured right) wore head to toe Jacquemus, the oversized pink blazer was styled with low rise orange trousers and pink shirt. This outfit shows how easy it is to wear tailoring and add a pop of spring colour to your style.
Although the trend is about oversized silhouettes, try to avoid drowning in a blazer or baggy trousers. Tailoring can still be figure-hugging by adding a bodysuit and low-rise trousers like Michael Kors or a fitted bodycon dress as seen at Jacquemus.
The trend is a favourite among famous models such as Gigi Hadid and Kaia Gerber who have all been spotted wearing oversized blazers over a simple outfit.
Kaia Gerber (pictured left) was seen in New York wearing a beige blazer with straight leg jeans and black sandals. This simple outfit looks extremely chic and versatile, going from day to night with a simple shoe change.
Tailoring on the high-street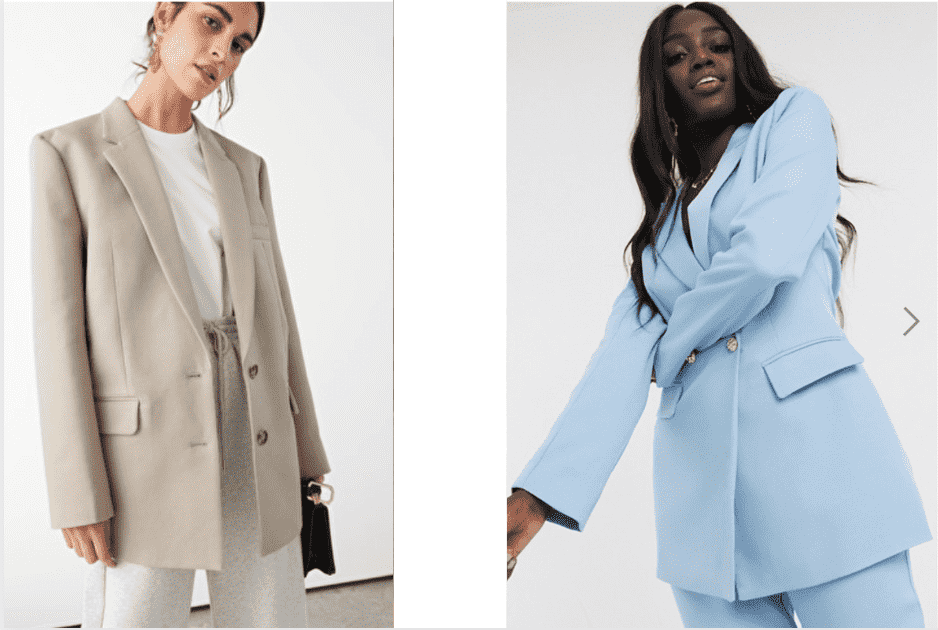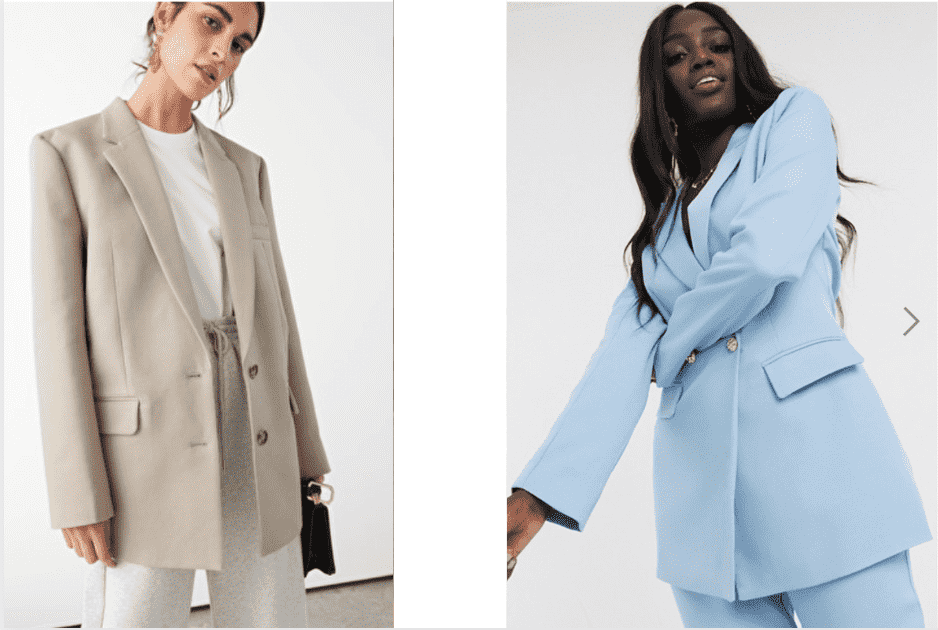 The high-street is filled with tailoring options to help you incorporate the trend into your spring/summer wardrobe regardless of your budget. Instagram's fashion must-have is this beige double-breasted cotton blazer from &OtherStories (£125)
Add a pop of colour like blogger Tamara Kalinic and wear this InTheStyle X Laura Jade blue double-breasted fitted blazer (£45).
From Jacquemus to Zara, relaxed tailoring is a defining trend for spring/summer.
How will you be incorporating the trend this season, let us know over on twitter @fashionnorth