It's that time once again where our local shopping centre, The Bridges in Sunderland, set our second year styling students a chance to style the mannequins to go inside their Style Pod. This pod included two female mannequins and a male mannequin. For this season, the team decided to go for a very vibrant colour palette and with Spring right around the corner this meant pastel colours and fewer layers.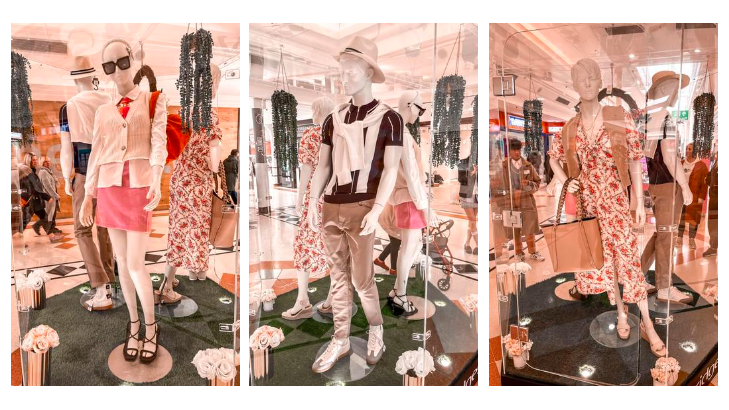 Image credit: Fashion North
The group planned and curated the outfits and props from retailers inside the centre based on the mood board they created before the day.
For this challenge, the three groups decided to style their pieces for the warmer weather ahead. You're talking floral dresses and mini skirts for this season, and some of their key pieces were currently trending in certain retailers. This included this pink mini  skirt from Primark for one of the female mannequins, a pair of light trousers from Next for the male and a floral dress for the other female mannequin.
View this post on Instagram
Fashion North also had assistance from Nayia Antoniou to help the students style the pod and cover the behind the scenes throughout the day.
View this post on Instagram
Nayia Antoniou, The Bridges Marketing Assistant, said: "I think it went brilliant and I really enjoyed the experience. All the team worked really well together, and I enjoyed adding my own touch and opinion as well, it was really nice to work with them."
Each team had a different mannequin to style which included the demographics of a 40+ woman, a 20+ female and a 40+ male.
"I love the theme," she added. "We need to take off the jackets and wear more light colours and clothes as well."
Here at Fashion North, this is the fourth time our students have had the opportunity to style the pod for The Bridges. Some of the themes they have done in the past includes weekend wear, Christmas party wear for the family and AW21. Each time the team has been set this challenge they create a new theme for the pod with the involvement of the centre's retailers. This time the students included one of the latest retailers in the centre known as The Fashion Bible.
"From now on, I think we need to set a time and a date and have that repeated every month or every two months and try to get more retailers involved. If we send out newsletters or a brief beforehand for the retailers, it would be better," Nayia added.
Tweet us your favourite look from The Style Pod @Fashion_North and share us your photos on Instagram @fashion_north.