Make a splash with this season's biggest swimwear trends.
Summer is right around the corner and here at Fashion North, we can't wait for bikini season as it can only mean one thing… summer holidays.
This summer, retro bikinis are making a comeback. Inspired by swimwear from the 1960s, high waisted bikini bottoms are more popular than ever.
This retro style bikini bottom creates a slimming silhouette, that covers all lumps and bumps so everyone can feel comfortable and confident when catching a tan.
Many designers showcased high waisted bikini bottoms in their spring/summer 19 shows such as Chanel and Tommy Hilfiger X Zendaya. The Chanel bottoms were decorated with a black Chanel logo belt and silver chains, whilst Hilfiger's had a simple gold belt. The addition of a statement belt modernises the look and adds extra detail to emphasise the waist and create a slimming illusion.
From the catwalk to the high street, River Island is selling a range of high waisted bottoms in a multitude of patterns and belt variations, including thick statement belts or subtle tie yourself ones.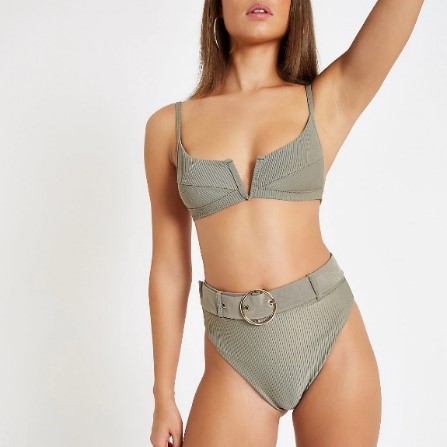 Photo Credit: Riverisland.com
There khaki, high waisted bikini bottoms accessorised with a statement gold circle belt are priced at £16.
Love Island star Dani Dyer is no stranger to wearing a bikini. On her most recent holiday to Thailand, she uploaded a picture wearing white, high waisted, belted bikini bottoms. If it's good enough for a Love Island winner,it'ss good enough for us.
     Dani Dyer in high waist bikini. Photo credit: @danidyerxx Instagram
Another stand out element of this seasons high waist bikini bottoms are the high leg cut outs which stop just above the hip bone. As seen on influencers such as Patricia Bright and Emma Chamberlain this detail gives the illusion of a longer leg.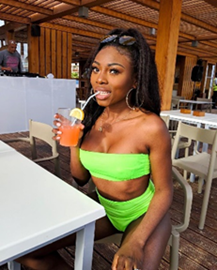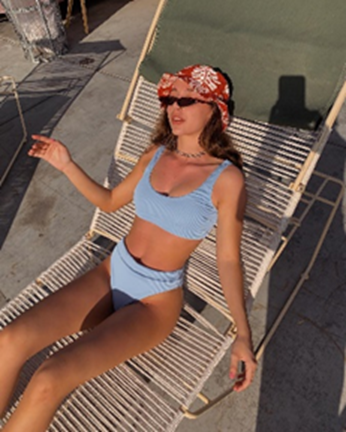 Patricia Bright and Emma Chamberlain in high waist bikinis. Photo Credit: @thepatriciabright @_emmachamberlain Instagram
Available from Pretty Little Thing for £22 is this leopard print, high waist bandeau bikini, adding a twist to high rise bikinis by incorporating one of 2018/19's biggest trends, animal print.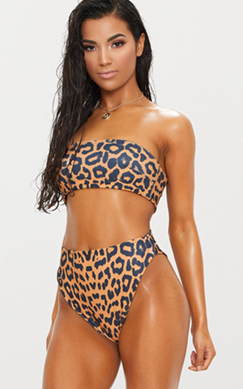 Photo credit: Prettylittlething.com
Another swimwear trend we predict will be popular this summer is the barely there bikini.
We've all heard of less is more, maybe you've only heard of it in relation to makeup but this summer it also applies to bikinis.
The micro bikini trend can be spotted all over Instagram from the likes of Kendall Jenner, Gracefituk and Gabrielle Epstein, who in our opinion is the queen of the micro bikini trend.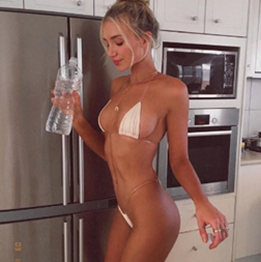 Gabrielle Epstein in oh polly micro bikini. Photo credit: @gabbyepstein Instagram
Gabrielle's exact bikini is available from Ohpolly, for £40. With plastic string detailing this bikini is as micro as they come.
Not only do we encourage you to think of the all over tan you'll get from a bikini like this, but we also encourage you to consider the body positivity message that comes with wearing a bikini so small.
A micro bikini takes tremendous amounts of confidence to pull off and those brave enough to do so should be applauded for their encouragement of body confidence.
After all it's 2019, women have the freedom to show off their bodies if they wish.
This trend has also made an appearance on the spring/summer 19 runway from brands such as Sportmax and Jacquemus.
If you want to give this trend a go, then why not try Pretty Little Thing's 'itsy bitsy' bikini for £18, available in numerous colours. We do however recommend the lime as it's a colour that will complement a summer tan.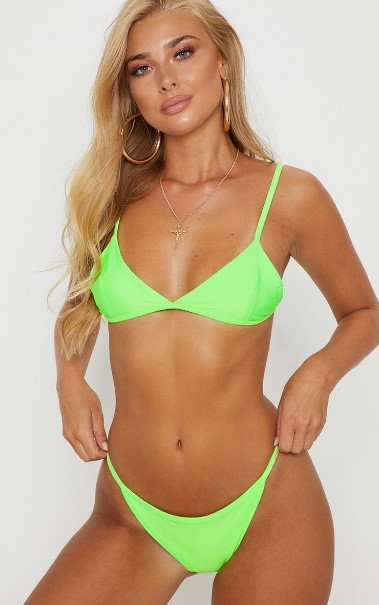 Photo credit: Prettylittlething.com
Tweet us @Fashion_North with your thoughts on this seasons bikinis. Will any of them make it into your holiday case?