In the concrete jungle of Newcastle, women left, right and centre were spotted wearing animal print midi skirts.
Incorporating a bold pattern such as animal print, into an everyday outfit can be difficult but these women have dared to stand out and here's how you can do the same.
Make a statement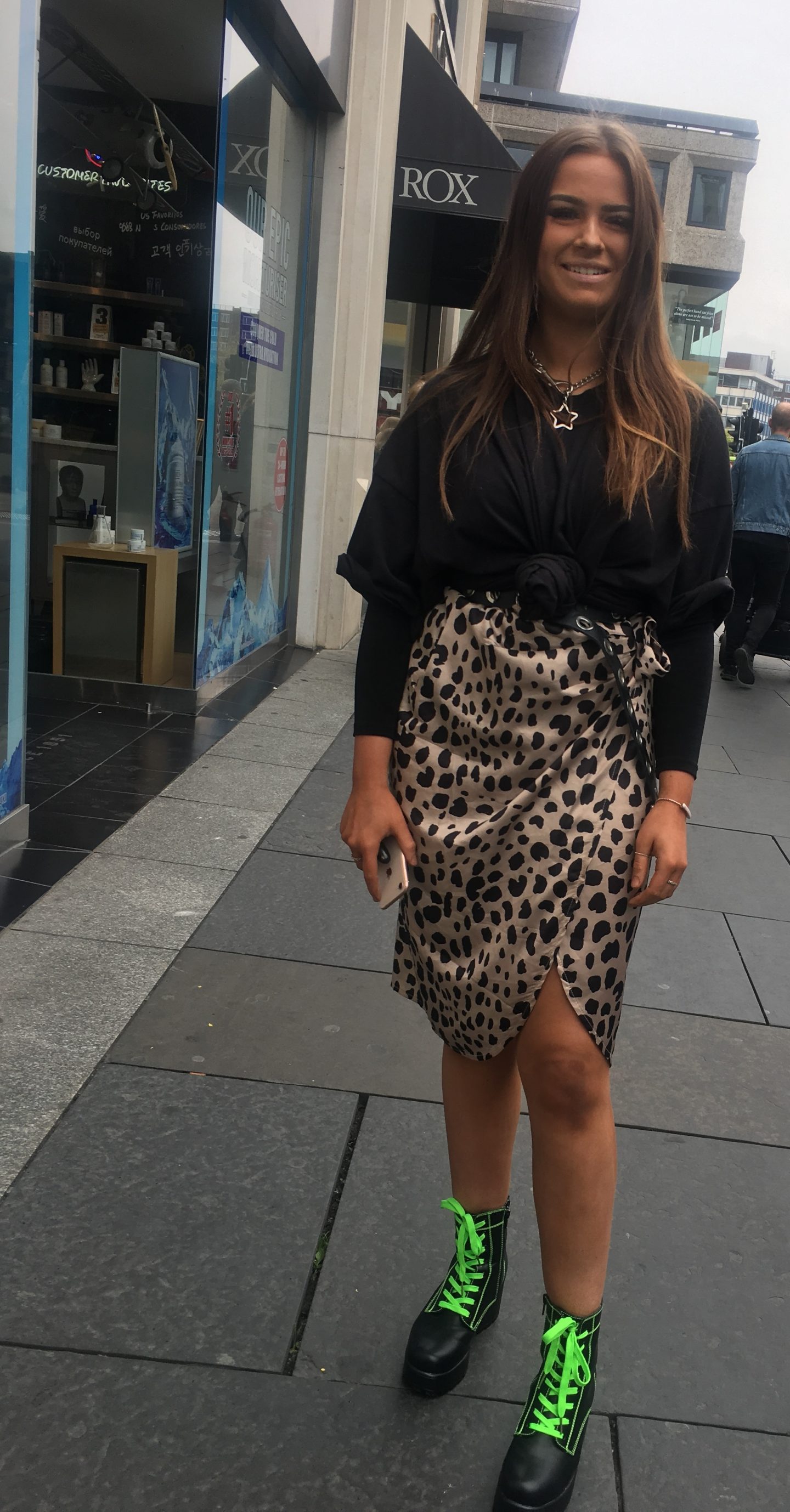 Abbey Mitchell, 18, Architecture student.
Style inspiration: Instagram and the latest trends.
When describing her style, Abbey said: "I see an outfit on Instagram and I think yeah I could wear that."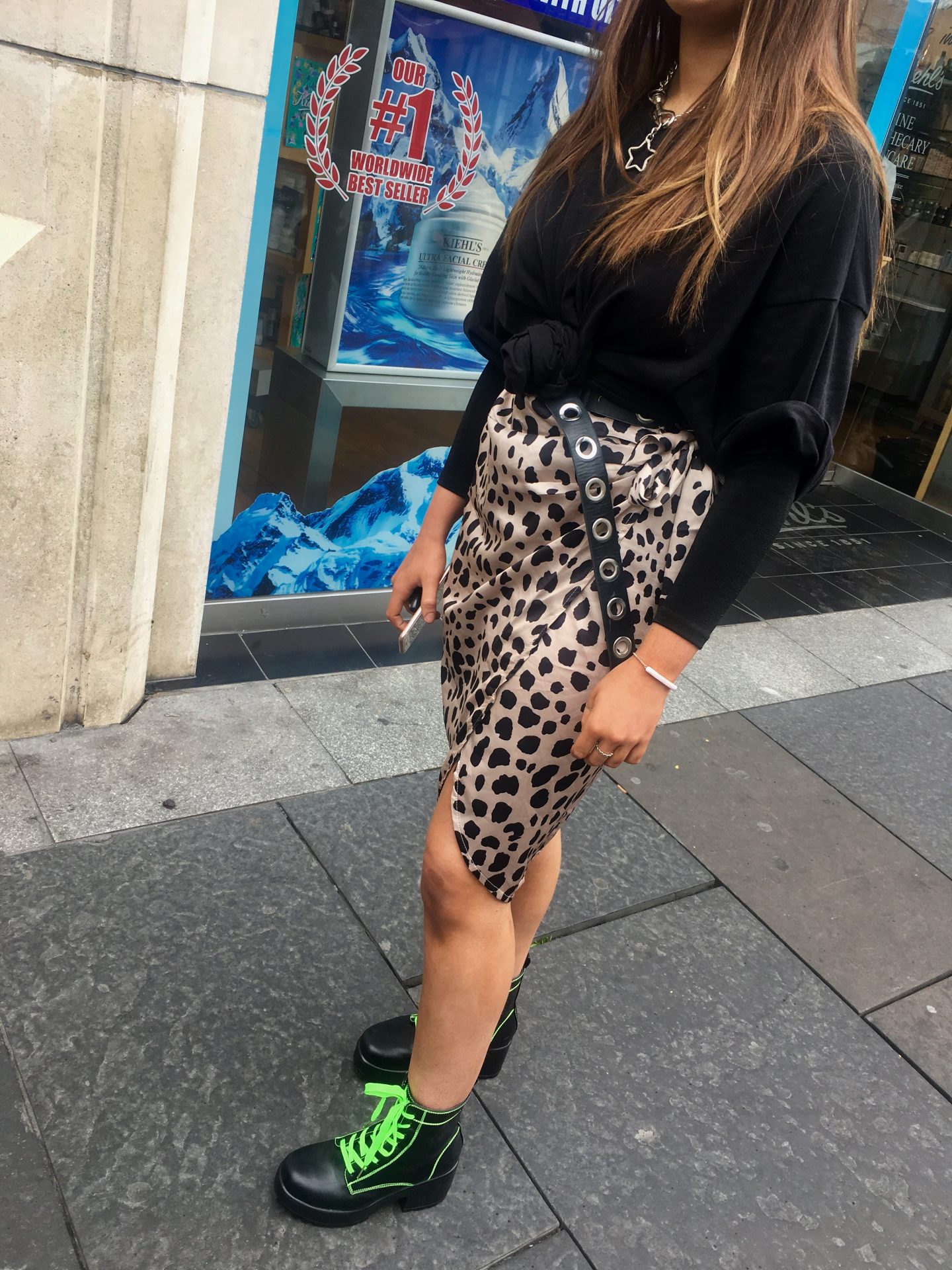 Outfit details: Skirt – Nasty Gal. A 40 per cent sale across the site, reduces the price from £30 to £18.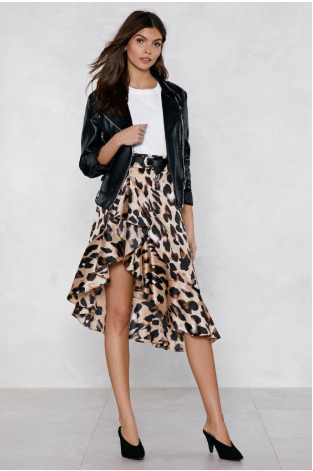 Photo Credit: NastyGal.com       
A plain black, baggy tee can be purchased from almost anywhere, however, Abbey's is from Zara for £9.99.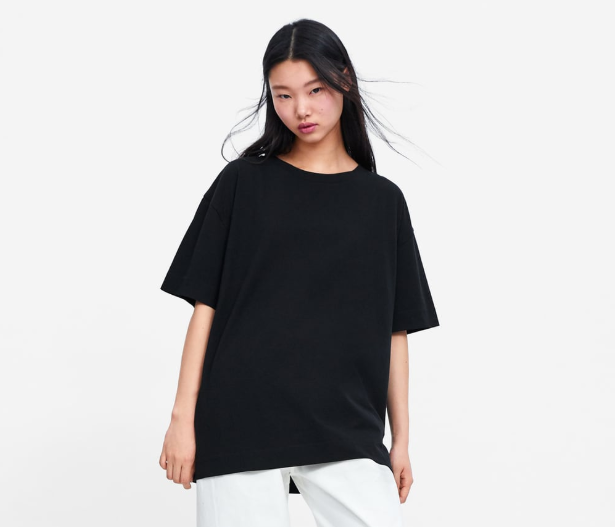 Photo Credit: Zara.com
The basic black bodysuit she was wearing as an underneath layer is from Missguided for £12.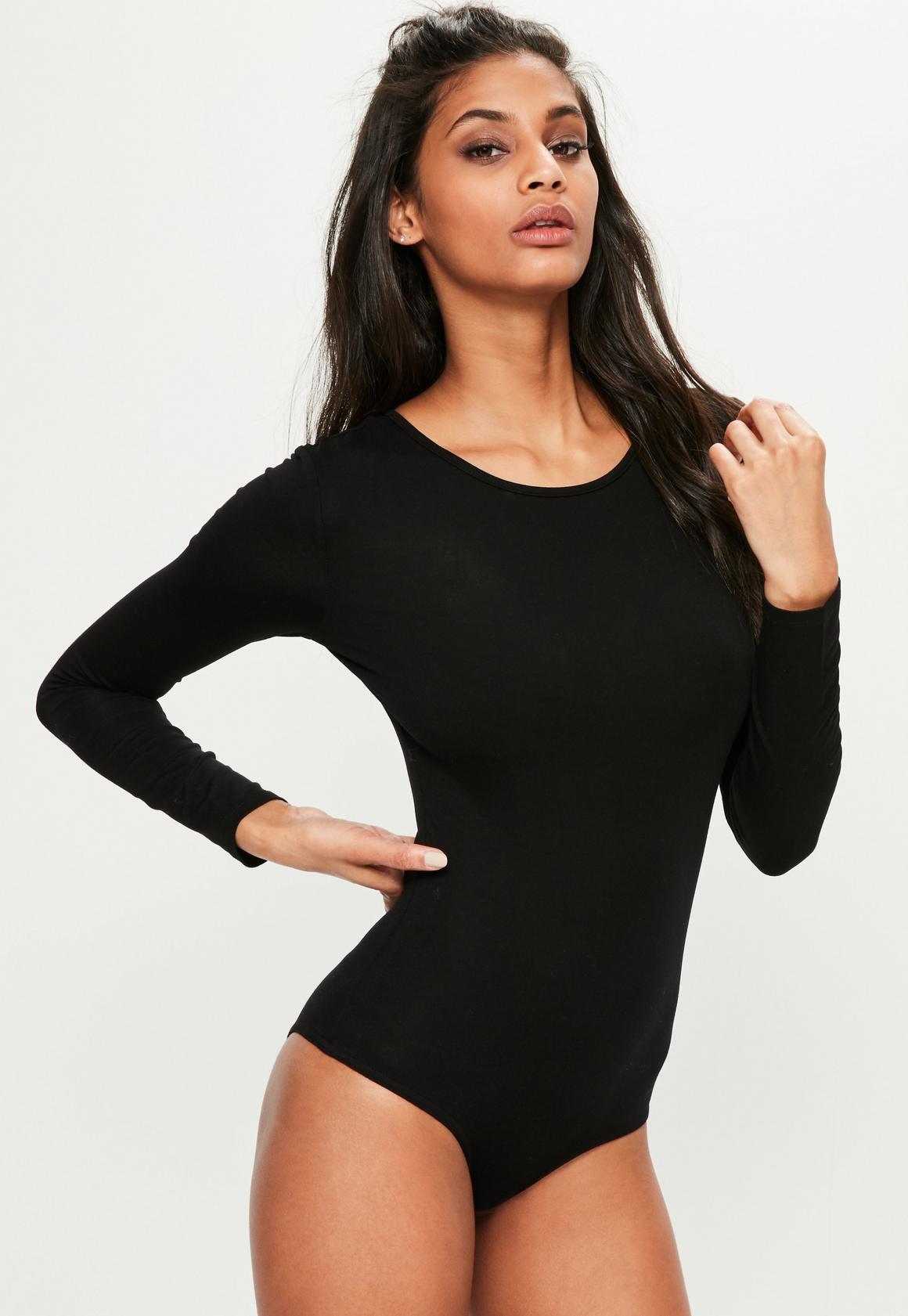 Photo Credit: Missguided.com
Her boots are from a vegan brand called Koi and are £40.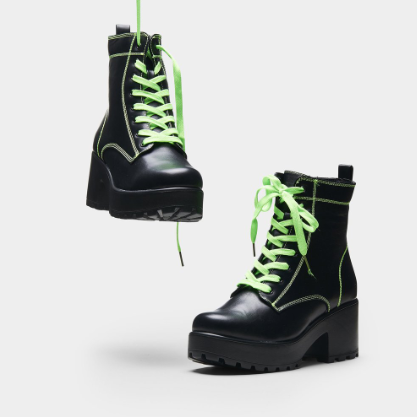 Photo Credit:Koifootwear.com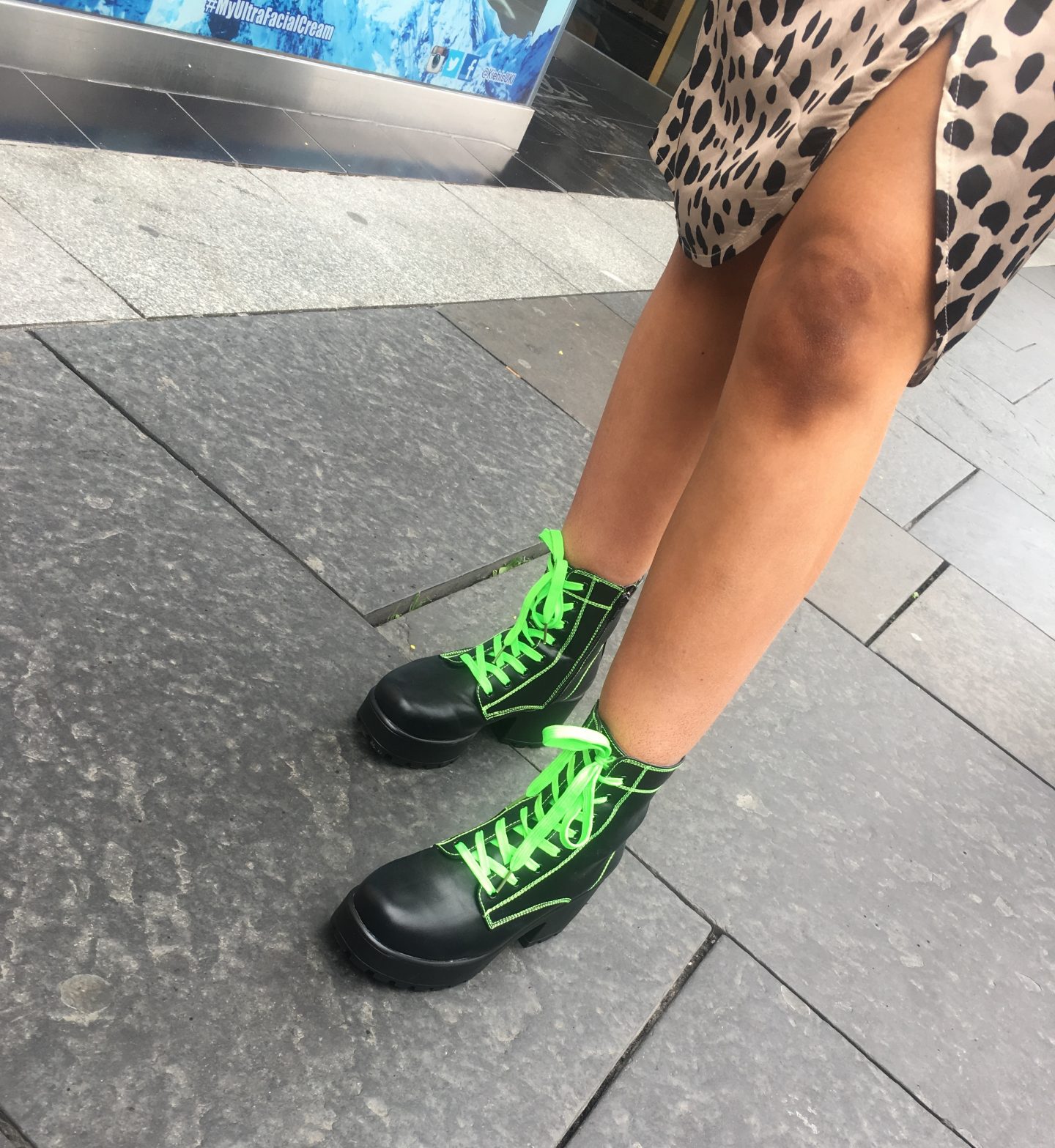 Abbey makes a statement with all the small details in her outfit. Her necklace, belt, and boots add a unique element to her style. By opting to pair her Leopard print, midi skirt with a subtle baggy tee, layered over a longer-sleeve has created a casual everyday look. Perfect for the university lecture she was on her way to.
2. Don't be afraid to tonal dress

Georgia Butler, 24, pictured on her way out for cocktails.
Outfit details: Dress – Asos.
Georgia's exact dress is no longer available but instead, if you prefer the wrap style of Georgia's dress, this New Look dress is available from Asos for £22.99.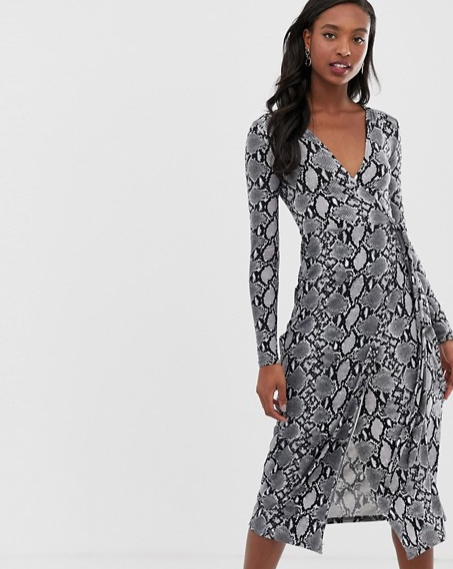 Photo Credit: Asos.com
However, if it's the electric colour of Georgia's dress that caught your eye, Asos have this yellow Snake print dress for £42.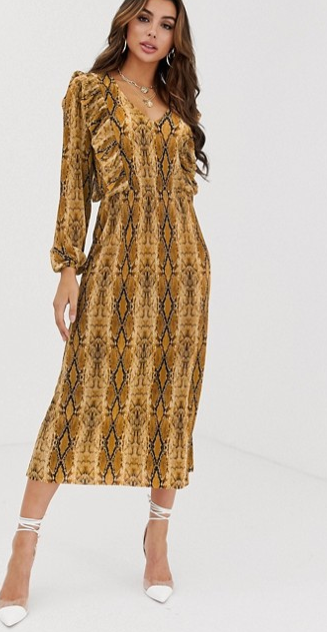 Photo Credit: Asos.com 
Dressing head to toe in various shades of the same colour may seem daunting but Georgia's secret is to wear your favourite colour.
When describing her outfit, she said: "I was drawn to this dress because it's yellow and yellow is my favourite colour."
It's clear to see Georgia's love for the colour as she paired her golden yellow, Snake print, wrap midi dress with yellow, Adidas Gazelle trainers and caution yellow earrings. Creating a tonal outfit perfect for summer evenings.
To complete her look she added a neck scarf and red lipstick, giving her outfit an overall vintage vibe.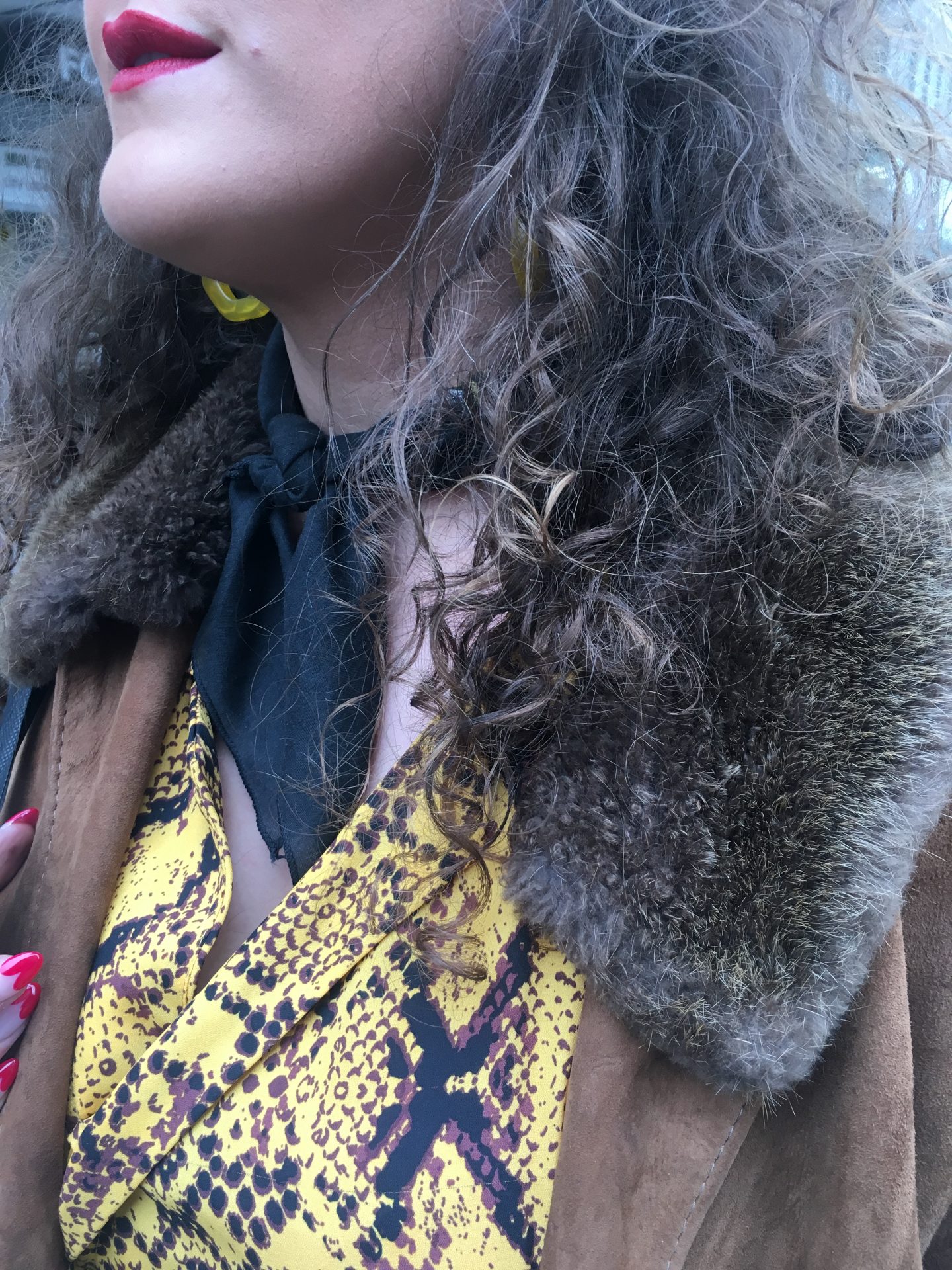 Not only has tonal dressing been spotted in the streets of Newcastle, but TV presenter Holly Willoughby also wore a similar look on the 'This Morning' sofa in a carnation pink, leopard print, midi skirt and a baby pink, high neck jumper.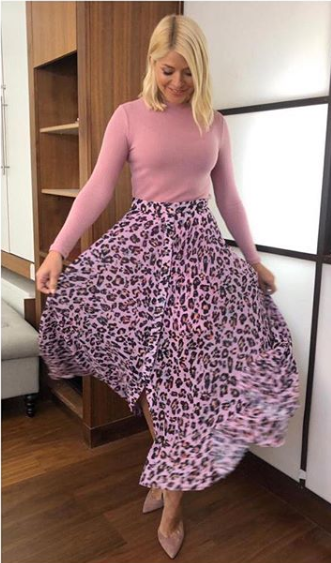 Photo Credit:@hollywilloughby Instagram
     3. Keep it simple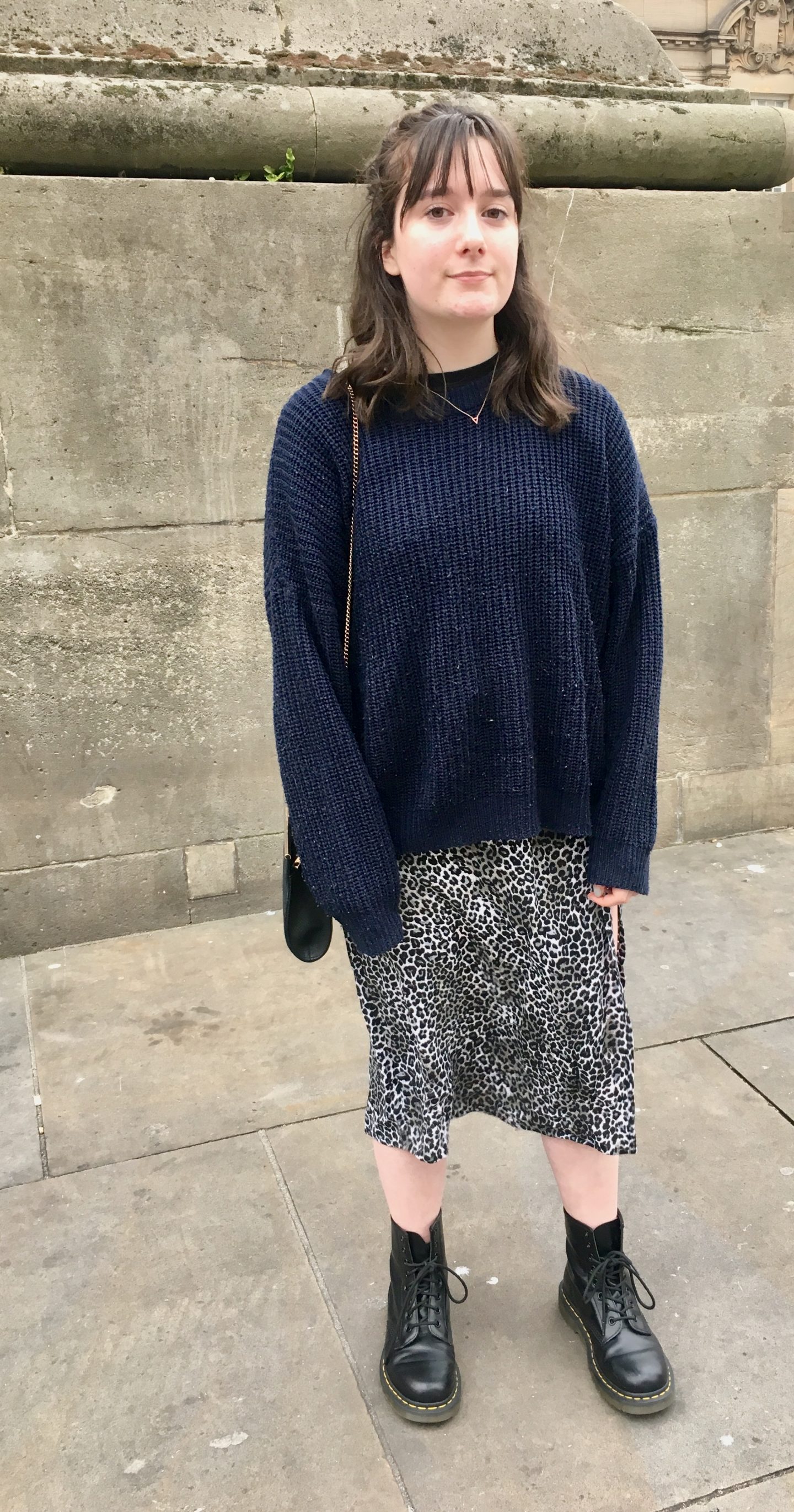 Belle Armstrong, 17, sixth form student.
Outfit details: skirt – Motel Rocks, £35.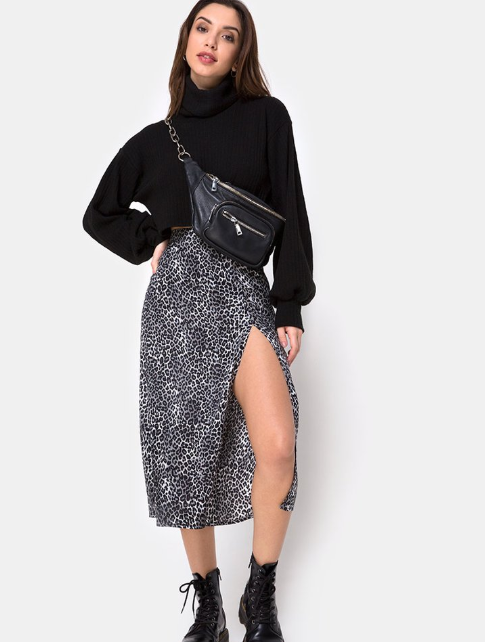 Photo Credit: Motelrocks.com
Jumper – Primark.  As Primark don't have a website in which you can buy items, this H&M jumper, costing £12, is a duplicate to the one Belle is wearing.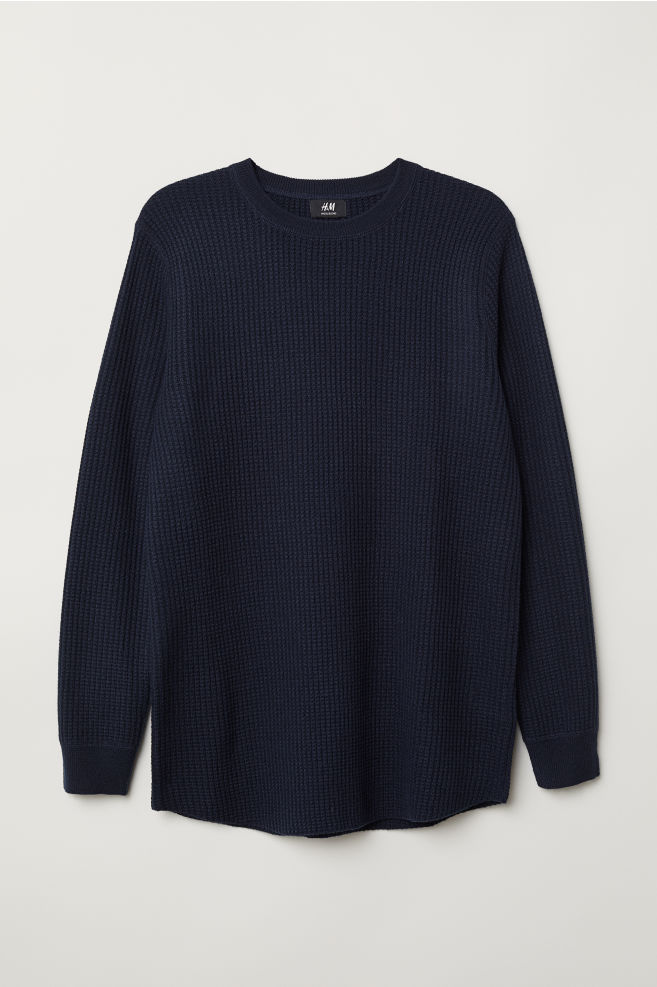 Photo Credit: HM.com
Belle's created a simple yet stylish look by pairing a midi skirt with a casual navy jumper and Dr Martens for an easy day to day outfit, that she wore whilst out shopping with friends.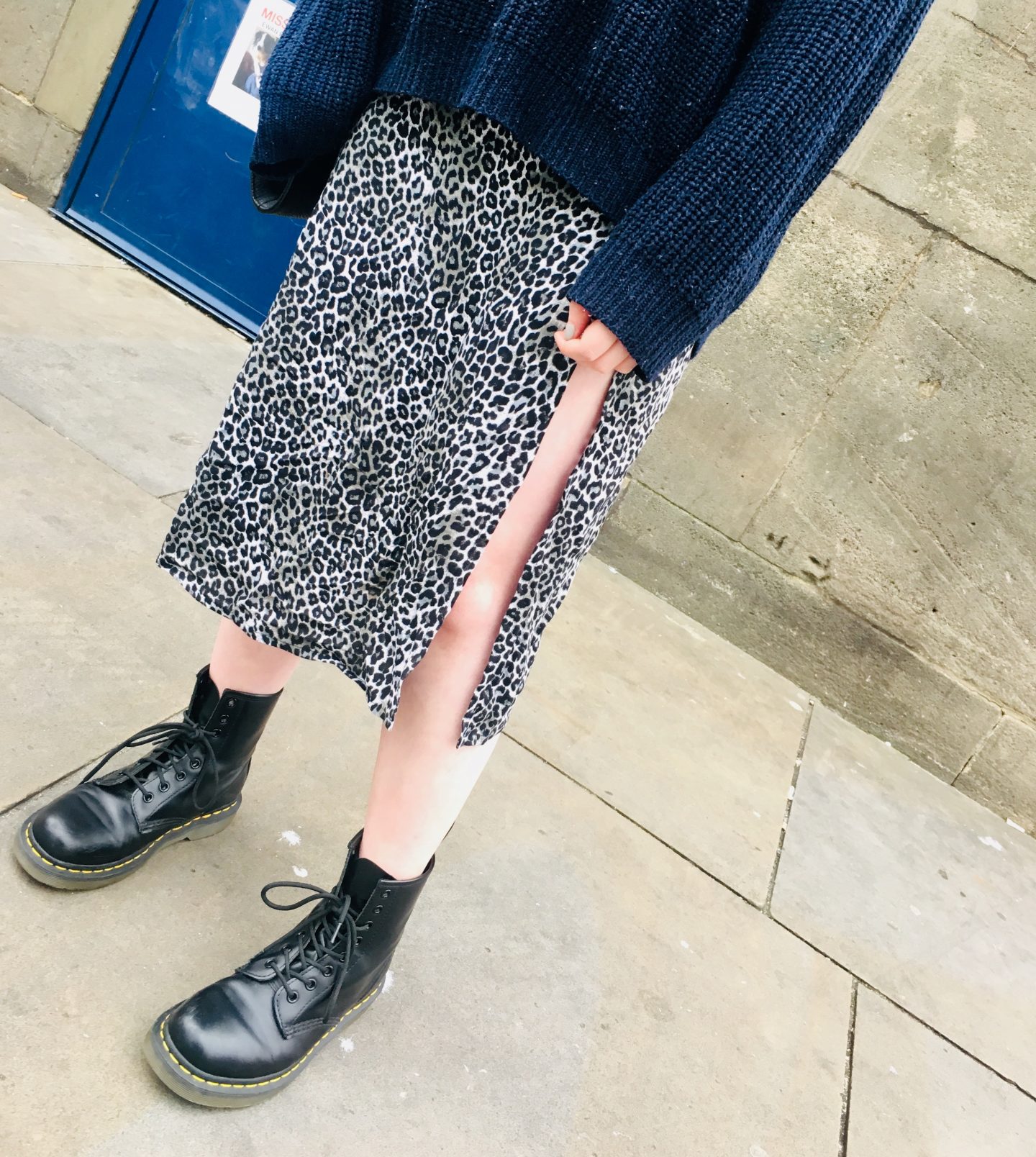 This look is perfect for spring as the juxtaposition of a summery skirt and a winter jumper creates an ideal transitional season outfit. Belle has also contrasted 'girly' and 'cool'. The side split in her skirt added a feminine feel to the outfit, whilst her Dr Martens reflected her individual style.
4. Dare to clash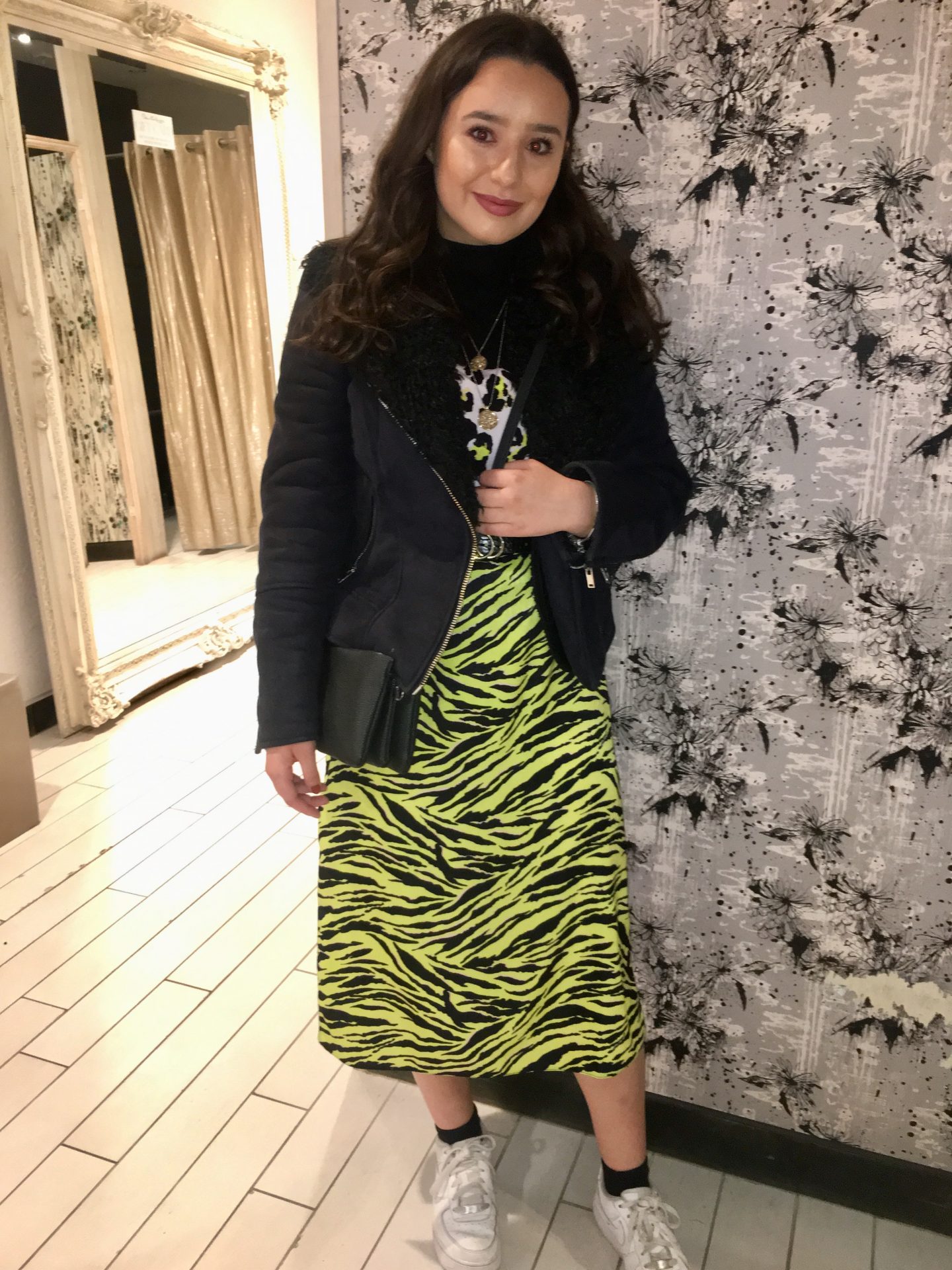 Ruby Burrage, 20, law student.
Style inspiration: Alicia 'Lissy' Roddy.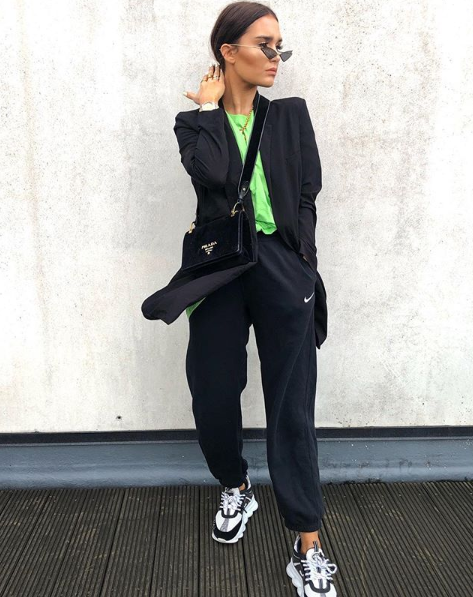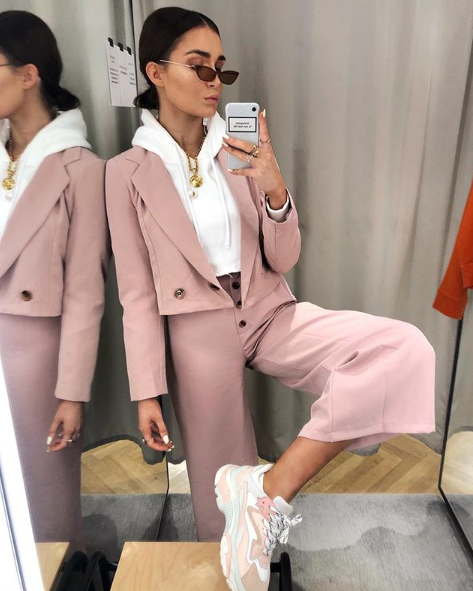 Photo Credit: @lissyroddyy Instagram
Outfit details: Dress – Miss Selfridge, £39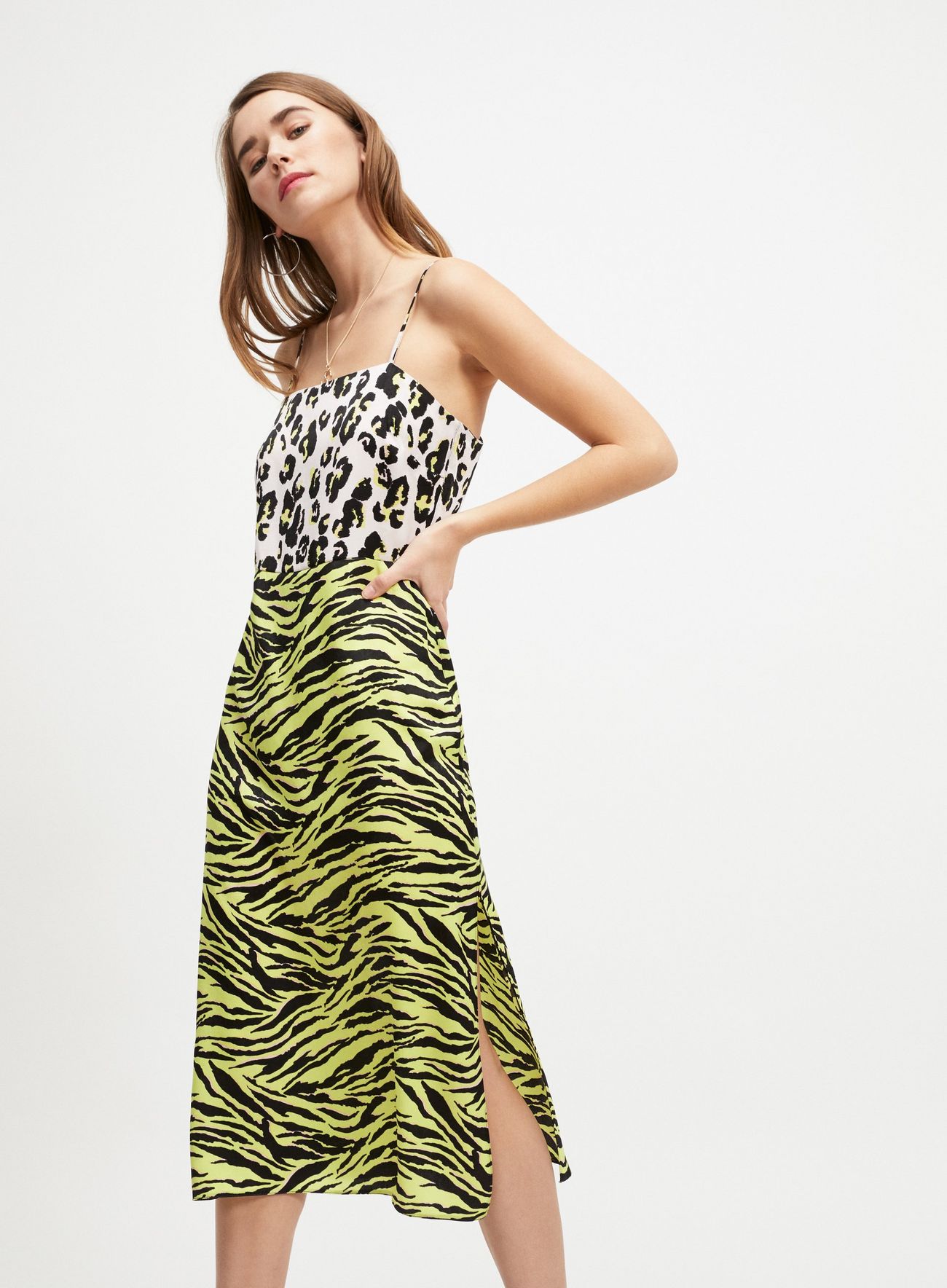 Photo Credit: Missselfridge.com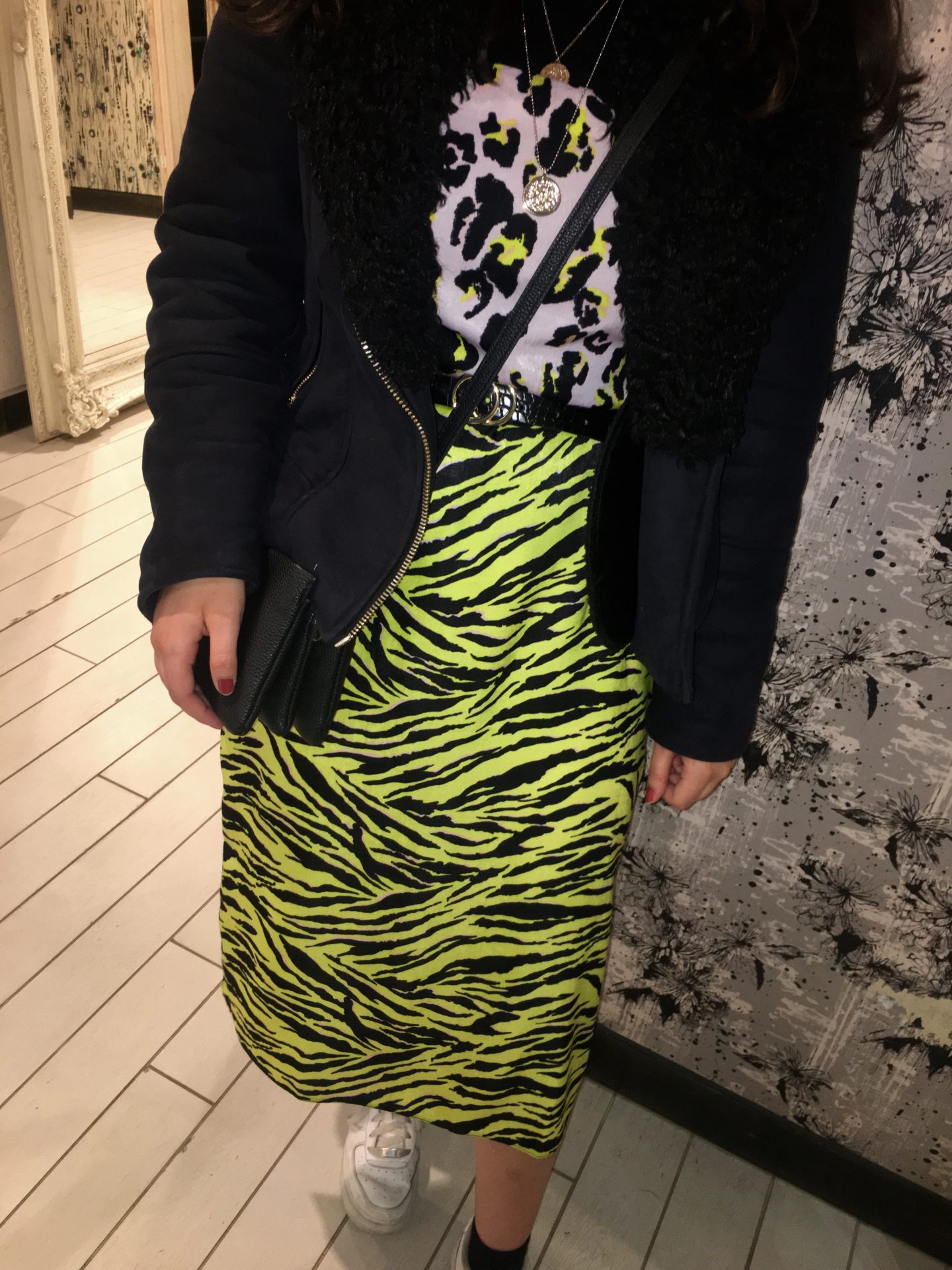 Ruby wore this eye-catching, vibrant dress to work (she is actually a Sales Assistant at Miss Selfridge, where she bought her dress). She added a gold buckle belt to separate the patterns of the dress and completed the outfit with white, Nike Air Force trainers to make the look casual and comfortable for her shift.
Her attention, much like ours, was drawn to the bright colours and the clashing of the Leopard and Zebra prints of the dress, she said: "I like the clash of patterns, it's not something I'd ever usually go for."
Pushing herself out of her fashion comfort zone was a risk that paid off.
Would you dare to do the same? Tweet us your animal print midi skirt looks to @Fashion_North.