FROM Vogue to Grazia and Cosmopolitan, Emma Gold has worked for some of the world's biggest fashion magazines.
The stylist, who recently launched The Fashion Cupboard podcast, has risen from an intern to fashion assistant before going into styling fashion shoots and celebs. Emma has even created her own loungewear brand.
Fashion runs in the family. Her father works in clothing manufacturing so Emma and her brothers, Richard and James, all grew up immersed in the trade.
"Growing up I always loved fashion," she told students at the University of Sunderland during an inspirational masterclass. "My dad is in fashion and so are my brothers, who own the brand Skinnydip. They are hugely fashion orientated.
"My dad works in manufacturing, so he used to have a lot of contact with some different designers, one of whom was Julien Macdonald. I remember meeting him at nine or 10 years old and being so in awe of him because I loved his stuff."
After graduating from Birmingham University with a degree in History of Art and Visual Studies in 2016, Emma decided to forge a career in fashion.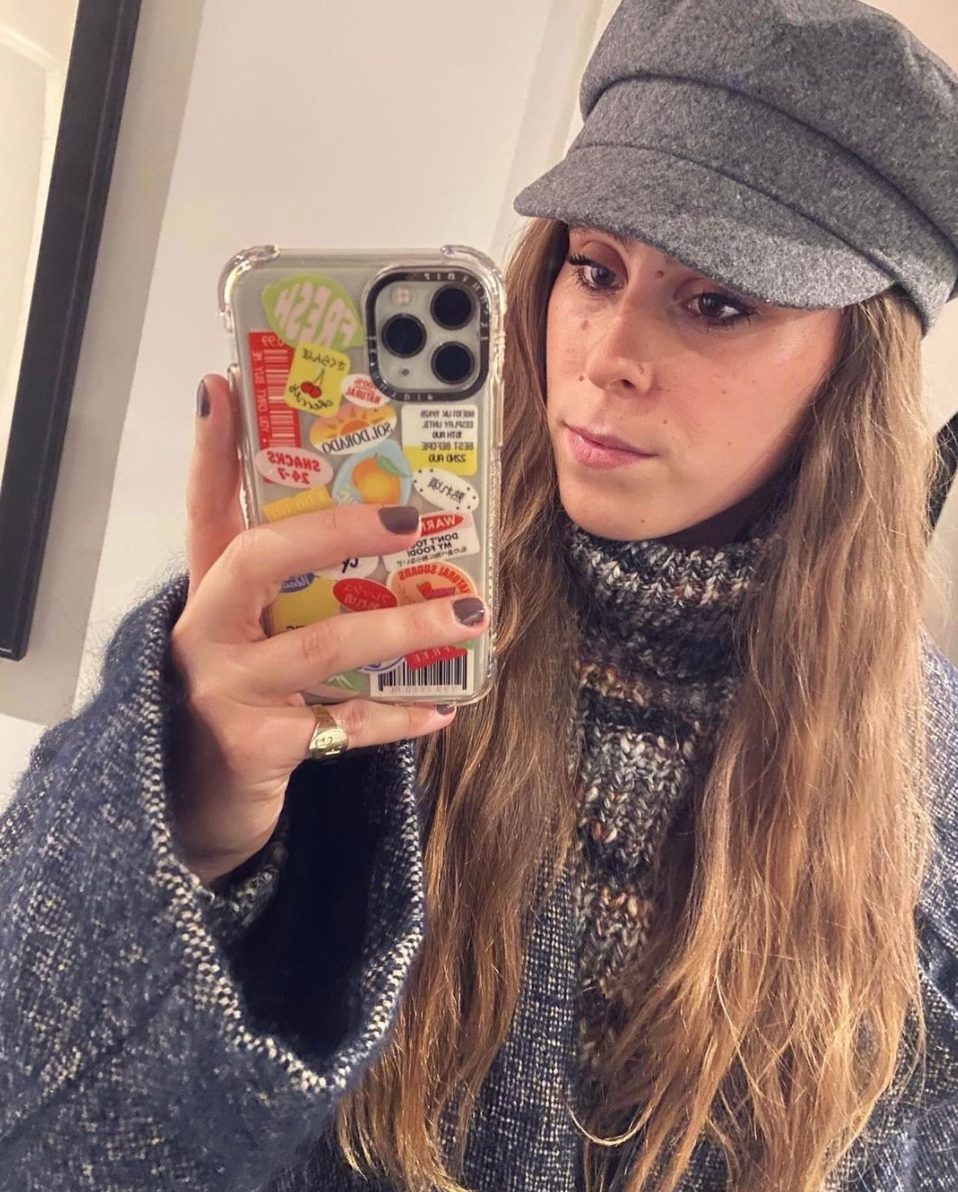 View this post on Instagram
"After university, I ended up getting an internship at Cosmopolitan magazine in the features department," she explains.
"I was only there for about two weeks when I overheard the fashion director talking to someone else about how the fashion assistant hadn't turned up. So, I muscled up the courage to walk over to her and I introduced myself. I ended up turning that two-week internship into a three-month stint at Cosmopolitan."
During her time at Cosmopolitan, Emma worked heavily in the fashion cupboard, which she grew to love and experienced more in future roles, such as at Vogue and Grazia. That's where she found people went to gossip, and she also got to see everything that was incoming and outgoing. Despite this, she explained that not everything goes swimmingly in the cupboards: "Everyone who has worked in a cupboard at some point has either been overwhelmed with the number of clothes, or there's been something gone wrong."
View this post on Instagram
She recalled a time where she was at Vogue and came into contact with an issue while they were due to shoot with Gigi and Anwar Hadid: "I was with another intern who had been there a bit longer than me, who unpacked one of the looks before sending it back to LA. We got an email from a PR woman saying a J.D. Anderson necklace was missing. I checked everywhere and I couldn't find it.
"Vogue had to check the CCTV, and I remember questioning myself. It was awful, but then they realised that they never actually sent it to us! I think it's really important to be open and honest if you know something has been damaged because the worst thing you can do is pretend it hasn't happened so they send it back to the PR and then they flag it."
It was at Vogue that Emma met renowned fashion stylist Lucinda Chambers, who she remembers as being "the friendliest member of the fashion team".
"Before I started my internship there, I watched a documentary about Vogue that she was in, and I found it really amazing that she used to sit front row at a show and she wouldn't have her phone out, and she would just take notes.
"I had a great time at Vogue. I was there when Alexandra was editor, but it is what you would expect. You get into the lift and see these other women that work in Vogue house and they're decked out in these amazing outfits, with the bags and the shoes, and it is all very fashionable.
"It was a really great and fast-paced experience. On the first day, we were given a booklet of the dos and don'ts of a fashion intern. One of the rules was that the phone shouldn't ring more than three times. If you heard the phone ringing and you were in the fashion cupboard, you would have to run. But I loved it, and it was a great experience."
After her time at Vogue, Emma went on to intern at Grazia for a month, and then to InStyle, which collapsed during her time there. "I got told about a job at Time Inc., across Woman, Women's Own, and Woman's Weekly, and I was contacted and asked to go in for an interview. At that point, I was so desperate to get a full-time job in fashion because it can be so hard to secure them positions. I got the job, and I was there for 10 months.
"It was very different to the luxury magazines I was used to working with. I got made redundant from that job, and when that happened my confidence took a bit of a knock. I wasn't going to let it stop me from working in the industry, so I sat down and emailed every person I could find.
View this post on Instagram
"I saw that a girl called Charly Suggett had been promoted to fashion assistant at Grazia, so I sent her an email to say 'Congratulations' and to let her know that I was a freelancer if she ever needed any help and that I'd love to come in. I actually got accidentally looped into an email to two other editors saying, 'Consider for intern?' so I was really happy that they were considering me. I went for an interview and got the job, and I did learn so much there."
While working at Grazia as a freelancer Emma discovered the importance of making contacts and building relationships with others in the industry. "I built relationships with PRs, like M&S, and that followed me through all the way to even now. We're on a very friendly basis, and if I need anything, like recently when I styled Scarlett Moffatt for Grazia, they try to help. Those times I was in places I didn't want to be and I wasn't in luxury, I was definitely taught some amazing lessons which I have carried all the way through."
Emma remembers her experience styling Scarlett Moffatt as a delight and was brought in by Grazia to do this shoot due to the experience she had with them previously. "This took place right before the first lockdown. It's challenging doing these kinds of shoots sometimes because certain brands don't want to be associated with certain talent and vice versa. But she was just an angel, so I took a different route and did something a bit more minimal but staying true to who she is.
"I met her agent on the day and we kept in contact and through them, I ended up styling Diane Buswell and Vick Hope. Because I know Grazia's style so well, they know that I know what they want from the shoot."
View this post on Instagram
Emma explained how the identity of a brand is really important, and how as a stylist she needs to understand each brand she works with. "The wrong celebrity wearing a brand's clothing can be damaging for them, so it's really important as a stylist to know the audience. I recently just launched my brand, Interstate, which is a loungewear American-based vintage brand. It's in its early stages, but I'm going through the motion now of 'Who do I want my brand to be seen on? It's so important as a brand to know who your ideal girl or boy is, and it's important to know this as a stylist too."
Where some believe that influencers shouldn't be as highly acknowledged in the fashion industry, Emma notices their importance and believes that they're just as important as regular celebrities now. "They can post a picture of a coat, and within 10 minutes it's sold out. I think it's amazing the power that influencers now have. It's really important to have a look on Instagram and see what influencers you connect with.
"In an interview once, I was put on the spot and I was asked 'Who are your top favourite influencers and celebrities?' and I completely blanked. I couldn't even think of one person. If you really want to go into styling, you need to be present online. There is nothing wrong with uploading an Instagram reel with the top five ways to wear loungewear. Just because it isn't being viewed by 2000 people right now, it doesn't mean that it won't build up your social media presence."
When the pandemic hit, all of Emma's usual work was cancelled. With studios closed and everyone being told to stay indoors, she had to try and find something that would enhance her skills but also be entertaining. The stylist decided to start her own podcast – The Fashion Cupboard. "I kept having ideas that I would never be able to pursue before because I've always been so busy with work. I wish I started the podcast earlier, but that came around after having mini bursts of ideas and I was thinking that there are so many people like me.
"It's had a great reaction since I've started, and I have some really great guests coming up too."
Check out more of Emma's work on her website here.