Victoria Beckham's catwalk show in London Fashion Week was held at Tate Britain.
The collection was full of earthy colours with some bright accessories and shoes. Most of the models were covered from neck to toe, except a few who braved some stranger shaped dresses. What's more, Victoria was streaming live on her new YouTube channel for the very first time.
The show was held in Tate Britain, a typical casual catwalk room enriched by the impressing number of reflectors. This may advocate the feeling of walking on the red carpet when in reality, you're just crossing London's streets – may be the clothes support this same special feeling while you wear them.
The front row featured Vogue's creative director Anna Wintour who wore an interesting royal blue leather-look coat, with snake boots and patterned dress – not forgetting her iconic glasses. By her right sat the rest of the Beckham's including Brooklyn's girlfriend Hanna Cross. Who do you think wore the bob better? Anna or Harper?
Scarlet red, ivory white and black were mostly used for the dresses and duller colours for woolen jumpers and oversized coats. The highlight was an interesting black, white and mustard blazer with houndstooth print which is slowly becoming popular again.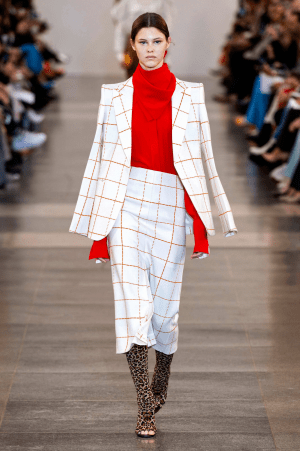 Another pattern that was significant for this collection was tartan, mostly black and white, which is elegant, stylish and timeless. Even though we have seen it many times, Victoria has given it something new and different. The chain pattern was seen on many pieces in various sizes (right picture) and collars covered all necks except a few backless dresses.
The whole collection was a typical sign of Victoria and her elegance which she brings to the streets of every city.