The male grooming world is now growing faster than ever before. There are all sorts of men's grooming products available almost in every beauty department online and in store.
The big question on everybodys mind is, where did all of these online male grooming kits come from? We spoke to four different companies who sell men's online grooming kits to find out more information.
Men are now known to take care of their appearances more than ever before. It has become much more acceptable for men to buy grooming products. Beards are still very popular and this has seen the huge rise in demand for beard oils and beard shampoos. Having a beard is no longer seen as being lazy as it once was.
As a matter of fact, social media plays a big factor in why men care more about their appearance. For example, there is a rise of the selfie. Taking the right selfie, at the right angle is a huge deal to many men because they have to be able to impress their numbers of followers.
It has become socially acceptable for men to spend longer in the bathroom than ever before. This could be the result of reality TV programmes such as Love Island, Geordie Shore and The Only Way Is Essex, where male cast members are shown to spend a lot of time and money on their appearances.
Stephen Jardine, 18, has said: "I am a young lad, I do really care about what my appearance looks like. I want to look good, so I try my best to keep up with the current grooming trends. Being a full time student, it is hard for me to find the time to go to a shop to buy the right products for my face, so I prefer to order them online."
Why are brands moving online? The ease of ordering items online and straight to your door is what attracts most men who like to shop. It is easier buying products online through your mobile phone, tablet or laptop and then getting them through the post a few days later. It's not just the ease that matters, having to spend time going into high-street shops and facing huge queues just to buy a couple of grooming products can be quite boring for most people as it wastes a lot of your time.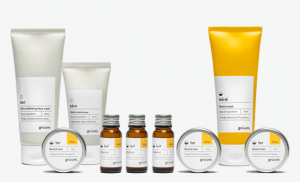 Gruum, an online men's grooming brand, have said that: "Online male grooming kits are a result of the high-street male grooming market being dominated by huge brands. These large high street stores sometimes over price most of their products and only luxury products available on the high street, are perceived as better quality as a result of their price."
As a result of the comments from Gruum, we spoke to another online retailer, in order to get a better understanding of why mens grooming companies, choose to sell their products online. Nick, a representative from The Shaving Shack, commented on why they launched an online shop rather than store on the high-street. He said that:  "Having an online store is more cost effective, easier to set up and you can sell more products. We are able to reach a global audience, as we are very big in Scandinavia."
Further to this, we asked Nick about how men differentiate to women when shopping, Nick replied with: "In general I would say, men buy and women shop. Men like their shopping experience to be as simple and straight forward as possible. They tend to buy products which they need for them is immediate."
On the other hand, Men's Society's Digital Marketing Executive, Ross, reveals that online men's grooming products, do not necessarily mean that the customer is a man, due to being a popular gift idea. He explains: "Usually, people who buy our products are ladies buying for men. However, we have noticed that it is harder to sell to people online than it is in a shop. The internet is not tactile because you cannot pick things up. It means that you have to sell something really great because people will not just buy on the whim."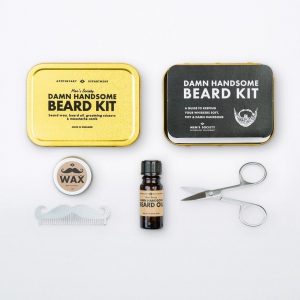 Even though some Men's Society products are stocked in a few high street shops, they do consider opening their own store some time in the future. Ross said: " Men's grooming products and grooming kits are already a big deal. More men are embracing their looks, so products like ours are increasing in popularity, but that has been happening for quite some time. Our best days are ahead of us, but we have had some pretty good days already."
To conclude, online male grooming kits are the next big thing. Online companies who sell male grooming kits, are able to provide products to suit the experiences and lifestyles in which many men go through. Other factors such as social media and television can result in men taking more care of their appearance. In addition, it is easier for most people to order products directly to their doors than going into stores to buy grooming products. Additionally, grooming companies do prefer being online as they can reach more people around the world and even people who their products may not necessarily be intended for.