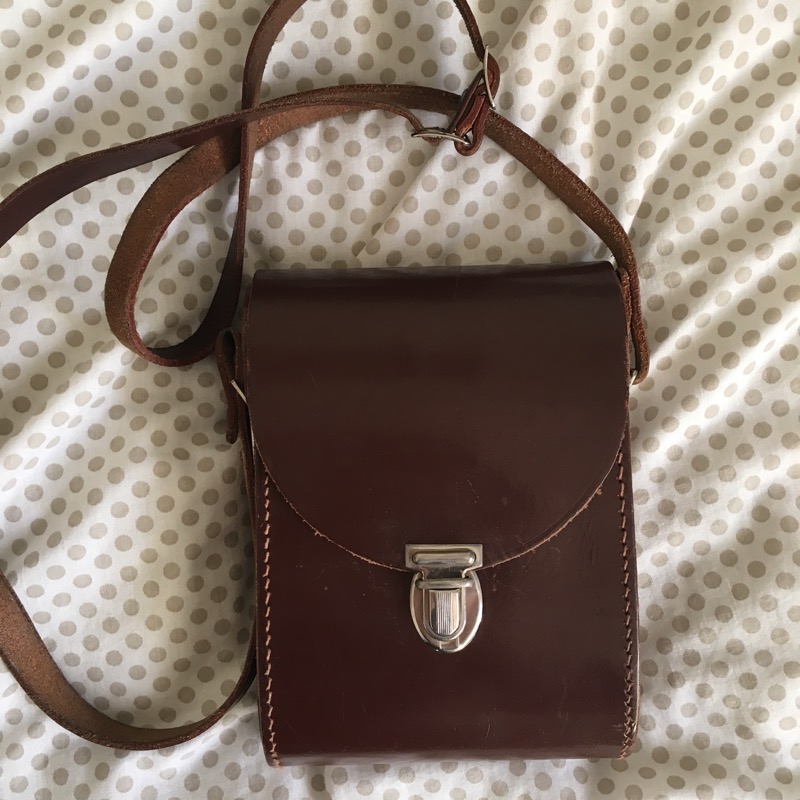 When he passed away 10 years ago, my sister Katie and I immediately knew one of the items we needed to keep was the binoculars case. He was at one with nature; days were spent walking his lovely dog Ben by the Dam Head (Bishop Auckland's section of the River Wear), sitting under his beloved tree where his ashes are now scattered, and watching the animals at the nature reserve Low Barns. He was always staring out of the window and commenting on which birds he could see flying past. This little leather bag seemed synonymous with one of the main features of my Grandad's personality.
The bag in question is small in size, boxy in shape, and made of a very thick, sturdy leather with a few scratches here and there. It is a sophisticated shade of deep mahogany with a red tinge. There is a long shoulder strap so it is easy to carry, and contrasting light brown stitching throughout.
Though the bag was well loved and one of my most cherished possessions, for many years it sat in my room gathering dust. Strangely enough, I found a binoculars case has a very niche usage. It took nearly a decade until Katie had the ingenious idea of using it as a 'going out bag'.
Everyone needs a going out bag; a bag that has a very specific set of requirements. It must be small, yet big enough to carry your purse, phone, and a few bits of make-up. It needs to be across-the-body, so you can go hands free while dancing/drinking/taking selfies. Colour-wise it needs to be relatively neutral, so it will match everything. Lastly (and probably most importantly), it needs to look good.
A few weeks later and it became an essential in Katie's night-out look. I was exceedingly jealous. Any other bag looked much too try-hard compared to this quirky little vintage piece. However eventually she replaced it with a Cambridge Satchel Company cross-body bag and the binoculars case was finally all mine.
I wear it non-stop. Casual in jeans and loafers, or dressed up with a mini-skirt and high heels; this bag seems to go with everything I wear. Yet it definitely feels more at home when I wear it to gigs.
Going to see my favourite bands and artists live has been a hobby of mine for as long as I can remember. I love all kinds of music, and that is definitely something that runs in the family; Grandad was a wonderful singer. So despite what could be seen as a slightly unconventional use for his binoculars bag, I like to think that my Grandfather would see our similarities and passions, and will be smiling down in approval.