2020 has been filled with so much negativity that perhaps we're too excited about the return of sweater vests. The perfect wardrobe essential has been reintroduced to the world just in time for the switch from summer to autumn. This is a MUST-HAVE for everyone who loves styling A/W clothing or just wants to look fashionable in the freezing weather.
There's no limit to sweater vests, they can be extremely oversized, cropped, layered on top of literally any other shirt, and come in a range of vibrant colours and patterns. There's the perfect vest out there for everyone, you just have to find it!
Here at Fashion North, we're going to show you where to find the most affordable, stylish sweater vests and how to style them!
View this post on Instagram
If you're looking for a simple sweater vest that can be paired with almost any outfit, then FLXNfashion is the perfect option for you. The 'Waffle Knit Vest' can be found on their website (https://flxnfashion.co.uk) in a range of shades such as: Sage Green, Cream, Grey, Brick Red, Baby Pink and Teal. They are priced at £28!
Like in the image above, the knitted vest can be styled with the very on trend 'Pleated Tennis Skirt' and a plain turtleneck. To make it even more fashionable, colour co-ordinate the skirt and undershirt to allow the sweater vest to stand out more!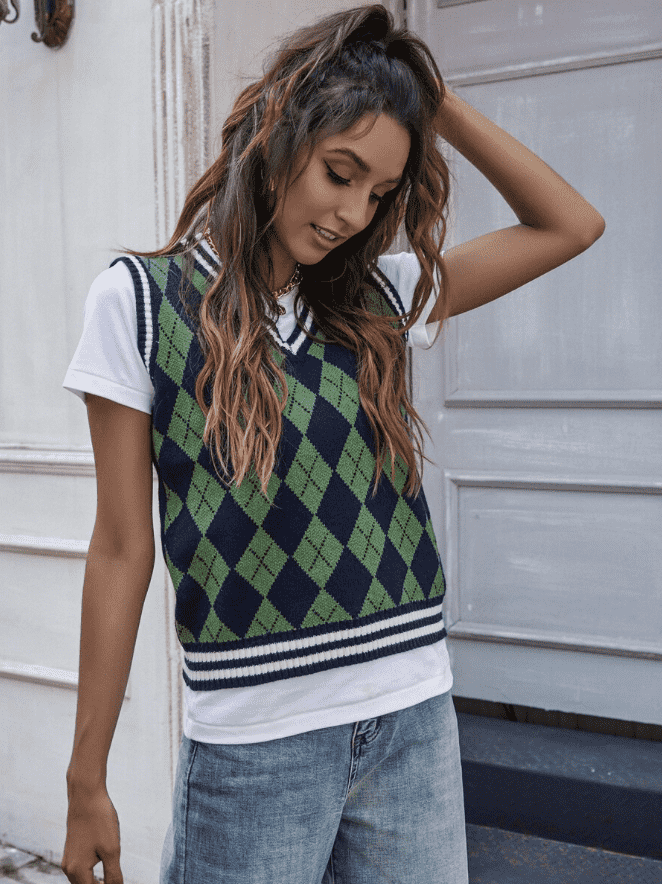 If you're feeling more daring and want to opt for a more distinct outfit then this pattern might be your perfect match! This argyle patterned sweater definitely gives off 'grandad' vibes, but isn't that the whole point of the sweater vest! The pattern can be found in a range of colours on almost every website at the minute, especially Shein which has at least 100 options for you to choose from. This vest can be found on the website for £16.50!
To style this vest into the perfect outfit, you can't go wrong with a pair of light-washed baggy jeans, white chunky trainers and a white collared shirt. If you're feeling even more adventurous, don't layer the vest onto any other shirt. The loose fitted vest look is something everyone will try to pull off!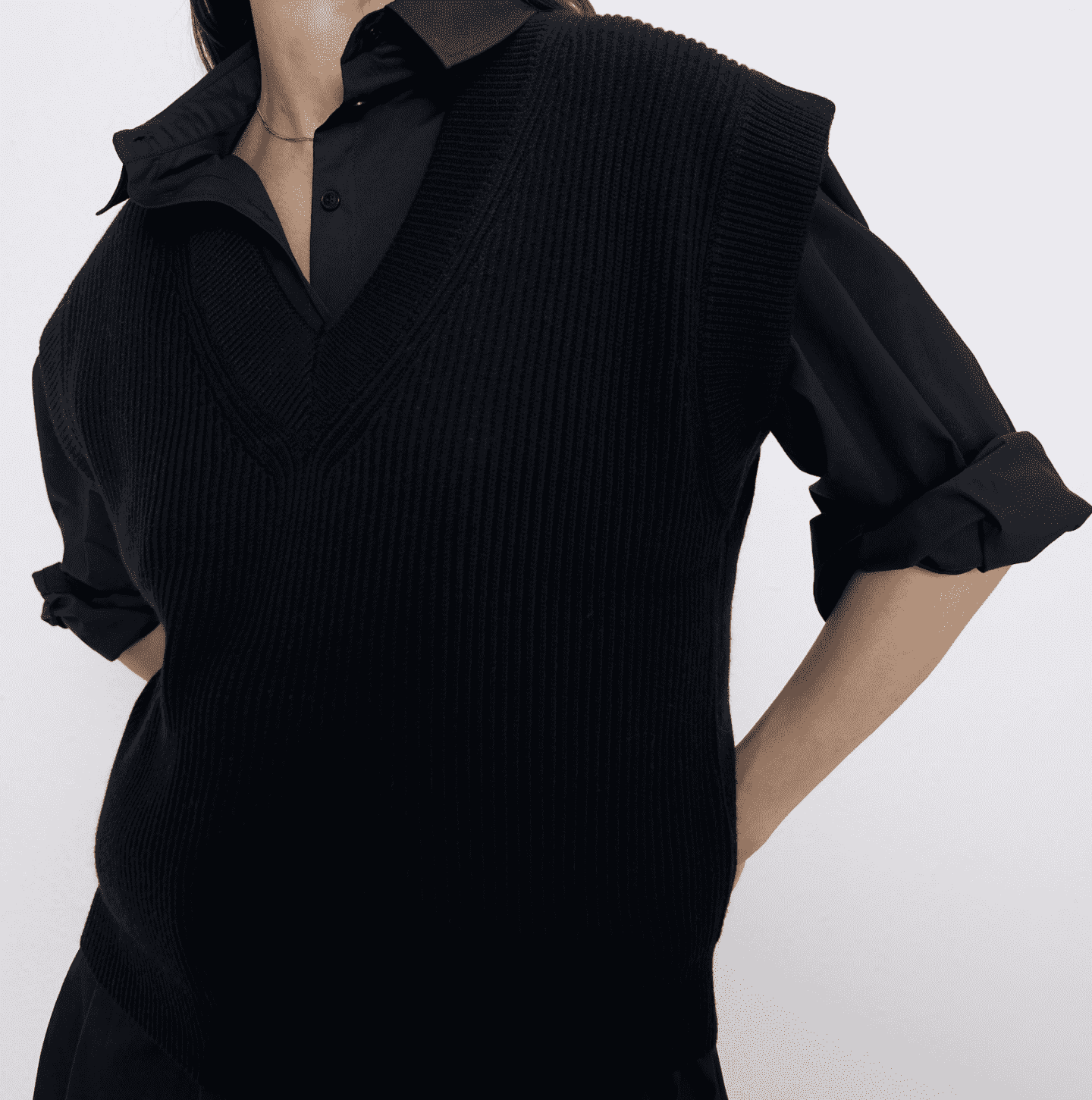 If you're the type of person who prefers to wear oversized, loose fitting clothes 24/7, then these types of sweater vests need a place in your wardrobe! This oversized knitted vest from Zara would make the ultimate brunch outfit (since we have a 10pm curfew). This knitted vest is priced at £25.99!
Paired over the top of an exceptionally large collared shirt in a shade that is complementary to the sweater vest, this look will look absolutely chic! Strap on a pair of black high heals, add some silver jewellery and you're all set to go!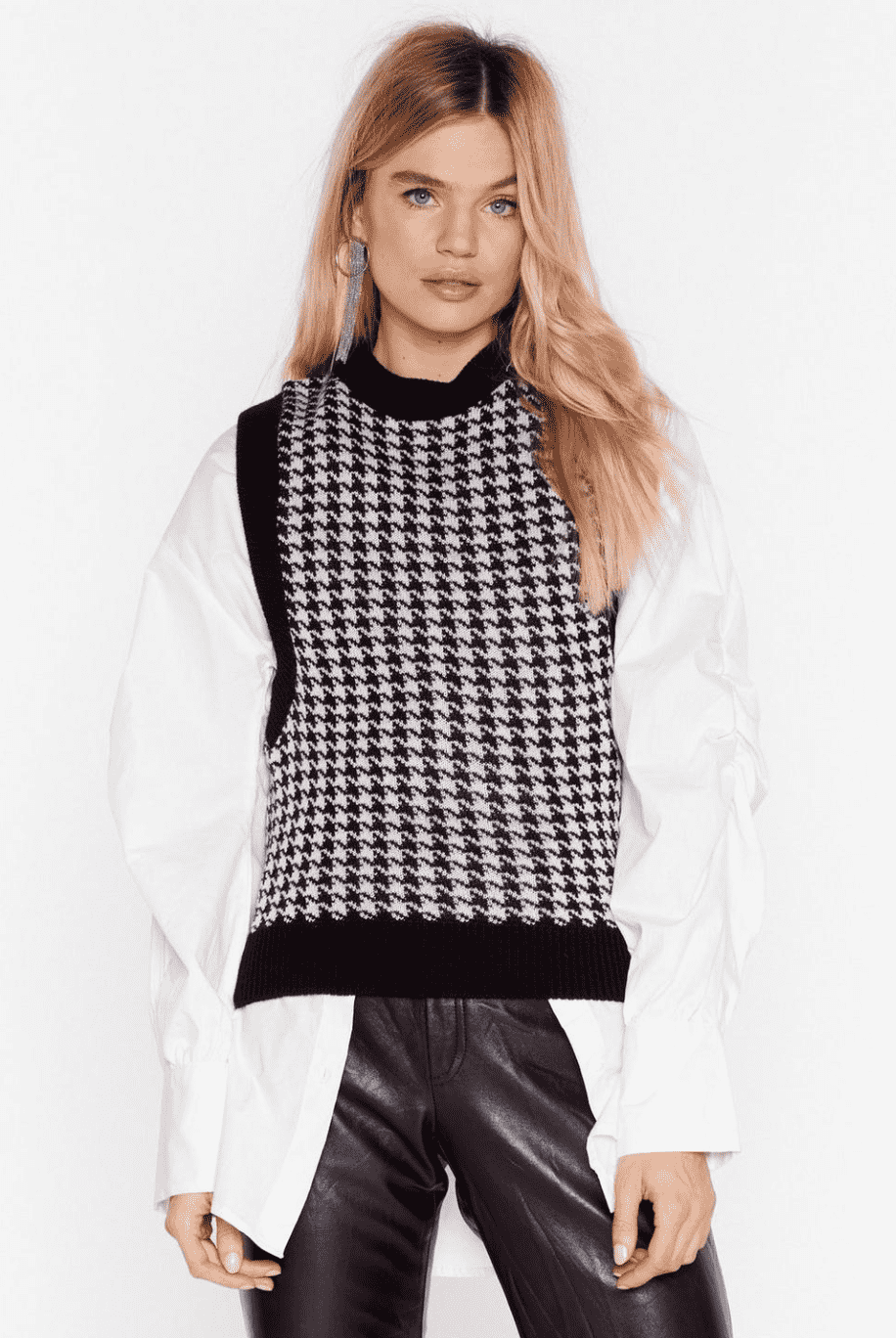 Lastly, if you're wanting to find a stylish sweater vest and looks professional enough to wear to your 9-5 job, then you can't go wrong with the Houndstooth print. This popular pattern is ideal for the A/W months ahead, and can be styled with almost anything. This sweater vest can be found on the website for £34 (before any sales!)
TOP TIP: keep the outfit monochromatic! The print is already loud enough itself, any extra colours and prints will just clash. Again, a simple white shirt and leather or PU leather trousers will guarantee you to be the most trendy in the office!
Follow us @Fashion_North on Instagram & Twitter and tag us in any images on how you styled your sweater vests!