This mood board showcases designs for spring/summer 23, all influenced by corsets of the past.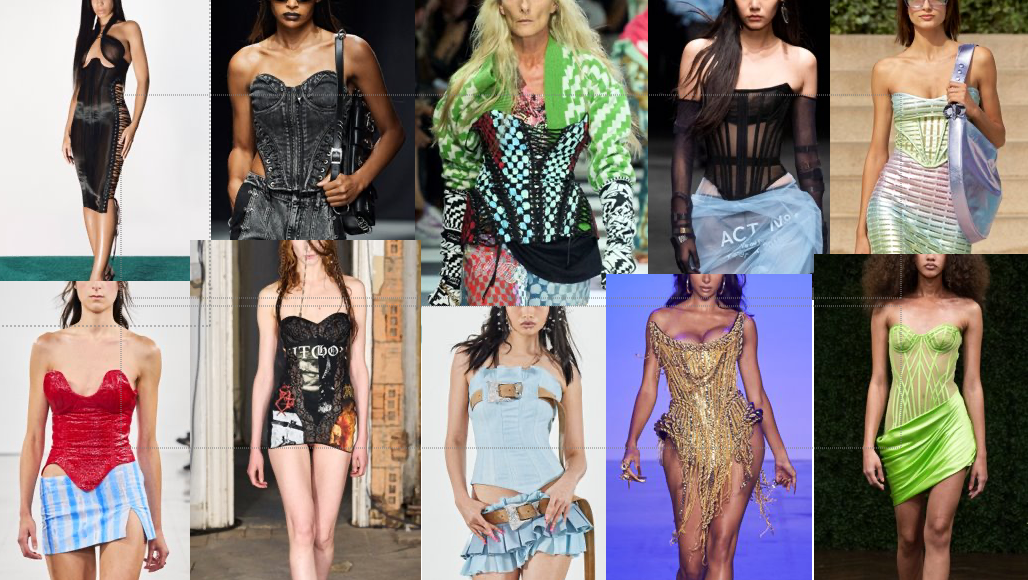 Images: WGSN
Today's corsets are more about fashion and empowering women in modern day society, rather than constraints. In history,  corsets were first used to constrict and mould the female body to fit with society ideals, often leading to long term effects on the body.
Corsets nowadays are used as pieces in the fashion industry to empower women and to let us know that it is okay to show off our bodies and natural curves. We don't have to wear corsets just so that we fit into society and what other people think we should look like. Corsets aren't just used as undergarments, they are used as tops, dresses or skirts, as well as lingerie.
Here's our lowdown on the SS corset-inspired designs, as seen on the SS23 catwalks
Top images left to right
 Created by Lecourt Mansion who used a satin and mesh material to create this stunning black, laced piece.
Created by Annakiki it is made from black acid wash denim.
This corset features multiple lace up panels
Designed by Kenny, the piece was made using a woven type material giving it multiple peekaboo holes.
The fifth corset in the left hand corner is made using a red sequin fabric
A dress created using lace and graphic images
This corset features frills as well as a silver buckle belt on the chest
This eye-catching corset features gold fringe and embellishment
The corset dress features a sheer fabric and a bright green satin material.
Which corset style is your favourite? Let us know on Instagram @Fashion_North