Fashion month has wrapped up and, the weather is getting colder, days filled with rain and the 'cosy' variety of the holidays approach.
Here at Fashion North, we are still looking ahead to the spring months and the days when pastels feel seasonably appropriate again. However, we would like to point out that you don't have to confine sorbet tones to the warmer months, it's what we automatically associate with Easter BBQs and May Bank holidays.
In particular, we are looking at the trends that have carried over from our current seasons. Trends we have spotted on the runway both; for A/W21 and S/S22 and, we are here to advise you to buy them now before you've missed your opportunity and everyone is wearing them. However, they're sold out in pretty much every store. Getting ahead of the trends can also be a sure-fire way to make sure your take on a particular garment is unique and not the same one everyone is running to Zara to get.
Firstly, after seeing Mui Mui's newest collection, we are almost certain that the micro mini is going to be the only acceptable skirt style in the coming months. While they don't have to be as extremely low waist and only four inches in length, the micro mini is a great way to show off your legs and adds a sense of youth to an outfit in the same way it did back in the 60s when Mary Quant first introduced the mini skirt to the women of England.
The micro mini isn't just for spring, however, paired with patterned tights (one of the A/W21 trends but not one we can see is the height of fashion in the middle of summers only heatwave), a pair of chunky boots or loafers, and a knit sweater, these little skirts are just as easily worn in winter too.
Elevated cut-outs are another trend to invest in now. Perfect for party season and can add some flair to even the simplest of black tops, the elevated, architectural cut-out will also be huge in summer. Alternative to buying them, it's very easy to DIY your versions at home with just a pair of scissors. There are heaps of tutorials online and on TikTok.
These cut-out pieces can also be artfully layered over basic tank tops and bodysuits to create even more unique outfits, suitable for almost any occasion. This elevated style of basic can be worn to the office as well as cocktails in town, making it a perfect transition piece from day tonight. They're also the perfect way to show some skin in a nonconventional way-perfect for when we get our tans back.
Possibly a simple choice, the bodycon dress is rarely out of style, but spring and summer saw it plastered over the runway. Like most of the trends on this list, the bodycon dress is suited to a multitude of occasions. They can be dressed down with a chunky dad trainer and autumn's favourite jacket: the leather blazer or dressed up with heels, your favourite evening bag, and a faux fur stole. It is also perfect for the days when you maybe don't have the time to pick out a full outfit; the bodycon dress is easy to throw on.
To add modernity to the bodycon trend, you can try translating this into the entirety of an outfit in the form of a skin-tight top and trousers or skirt.
An unexpected trend and possibly not one we will be seeing until the new year, graffiti prints are about to be huge. They add splashes of colour and abstract patterns to otherwise basic pieces in a way that traditional prints can only dream. The graffiti trend, in theory, could be DIY-ed too with t-shirt paint or embroidery thread. This also links into the notion of upcycling clothes and the long-overdue interest in sustainability sweeping the fashion industry. DIY-ing this trend could also be a bonding activity between friends or a fun way to spend a Sunday afternoon.
Finally, the last trend we advise you to invest in now, just in time for party season, is the catsuit. Just as other 00s trends have made a return, the catsuit has been reinvigorated, possibly with the help of Dua Lipa who has donned them on occasion for some of her recent performances. Furthermore, the classic all-in-one can be used to incorporate the 70s revival trends we have seen, with a flared leg or psychedelic print.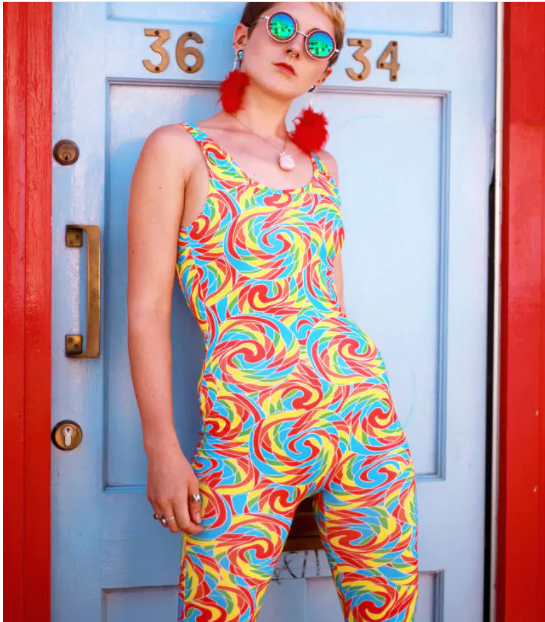 Photo Credit: Catsuit at Silkfred
Just remember to factor in a few extra minutes when going to the bathroom as they aren't always the most practical of garments and probably not suited to such activities as a three-course meal.
What trends will you be wearing this season? Tweet us @Fashion_North.