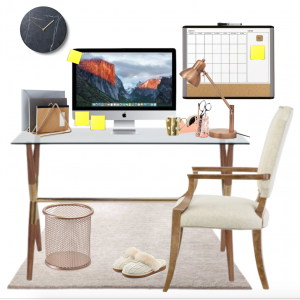 Simple Desk –
I find that a simple table-come-desk without the added multiple drawers help with keeping your mind clear and uncluttered. It means you have no reason to fill it with the things you don't need and you keep your work space as tidy and organised as possible. Not to mention it's easier to match with interiors and often more bank account friendly as they tend to be cheaper than a more traditional desk.
Comfy touches –
Adding a comfy cushioned chair will make those long hours spent at your desk more bearable. And especially if you work from home, the added comfort of wearing your snug loungewear and fluffy slippers, what's not to enjoy?
Memo board –
Keeping a constant check on to-do lists, important dates in your diary and general notes is essential if you want to stay as stress-free as you can. A whiteboard/cork-board are most helpful, as you can erase what you don't need and have it above or on your desk as a permanent reminder.
Clock –
Keeping an eye on the time is just as important when trying to stick to deadlines and fitting in work with your daily routine. Who says it has to be a boring clock either, invest in an aesthetically pleasing fitting to match your interior and you're winning.
Computer/Laptop –
An obvious essential while working. A top tip I've adapted is making sure you keep your desktop as clear and clutter-free as possible to ensure a clear and productive mind.
Storage –
To keep your desk as tidy as you can, invest in some pretty matchy-matchy storage equipment to gather all your files, notebooks and pens in one place and still look easy on the eye.
Desk Lamp –
Making sure you have clear lighting while working keeps the brain active and stimulated.
Keep hydrated –
Whatever your fix, whether it's caffeine, water or if it's the weekend a glass of wine (not always the smartest choice for best results!) always making sure you have refreshments nearby helps you stay concentrated and focused.
Post-its –
Last but not least, sticky notes! Buying brightly coloured post-it's draws your attention to the urgent tasks you need to such as sending that last minute email or phoning someone important. Well worth the little pennies!
Send your #OfficeInspo into @Fashion_North on Twitter and Instagram and share your tips of advice for the team and our readers for getting things done and staying stress free in your working environment!