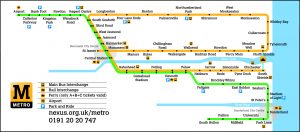 From Airport to Wansbeck Road, there are 60 stations on the Tyne and Wear Metro system – and we bet you associate them all with delays, commuter frustration and machines that don't work.
So, just for you, we've brought you some pretty cool and fashionable things in easy walking distance of every single Metro stop – from luxury chocolatiers, quirky boutiques to beauty salons and weekend markets. And, of course, there's the region's hottest new cheese and wine bar.
Just click on where you fancy going!
If you would like to be a part of the Fashion North team and create your own infomap, take a look at our undergraduate fashion journalism course here
————————————————————————————-
INFOMAP by Louise Barber